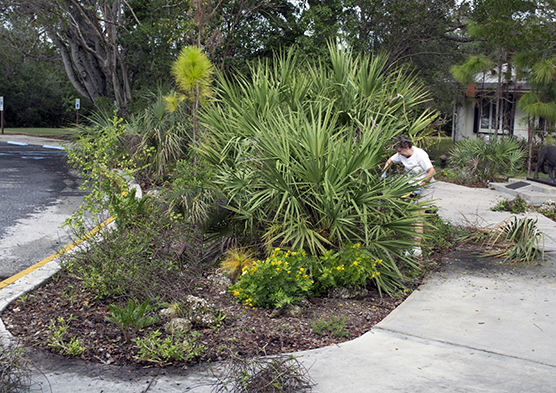 News Release Date:
September 19, 2013
Contact: Kevin Bowles Mohr, 305-242-7752
Contact: General Park Information, 305-242-7700
Contact: Media contact: Linda Friar, 305-242-7714
Homestead/Key West: Superintendent Dan Kimball is inviting everyone who loves Everglades and Dry Tortugas National Parks to come enjoy free entrance on Saturday, September 28, in celebration of National Public Lands Day. A volunteer project is also being held at Shark Valley, for anyone who would enjoy an opportunity to serve. 
According to Superintendent Kimball, "We are excited to join the nationwide celebration of the 20th anniversary of National Public Lands Day. America's public lands offer a wide variety of interesting sites to visit and stories to tell. The national parks offer some of the best visitor and volunteer experiences available on public lands, and we invite everyone to come celebrate with  us." 
At Everglades National Park, entrance fees will be waived at the main park entrance near Homestead, and at the entrance station at Shark Valley. The main park entrance is located at 40001 State Road 9336, Homestead, Florida. Shark Valley is located at 36000 SW 8th Street, Miami, Florida (on Highway 41, 25 miles west of the Florida Turnpike).

https://www.nps.gov/ever/planyourvisit/index.htm   (click here to plan your visit Everglades National Park)
https://www.nps.gov/ever/planyourvisit/things2do.htm  (Things to do)
https://www.nps.gov/ever/planyourvisit/directions.htm  (click here for directions)
At Dry Tortugas National Park, a variety of remarkable experiences await visitors who venture out to this remote national park, including camping, snorkeling, bird watching, fishing, or just enjoying a view from the top of massive Fort Jefferson-- you quickly realize how magical this place can be. Ferries will waive park entrance fees of $5 on September 28. (Ferries run to the park from Key West.) For ferry schedules, prices, and reservations, contact: Yankee Freedom: phone 800-634-0939 or 305-294-7009; on the internet at http://www.yankeefreedom.com/
https://www.nps.gov/drto/planyourvisit/index.htm  (click here to plan your visit to Dry Tortugas National Park)
Opportunity to Serve - Volunteer Project at Shark Valley

In recognition of the need for shared stewardship of the nation's valued, irreplaceable public lands, Everglades National Park's award winning volunteer program will also host a volunteer project on September 28 for those who enjoy serving. Volunteers will assist in creating a butterfly garden around the new Visitor Center being constructed at the Shark Valley District.  The project includes dismantling the butterfly garden around the old Visitor Center and creating new butterfly gardens near the new Visitor Center. It will require digging, lifting, and getting dirty.

Volunteers will meet at the Shark Valley entrance at 8:30 a.m. Volunteers are asked to please park their vehicles on the grass along US 41 near the entrance road to the park, and to walk toward the Shark Valley entrance station to meet the project coordinators.

Be prepared for hot and humid weather and possible rain. Participants are required to wear long-sleeved shirts, sneakers, and long pants to protect against exposure to sun, and possible biting insects. Please bring a lunch, water bottle, hat, and sunglasses.  Participating volunteers will receive a free entry pass, enabling each volunteer to visit the Everglades for free on another day and share this unique National Park with their family and friends. All are invited. To volunteer, show up or RSVP with Kevin Bowles Mohr at (305) 242-7752.

Directions: Physical Address - 36000 SW 8th Street, Miami, FL 33194. The Shark Valley Visitor Center is located on Highway 41 (Tamiami Trail / SW 8th Street) 25 miles west of the Florida Turnpike, exit 25A (from the north) and exit 25 (from the south). From the Naples area, take U.S. 41 (Tamiami Trail) approximately 70 miles east to Shark Valley.
National Public Lands Day is intended to encourage shared stewardship of our nation's public lands. It is a day designated for all of our nation's people--individuals, families, and organizations -- to pull together and help improve America's largest natural resource--its public lands. Today it is the nation's largest, hands-on volunteer effort to improve and enhance federal, state and local public lands around the country.  Nationwide, folks will pull together in work projects that range from planting trees and collecting seeds, to building bridges and cutting trails.
On Saturday, September 28, the National Park Service celebrates National Public Lands Day by providing free admission to all national parks. To learn more about National Public Lands Day, please visit www.publiclandsday.org.
About the National Park Service: More than 20,000 National Park Service employees
care for America's 401 national parks and work with communities across the nation
to help preserve local history and create close-to-home recreational opportunities.
Learn more at www.nps.gov.