Campground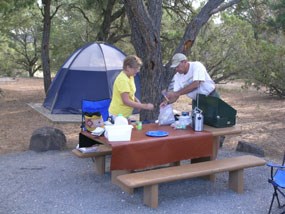 El Morro National Monument operates a nine-site campground with two vault toilets year-round. Each site has a graveled tent pad, picnic table, and ground grill for fires. During the warmer months, water is available in spigots centrally located along the campground loop. When overnight temperatures begin to drop below freezing, water is turned off for the season. One site, No. 5, is handicapped accessible.

Sites are available by self-registration on a first-come, first-served basis; reservations are not accepted. The campground occasionally fills up on weekends from May through September. El Morro National Monument does not collect camping fees; campsites are fee-free.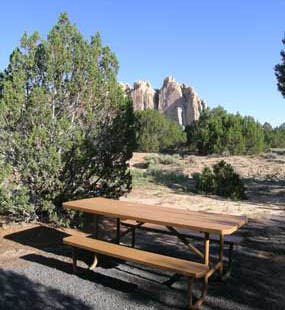 Picnicking
The campground is for overnight use only. If you would like to enjoy a picnic lunch after you work up an appetite on the trail, our picnic area is located near the visitor center and open during the same
hours
as the visitor center. A group picnic site with four tables and a grill is available when not reserved in advance for school groups.
Camping/Campground Rules
Number of People/Vehicles: Campsites are limited to no more than eight people, two tents, and two vehicles per site. Tents are restricted to the confines of each campsite.
Campfires: Fires are permitted in provided grills only. Please comply with any seasonal fire restrictions. Collection of firewood within the monument is prohibited, so bring firewood with you if you intend to have a campfire. Ensure that fires are extinguished completely after use.
Camping Limits: The campground has a limit of 14 days per calendar year.
Quiet hours: From 10 p.m. to 6 a.m., including generators, radios, etc.
Pets: Pets must never be left unattended. Pets must always be kept on a leash no longer than 6 feet. Pet owners are responsible for cleanup and cleanup supplies.
Recreational vehicles: There are no hookups for recreational vehicles (RVs). The length limit on all RVs is 27 feet overall. This is measured from the front of the truck to the end of the trailer.
Wildlife: Feeding wildlife, including stray cats and dogs, is prohibited. Coyotes and ravens are scavengers–please keep your campsite clean and properly store your food in a vehicle. The use of artificial sources (such as spotlighting) to deliberately illuminate or view wildlife, including infrared, thermal imaging, or ultra-violet (black light) devices of any kind, is prohibited.
Unmanned Aircraft: Launching, landing, and operation of unmanned aircraft on lands and waters administered by the National Park Service within the boundaries or the Monument is prohibited.
Restrictions: The campground is open 24 hours a day, 7 days a week. However, the visitor center and trails close each night. Do not enter the visitor center parking area or monument trails after hours. There are no trails that originate from the campground. Campers are required to remain within 150 feet of the campground road and campsite to protect El Morro';s
Area Camping & Lodging
Public Campgrounds
• Joe Skeen campground – Administered by the Bureau of Land Management, this campground is within El Malpais National Conservation Area near Grants, NM. The campground along Hwy 117 is 60 miles, or about a one-hour drive, from El Morro. https://www.blm.gov/visit/el-malpais-nca
• US Forest Service – There are several public campgrounds and dispersed camping areas in the Mount Taylor Ranger District of the Cibola National Forest. Visit the USFS website for more information. https://www.fs.usda.gov/activity/cibola/recreation/camping-cabins
• Bluewater Lake State Park – Located 66 miles away, or about an hour and 10-minute drive, this state park campground is off Exit 63 on I-40 between Grants and Thoreau, NM. http://www.emnrd.state.nm.us/SPD/bluewaterlakestatepark.html
• Red Rock Park – Run by the City of Gallup, this park is off I-40 outside Gallup, NM. It is 63 miles, or about an hour and 15 minutes, from El Morro. https://www.gallupnm.gov/577/Red-Rock-Park-Campground
Private Campgrounds and Lodging
• Ice Cave and Bandera Volcano – Located 17 miles away from El Morro, approximately a 22-minute drive along Hwy 53. https://www.icecaves.com/
• Cimarron Rose Bed and Breakfast – Located 13 miles away, approximately a 15-minute drive along Hwy 53. http://www.cimarronrose.com/
• Mountain Harmony Retreat – Located 5.5 miles away, approximately an eight-minute drive along Hwy 53. https://mountainharmonyretreat.com/
• El Morro RV Park & Cabins – Located 2 miles away, approximately a four-minute drive along Hwy 53. https://www.elmorro-nm.com/
• Wild Spirit Wolf Sanctuary – Located near Candy Kitchen, NM this wolf sanctuary is 16 miles away, approximately a 25-minute drive. https://wildspiritwolfsanctuary.org/accommodations/
• Inn at Halona – Located in Zuni, NM, this lodging is 34 miles away, approximately a 40-minute drive. https://www.halona.com/
Additional lodging, RV parks, and camping options are available near Gallup, NM, located 60 miles away (http://www.thegallupchamber.com/) or Grants, NM, 45 miles away (http://www.grants.org/).


Last updated: September 20, 2020