Frequently Asked Questions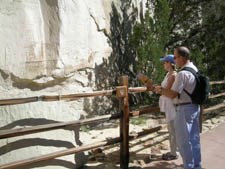 What does El Morro mean?
El Morro is Spanish for "the headland" or "the bluff."

What are the hours?
The hours vary by the season. Please see the Operating Hours and Seasons page for the most up-to-date information.

How much does it cost to visit El Morro?
There is no entrance fee. As of April 2013, El Morro National Monument is now fee free.

How far is El Morro from Albuquerque?
About a two-hour drive. Go to the Directions page for more information.

Does El Morro have a campground?
Yes. The campground has nine sites which can accommodate small RV's and tents. No RV hook-ups are available, but the campground has water spigots for campers to use. These spigots are turned off during the winter months. There is no fee for camping.

How long is the trail?
The entire trail is two miles long. The elevation gain is about 200 feet as you climb to the top of the bluff, and descends 200 feet as you return to the visitor center. The lower Inscription Trail is about ½ mile long, and is fairly level with little elevation change.

Can I bring my dog on the trail?
Yes, dogs are welcome on the trail as long as they remain on leashes at all times and stay on the trail. We also provide "doggie bags" so that dog owners can clean up after their pets and keep the trail clean for others.

Is the pool spring-fed?
No. All the water in the pool is from rainfall and melted snow, most of which drains into the pool from the top of the bluff.

Why are some of the inscriptions darker than others?
Some of the inscriptions were purposely darkened by El Morro's first superintendent in the early 1920's to help curb the fading and erosion of these inscriptions. He used a very hard #2 pencil to accomplish this task. This early form of inscription preservation is no longer practiced.

How many people visit El Morro each year?
El Morro National Monument hosts about 35,000 visitors each year, most of them from April through October.

What kinds of animals live at El Morro? Desert cottontail, chipmunk, coyote, gray fox, cougar, black bear, bull snake, whiptail lizard, bobcat, rock squirrel and many species of birds are some of the animals found in this area. Many of these animals are shy or come out at night, so they are not seen very often. The animals you are most likely to see along the trail are rabbits, lizards, snakes and ravens.


Last updated: July 26, 2022