Directions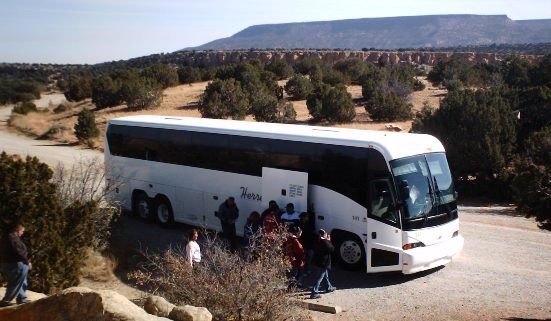 By Air
Major airlines serve Albuquerque, New Mexico, 72 miles east of the monument. Rental vehicles are available in Albuquerque and limited rentals are available in Grants, New Mexico and Gallup, New Mexico.

For aircraft owners, Grants-Milan Airport (GNT) features a 7,000-foot paved runway, terminal building, ramp with aircraft tie downs, and an FBO with fuel and mechanical services.

By Car
Interstate 40 is the main east-west highway into the region. The El Malpais National Monument Visitor Center is located at exit 85. This center is located south of the interstate at the northern boundary of the monument. It is open 9 a.m. to 5 p.m. daily and provides orientation to the area.

To drive into the monument proper, you will need to take Exit 89 or Exit 81 from Interstate 40. Exit 89, east of Grants, puts you onto NM Highway 117, which travels the eastern boundary of the park. There are many sight-seeing areas and hikes here. Also, the Bureau of Land Management's El Malpais Ranger Station is located 9 miles south of this exit and is open Thursday through Monday, 8:30 am - 4:30 pm local time.

Exit 81, west of Grants, will take you along NM Highway 53 and travel the western boundary of the park. There are several hiking opportunities here, including the El Calderon Trail, Zuni-Acoma Trail, and Big Tubes Trail. Driving to Big Tubes requires extra care.

Public Transportation
Greyhound bus lines has service to Grants along I-40. A local transit line provides public transportation in the Grants-Milan area during the week.


Last updated: April 14, 2020