Online Junior Ranger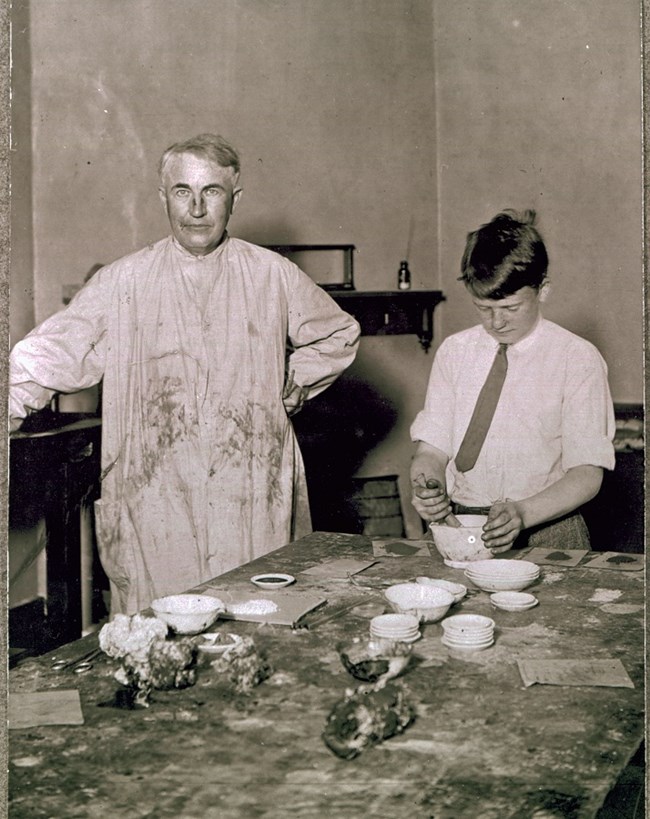 Becoming a Junior Ranger is fun and easy. All you need to do is complete at least two of the activities below. Once you have finished the activities, go to the bottom of the page to print your Junior Ranger certificate.

Here are some fun things to try:
Junior Ranger Booklet
You can complete the entire Junior Ranger Booklet and earn your certificate below or select two activities from the book along with one of the other activities below to earn your Junior Ranger Certificate.
Earn a Super Junior Ranger Certificate

Learning new things was very important to Thomas Edison. Here is a way to learn something about another National Park. If you participate in the Junior Ranger program at Patterson Great Falls National Park, Morristown National Historical Park, and Thomas Edison National Historical Park you will be presented with a Super Junior Ranger Certificate.
What park did you visit first? What is something you learned at each park?

I SPY
While taking a virtual tour of Thomas Edison's Laboratory, see how many items you can spy. Start by looking for 6 items on each floor to complete the activity. Keep trying and see if you can find all the item. Click here for the tour and items to find. Good Luck!
Design Your Own Invention
Thomas Edison kept his ideas, notes and drawings in laboratory notebooks. Today the park has over 3000 of his and his worker's notebooks. When an idea came to Edison, he would sketch it out in one of the his notebooks. Sometimes he would continue and research the idea, other times he would put it aside for later. What ideas or inventions have you thought about? Now is your chance to capture those ideas. You can save it for a later date or begin to research your idea and see if you can create a prototype. You can draw your idea on a blank sheet of paper or use the form here. Don't forget to name your invention and date it.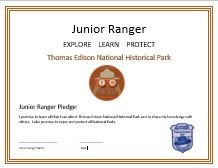 Junior Ranger Certificate
Share your activities and what you learned with a parent or friend. Tell them about one new thing you learned about Thomas Edison or the National Park Service. Congratulations! You have earned your Junior Ranger Certificate. You can click here to print your certificate, print it and then add your name and todays date.
Last updated: July 3, 2023