Plan A Field Trip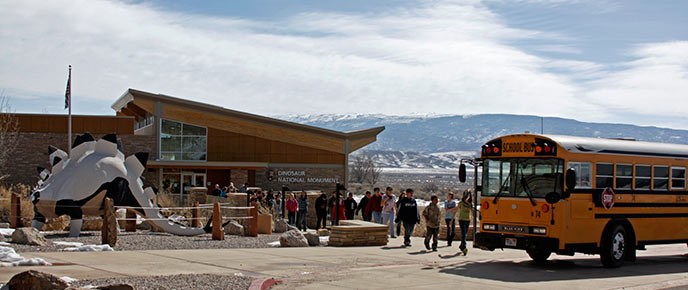 The landscapes and facilities of Dinosaur National Monument provide an ideal outdoor classroom for exploring both the natural and cultural history of the area.

Fossils and Geology
The Quarry Exhibit Hall provides students the chance to see real dinosaur fossils as they were deposited up close. The Fossil Discovery Trail lets students learn about the area's geology and "discover" dinosaur fossils "in the wild." The Harpers Corner Road located on the Colorado side of the monument provides views over the Uintah Basin and the canyons of the Yampa and Green rivers.
Academic Fee Waivers
National Park Service regulations allow school groups and other approved national and international academic institutions to obtain a waiver of park entrance fees, provided the visit is for educational or scientific purposes, and the resources or facilities that the group intends to use support those purposes.
Fee waivers may be granted to educational institutions whose curriculum relates specifically to the resources at Dinosaur National Monument. Visit our fee waivers page for more information.


Last updated: March 19, 2015