Visitor Centers
Dinosaur's visitor centers provide a place for you to get information on the monument and learn about its history, geology, fossils, plant and animal life. Park staff and volunteers can answer questions and provide recommendations on what to do during your visit.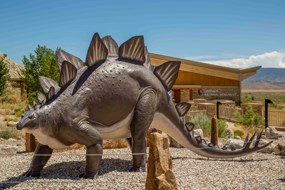 Quarry Visitor Center
Located seven miles north of Jensen, Utah off Highway 149, the Quarry Visitor Center serves as the gateway to the Quarry Exhibit Hall and the world famous wall of dinosaur bones. Exhibits at the Quarry Visitor Center introduce the variety of resources and places to explore within the monument. This facility features a staffed information desk, a sales area for the Intermountain Natural History Association and a theater with a twelve-minute park film. During the summer, shuttle buses depart from here to take visitors to the Quarry Exhibit Hall. In the fall, winter, and spring rangers lead car caravans to the Quarry Exhibit Hall. Water and restrooms are available.
For current visitor center hours, visit our Operating Hours and Seasons page.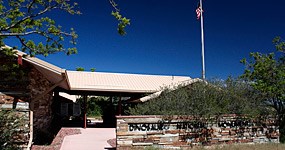 Canyon Visitor Center
Located near Dinosaur, Colorado, at the base of the Harpers Corner Road, the Canyon Visitor Center serves as a gateway to the monument's mountains and river canyons. Exhibits orient visitors to the monument's facilities. An Intermountain Natural History Association bookstore sells items that will further enhance your experience. Staff are available to answer questions and a park film is shown throughout the day. Restrooms and water are available seasonally. Please note that dinosaur fossils are not found in this portion of the monument.
For current visitor center hours, please visit our Operating Hours and Seasons page.
Last updated: August 15, 2021