Fees & Passes
All monument visitors are required to purchase a recreational use pass upon entering Dinosaur National Monument.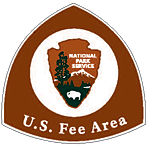 Dinosaur National Monument participates in the congressionally authorized Federal Recreation Lands Enhancement Act. Under this program, parks keep 80% of all fees collected; the remaining 20% will be deposited in a special account to be used in parks where fees are not collected. Funds generated by the fees are used to accomplish projects the parks have been unable to fund through annual Congressional allocations. Entrance fees help support projects in the monument to improve the experience for visitors.
For more information, call (435) 781-7700.
Monument Entrance Fees
Entrance Fees to Dinosaur National Monument are valid for seven consecutive days.
Dinosaur Entrance Fee - Private Vehicle - $25.00
Admits one private, non-commercial vehicle (15 passenger capacity or less) and all its occupants. Admission is good for seven consecutive days. You can come and go any time with your seven-day pass.
Dinosaur Entrance Fee - Motorcycle - $20.00
Admits all occupants on a private, non-commercial motorcycle. Admission is good for seven consecutive days. You can come and go any time with your seven-day pass.
Dinosaur Entrance Fee - Per Person - $15.00
Admits one individual with no car to the monument - typically used for bicyclists and walk-ins. Youth 15 and under are admitted free. Admission is good for seven consecutive days. You can come and go any time with your seven-day pass.

Buy Your Digital Pass on Recreation.gov
Enjoy the convenience of purchasing your entrance pass for Dinosaur National Monument before you arrive. You can then download it to your mobile device or print a copy for verification when you enter. This allows you to head directly to a trailhead, parking lot, or boat launch.

Learn more about your entrance pass options, find the right pass for you, and buy then print your pass online.
Annual and Lifetime Passes
Entrance Passes
America the Beautiful – The National Parks and Federal Recreational Lands Passes
The America the Beautiful – The National Parks and Federal Recreational Lands Pass Series includes different options of interagency passes that provide access to more than 2,000 federal recreation areas across the United States.
Passes cover:
entrance fees at National Park Service sites and US Fish and Wildlife sites
standard amenity fees (day-use fees) at Bureau of Land Management, Bureau of Reclamation, US Forest Service, and US Army Corps of Engineers sites
In general, passes cover the above types of fees for everyone in a personal vehicle at per-vehicle fee areas or up to four adults at sites that charge per person. Children ages 15 or under are admitted free. Two lifetime passes (Senior and Access) provide additional benefits, such as a 50-percent discount on camping at some sites. Always check with individual sites for details.
Interagency passes include:
Annual Pass: $80
Annual Military Pass: Free*
Annual Fourth Grade Pass for US students in fourth grade: Free
Annual Senior Pass: $20
Lifetime Senior Pass: $80
Lifetime Access Pass: Free
Annual Volunteer Pass: Free (250 hours of volunteer service at any of the six participating federal agencies is required)
*A new program that provides free access for US military veterans and Gold Star Family members took effect in fall 2020 as a way to thank them for their support of our country and to encourage them to explore recreational opportunities on their public lands and waters. Find detailed information about who qualifies, acceptable forms of identification, and how to download a Gold Star Family voucher.
Fifth Grade Voucher (valid only through August 31, 2021)
Many fourth graders missed out on using their Every Kid Outdoors Annual Fourth Grade Pass during the 2019-2020 school year. For the remainder of the 2020-2021 school year and summer, US fifth graders can bring their families to national parks, national forests and grasslands, wildlife refuges, and other Department of the Interior, US Forest Service, and US Army Corps of Engineers-managed public lands and waters for free. Find more information including who is eligible and how to get a free voucher.
Commercial Tour Fees
| | |
| --- | --- |
| Commercial Tour Fees | |
| Commercial tour vehicle rates are based on vehicle capacity. Pass is valid for the day of purchase and the next six days for a vehicle carrying the same group of passengers. | |
| 1-6 Passenger capacity | $25.00+: (minimum required fee is $25 commercial fee plus the per-person entrance fee for each passenger not to exceed $50.00) |
| 7-15 Passenger capacity | $50.00 |
| 16-25 Passenger capacity | $60.00 |
| 26+ Passenger capacity | $150.00 |
A commercial tour is defined as consisting of one or more persons traveling on an itinerary that has been packaged, priced, or sold for leisure or recreational purposes by an organization that realizes financial gain through the provision of the service. The entry fees of commercial tours are based upon the total capacity of vehicles that can carry seven or more passengers regardless of the actual number of passengers.
---
Noncommercial Organized Groups: Valid for 7 days.
Organized groups such as Scouts, Rotary, Clubs, Youth Groups, Churches, Reunions, etc. that do not qualify for an Academic Fee Waiver are charged as follows:
$25.00 Noncommercial vehicles with a vehicle capacity of 15 or less
$15.00 per person Non-commercial vehicles with a capacity of 16 or greater.
Fees will not exceed the commercial fee for the same-sized vehicle. Youth 15 and younger are free. Individuals or families with any valid Annual or Lifetime pass may use their pass for entry at the per person rate. Pass and photo ID must be present upon entry.
Forms of Payment
Dinosaur National Monument prefers the use of a credit or debit card for payment of your entrance fee. This speeds up transactions at our entrance booth.

---
Fee Free Days
Several days throughout the year have been designated as fee free days at your national parks including Dinosaur National Monument. On these days, entrance fees will not be charged, however, camping and other use fees will still be collected. To find out the fee free days visit the
Fee Free Days website
.
---
Academic Fee Waivers
National Park Service regulations allow school groups and other bona fide national and international academic institutions to obtain a waiver for park entrance fees, provided that the visit is for educational or scientific purposes, and the resources or facilities the group proposes to use support those purposes. More information…






---
All rates are per site, per night.
Senior and Access pass holder receive a 50% discount at all campgrounds except for the Split Mountain Group Campground during the summer and group site at the Echo Park Campground.
Last updated: May 13, 2022