Distance Learning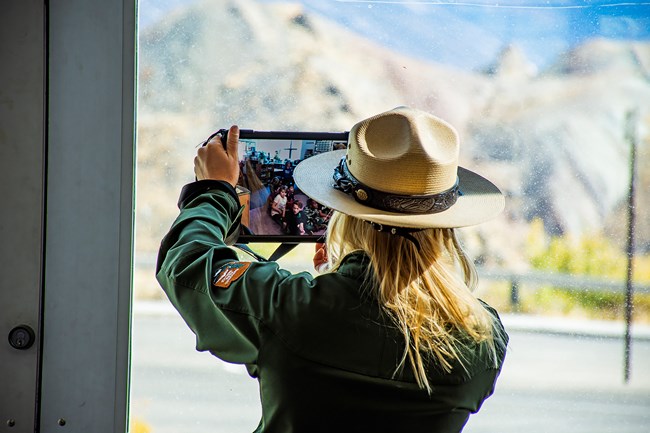 We provide free distance learning experiences (October through February only) for classrooms around the world to learn more about the monument! Park Rangers bring your class on a journey to the late Jurassic to learn about fossils, dinosaurs, and paleontology revealed in the Quarry Exhibit Hall.

Tour one of the most famous dinosaur quarry sites in the world, which was discovered here in 1909. Fossils excavated from this site are on display in museums throughout the world. Spaces are filled on a first-come, first-served basis. There is no limit to the number of students that can join our virtual class.

A section of the quarry was preserved, and today, the wall contains over 1,500 fossils left in place as they were found. In this lesson, students can learn about fossils, dinosaurs, geology, geologic time, earth history, and adaptations.

Virtual field trips last approximately 30-45 minutes, which includes time for the students to ask questions with the ranger. Rangers can adjust this depending on the age and interest of the students or the class schedule.

Note: For 2023 - starting February 25 through September, rangers will not monitor virtual field trip emails associated with the blue "Email Us" link below. If you have distance learning or other questions after February 24, please call the Quarry Visitor Center in Utah, open daily 9 am to 5 pm Mountain Time: 435-781-7700x0 or email us here: DINO_information@nps.gov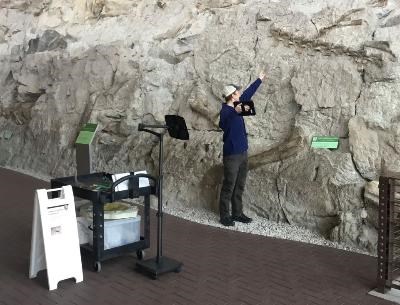 Virtual Field Trips start October 25, 2022 and ends February 28, 2023
Programs are available on Tuesdays, Wednesdays, and Thursdays at 10 a.m. and 2 p.m. (Mountain Time Zone).
Using the email link below, please include the following information in the message section:
Your preferred times and dates from the schedule above
Grade level
Location & contact phone number
Your preferred virtual learning platform link (such as Zoom, Microsoft Teams, Skype, Google Meet).
Beginning Fall 2022, you can email us to request a Virtual Field Trip. We will not be monitoring the inbox until then.
Last updated: September 27, 2022