Biking

Let's Ride!
Biking Information


Cycling is a popular form of recreation in the park. We have some great roads and a bikes only manicured trail. The McDade Recreational Trail (MRT) is a packed gravel path that parallels the Delaware River on the Pennsylvania side of the park for 32 miles. Most is perfect for mountain and hybrid bikes (currently closed to biking between White Pines and Pittman Orchard trailheads).


Motorized Bicycles, or E-Bikes


Motorized vehicles are permitted on the McDade Recreational Trail, but with a soeed restriction of 15 miles per hour. According to the Superintendent's Compendium, cycling and E- Bikes, or electric bicycles are permitted on authorized roads only. See Compendium Appendix A, on page 30, for the list of authorized roads for Cycling and E-Biking.


Visit the McDade Recreational Trail page for detailed trail information


Road Biking Options


For those who enjoy road biking, Old Mine Road parallels the Delaware River on the New Jersey side for 34 miles in the park. Visit the Scenic Drive page for detailed information about this route.
Road biking on US 209 in Pennsylvania is not recommended due to heavy traffic. Road biking on River Road in Pennsylvania is strongly discouraged due to sharp, steep turns, blind curves, and the lack of shoulders.
Bike Rentals/Tours
Edge of the Woods Outdoor Outfitters
110 Main Street
Delaware Water Gap, PA 18327
570-421-6681

Shawnee River Trips
at the Shawnee Inn
100 Shawnee Inn Drive
Shawnee on Delaware, PA 18356
800-742-9633 or 570-424-4000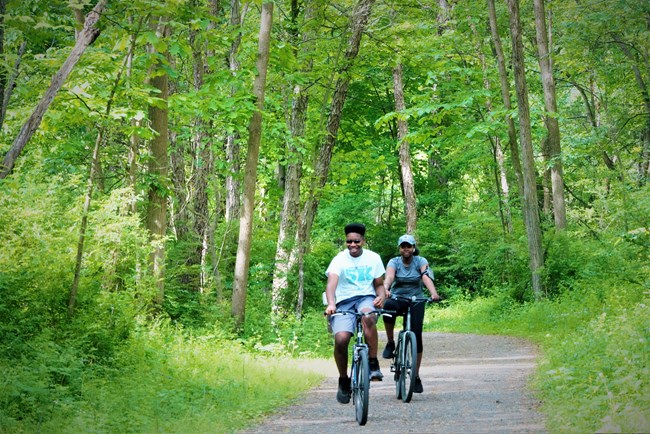 Bike Shuttle Information
Did you know we have a park partner that operates a shuttle service that runs on weekends all summer? Our parking fills quickly during the summer. It's never fun to drive a couple hours to find parking lots full. Here, we have a great option for visitors looking to transit in the park. It's called the Pocono Pony. Operated by the Monroe County Transit Authority, the Pocono Pony River Runner and Hiker Shuttles are a great way to get you and your bike to sites all along the Pennsylvania side of the park.
While we have plenty of riding opportunities on the New Jersey side of the park, we don't have a shuttle the runs in this area. We apologize for the inconvenience.
Check out the MCTA's
website
for program details and route information.
Shuttle Riding Tips
The parking areas on the southern end of the park fill up the fastest. Because of this, we have the following recommendations for summer biking visits:
Select a parking area in the north end of the park and ride south
Use the MCTA's Pocono Pony shuttle service to return north if tired
Download a copy of the NPS App before your visit to receive up to date weather and safety information, road closures, and park maps.
Let a friend or family member know the route you plan to take during your visit
Call the park with any questions prior to your visit at:

570-426-2452
Average Weather in the Park
We have typical weather for the north-eastern United States. For today's weather information, please visit our
Current Conditions
for up to the minute weather information for ths site. Below you can find yearly average weather information for the park.  
Spring: Temperatures usually range from lows of 26 F to highs of 80 F with average rainfall of 5 inches. Summer: Temperatures usually range from lows of 55 F to highs of 85 F with average rainfall of 4 inches. Fall: Temperatures usually range from lows of 30 F to highs of 83F. Fall foliage is at its peak sometime in October as daily mountain temperatures vary frequently and influence the change. Winter: Temperatures usually range from lows of 15 F to highs of 49 F.
Last updated: January 14, 2022