McDade Recreational Trail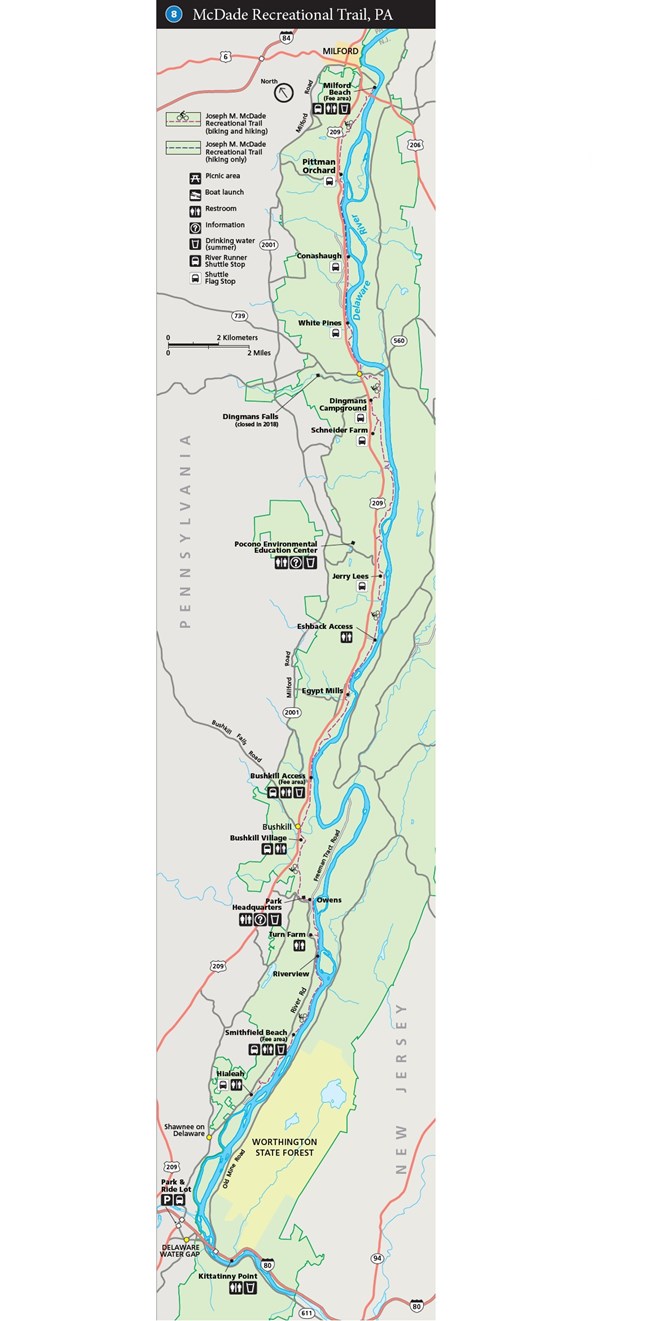 Are You Looking for A Great Biking Trail?


The McDade Recreational Trail extends most the length of the park and provides views of the river, charming streams, open farm fields, forests, and historic landscapes. The trail offers hikers, bikers, and cross-country skiers areas of varied difficulty, from easy to strenuous. With trailheads distributed between ½ and 5 miles apart, this trail offers a section for just about any visitor.
From Hialeah to Owens trailheads, the trail is mostly flat, but rises in elevation as it traverses former settlements and farms. From the Owens Trailhead on Freeman Tract Road, the trail switchbacks sharply up the side of the Hogback, or ridge, to the park's headquarters. Observation decks on the side of the headquarters facility provide wildlife viewing areas. This section of trail is rather difficult.
Between park headquarters and Bushkill Access, the terrain becomes rolling hills. Numerous structures, foundations, and other traces remain from the once thriving community of Bushkill.
North of Bushkill Access, the trail follows a narrow ribbon of land between US 209 and the river and then continues nearly level through agricultural fields and forests to Schneider Farm.
The next several miles of the trail are dominated by the river to the east and the cliffs to the west, with the trail and US 209 squeezed between in places. From Raymondskill Creek to Milford Beach, the Raymondskill Cliff parallels the nearly flat trail.
The northern terminus of the McDade Trail is Milford Beach, a popular recreation site for local residents since 1945. Whether you start from this end, Hialeah, or a point in between, you are sure to find something to fit any mood.




Important Trail Closure Information
There is a trail closure along the McDade Recreational Trail from Bushlkill Village to Bushkill Access until approximately the end of November 2021. For more information about the trail closure please visit our news release page.


Regulations
Speed limit is 15 mph.
Bikers yield to hikers.
No motorized vehicles.
Leashed pets are permitted along the trail except at Milford and Smithfield beaches and between Smithfield Beach and Hialeah, from late spring to early fall.
Camping only permitted at the Dingmans Campground.
The section between Pittman Orchard trailhead and Conashaugh trailhead is closed due to eagle nesting from December 15 through July 15.
Trailheads and Facilities
Trailhead/ Directions
Road Mile *
Trail Mile**
Services
Hialeah
River Road 0.0
0.0
Parking, Restroom, Picnic Tables
Smithfield Beach
River Road 1.7
2.0
FEE AREA, Parking, Restroom, Picnic Tables, Water, Boat & Canoe Launch, Swim Beach
Riverview
River Road 3.5
4.6
Parking
Turn Farm (spur)
River Road 4.0
5.2
Parking, Restroom
Owens
Freeman Tract Road 1.9
5.9
Parking
Park Headquarters
River Road 5.3
6.6
Parking, Restroom, Information, Drinking Water
Bushkill Village
US 209 1.4

8.4

Parking, Restroom
Bushkill Access
US 209 2.7
10.1
FEE AREA, Parking, Restroom, Drinking Water, Boat & Canoe Launch
Egypt Mills
US 209 4.5
12.5
Parking
Eshback Access
US 209 6.4
14.3
Parking, Restroom, Canoe Launch
Jerry Lees
US 209 8.2
16.1
Parking
Schneider Farm (spur)
US 209 11.5
21.4
Parking
White Pines
US 209 14.5
24.5
Parking
Conashaugh***
US 209 15.5
26.0
Parking
Pittman Orchard
US 209 18.3
28.5
Parking
Milford Beach
US 209 20.8
31.0
FEE AREA, Parking, Restroom, Picnic Tables, Drinking Water, Boat & Canoe Launch, Swim Beach

* Road Mileage begins at southern park boundary
** Trail Mileage begins at Hialeah Recreation Site
*** Note: When traveling north, the first 1.5 miles of this section of trail are walk only
Distance
| | | | |
| --- | --- | --- | --- |
| From | To | Miles | Rating |
| Hialeah | Smithfield Beach | 2.0 | Moderate - Difficult |
| Smithfield Beach | Riverview | 2.6 | Easy |
| Riverview | Turn Farm (spur) | 0.6 | Moderate - Difficult |
| Turn Farm (spur) | Owens | 0.7 | Easy - Moderate |
| Owens | Park Headquarters | 0.7 | Moderate - Difficult |
| Park Headquarters | Bushkill Village | 1.8 | Moderate |
| Bushkill Village | Bushkill Access | 1.7 | Easy - Moderate |
| Bushkill Access | Valley View | 1.2 | Easy |
| Valley View | Egypt Mills | 1.2 | Easy |
| Egypt Mills | Eshback Access | 1.8 | Easy |
| Eshback Access | Jerry Lees | 1.8 | Easy |
| Jerry Lees | Schneider Farm (spur) | 5.3 | Easy |
| Schneider Farm (spur) | Dingmans Campground | 1.1 | Easy |
| Dingmans Campground | White Pines | 1.5 | Difficult |
| White Pines | Conashaugh | 1.5 | Moderate |
| Conashaugh | Pittman Orchard | 2.7 | Easy - Moderate |
| Pittman Orchard | Milford Beach | 2.3 | Easy - Moderate |
Last updated: October 15, 2021