Student Report Information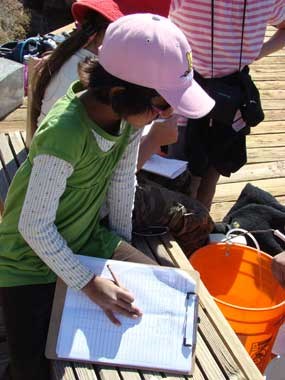 Are You Ready to Research Death Valley National Park?

Research leads to many exciting discoveries! And there's plenty to discover in Death Valley National Park. You are about to go on an adventure exploring the hottest, driest, and lowest national park in the United States. Writing a report? Designing a brochure? Creating a diorama? We are excited to help you bring your discoveries back to the other students in your class!

For a glimpse into what makes Death Valley so special, watch the short Death Valley Explorer video below:

Visit our keyboard shortcuts docs for details
Duration:

9 minutes, 38 seconds
In this lowest, hottest and driest place in North America, extreme heat and aridity characterize the landscape. Yet in this land of surprises, life has found a way to thrive. ‪
Where is Death Valley?
One of the first steps in research is to figure out where Death Valley National Park is on a map. Visitors use maps in Death Valley to plan their trip. You can find out a lot about a place just by looking at map!

Below, you can view a map to see that Death Valley is along the border of California and Nevada. What other national park units do you see near Death Valley?
You can zoom in and out on this map to see different information, like viewpoints and land features. If you zoom in, you may be able to spot the lowest point in North America—the Badwater Salt Flats!
---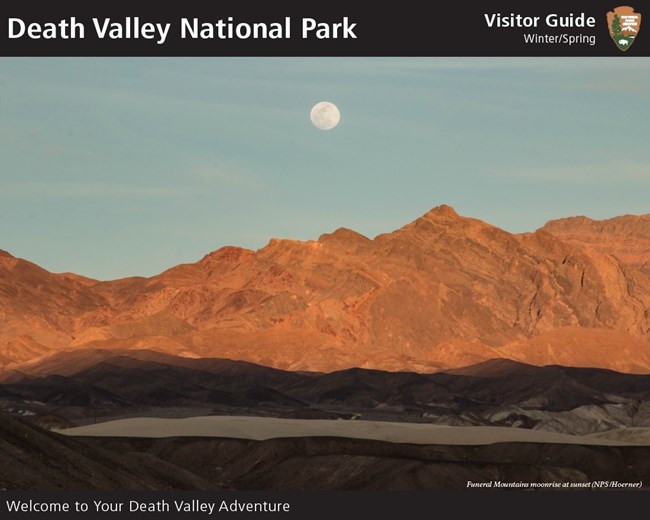 What can people do in Death Valley?
Visitors also use the park newspaper to plan their visit. You can use the park newspaper to find out where to eat, talk with a ranger, watch a movie about the park, and hike to see a great view! Open the park newspaper and find one place that you'd like to visit!
What about Death Valley National Park sparks your curiosity?

After looking at the map and park newspaper, write down any questions you have about the park. What do you wonder about Death Valley National Park? What interests you?


---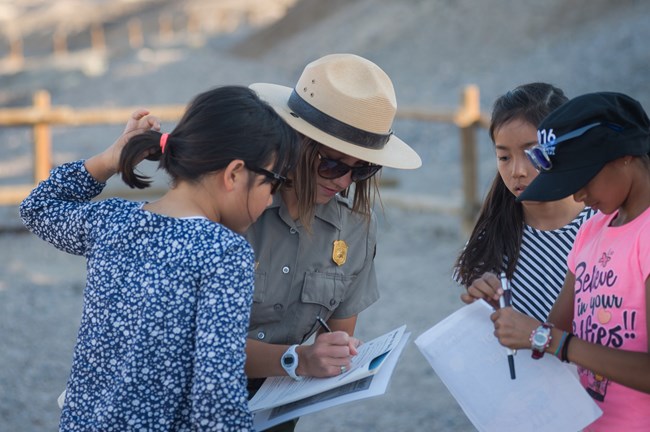 Hey Ranger!

Every day, hundreds of people come to our visitor centers and ask rangers about the wonders of Death Valley National Park. Perhaps there are questions you would like to ask also! We know it can be hard to interview a ranger when you live miles away from the park, but we can help!

Click the arrow next to the questions below to find out how a Death Valley ranger would respond.

Death Valley National Park is 3.4 million acres and includes many valleys, mountain ranges, springs, sand dunes, and salt flats. Death Valley itself is 140 miles long.
Some of Death Valley's oldest rocks formed 1.7 billion years ago! Death Valley continues to sink lower as the Earth's crust pulls apart. Canyons are formed by water carving through the rocky mountains in Death Valley National Park. Dunes that are over 600 feet tall were formed by wind moving the sand into wave-like mounds. Death Valley National Park also has volcanoes—some may have erupted just 300 years ago!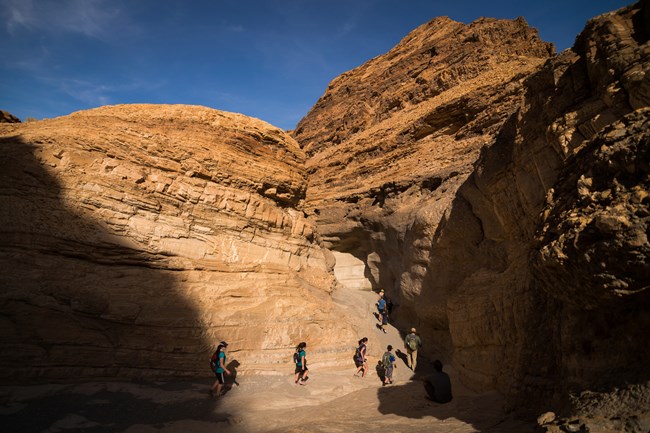 Geology is not only the study of rocks, but the study of the Earth as a whole, what the Earth is made of, and what processes are acting on those components. Striped canyons, rocks which seem to move on their own, colorful hillsides, and fossils of extinct life, are just a few of the mysteries of Death Valley geology.

Want to learn more about some amazing Death Valley natural features? Visit our springs and salt flats pages!

Explore the wonders of sand dunes in the video below!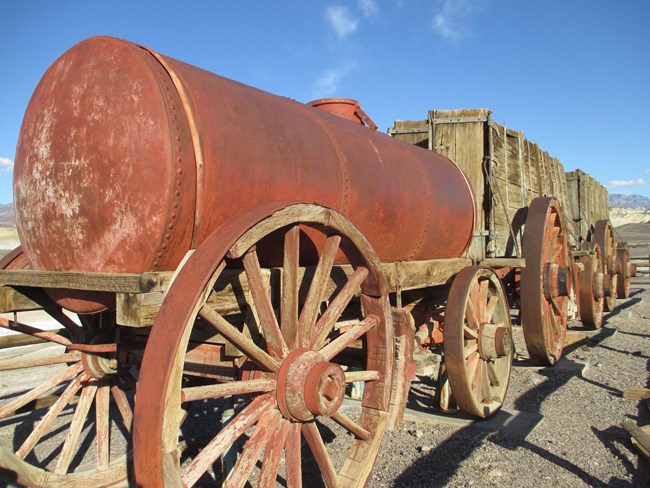 This land is the homeland of the Timbisha Shoshone. The Timbisha Shoshone People lived in Death Valley for centuries before the first white man entered the valley. They hunted and followed seasonal migrations for harvesting of pinyon pine nuts and mesquite beans with their families. The Timbisha Shoshone continue to live in the heart of Death Valley.

The first pioneers came through Death Valley In 1849, heading west in search of gold. Later, many valuable minerals such as gold, silver, and borax were discovered in Death Valley, and miners came to the area to "strike it rich." Death Valley became known for the twenty mule teams that would transport borax from mines in the area and for interesting characters such as the famous con-man, Death Valley Scotty.


Explore the History and Culture and Virtual Museum Exhibit pages, take a trip back in time and discover what it would have been like to ride along with a Twenty Mule Team muleskinner, and learn why people are still talking about Death Valley Scotty today.
The world record, highest air temperature of 134°F (57°C) was recorded in Death Valley on July 10, 1913 at Furnace Creek Ranch. Annual precipitation (rain and snow) varies from 1.9 inches in the valley to over 15 inches in the surrounding mountains.

Despite Death Valley's low rainfall, water has played a huge role in the park. Did you know that Death Valley was once the site of an ancient lake? Take a deeper look at the factors which contribute to Death Valley's extreme conditions, by visiting our Weather and Climate page, and check out our video about the story of water in Death Valley.
---
There are over 1,000 plant species in Death Valley National Park, including over 13 species of cactus and over 23 plants that are only known to grow in the Death Valley area.
"Escaper plants," like wildflowers, wait for favorable growing conditions (such as rain and cool temperatures) and avoid growing during the extreme heat and dry periods. "Resister plants" are able to resist the extreme temperatures and dryness of Death Valley and live year-round. An example of this are mesquite trees, which have roots up to 80 feet long that allow them to reach water deep underground. "Evader plants" such as pickleweed, evade the extreme conditions by living near water sources, like springs and streams.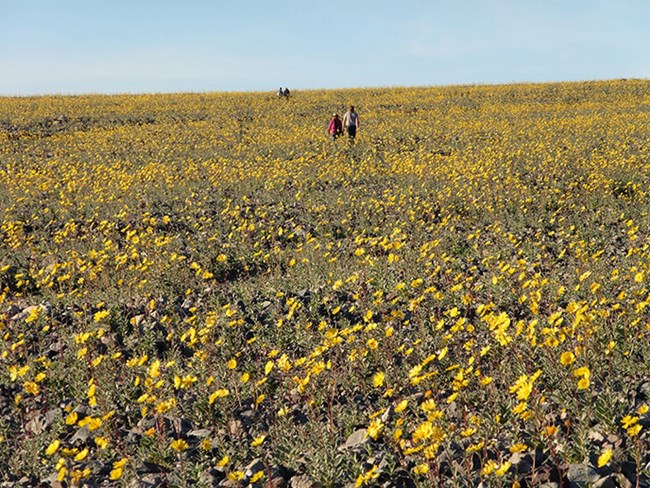 Imagine a field of yellow flowers, gently waving in the wind, reaching as far as your eyes can see. During special years when conditions are perfect, a wildflower "super bloom" happens. People travel to Death Valley from around the world to view and photograph the park's spectacular wildflowers. Park botanists (rangers who study plants) have brought this field to your living room by sharing interesting facts about wildflowers and other incredible Death Valley plants, on our website.
Death Valley is home to 56 mammals, 36 reptiles, 5 amphibians, 6 fish, and nearly 400 bird species.
One endangered species is the Devils Hole Pupfish, which is found only in the top 80 feet of a waterfilled cavern. These inch-long fish are at the greatest risk of extinction because the fish cannot change locations to adapt to a changing environment. Park scientists closely monitor the pupfish and their habitat.
A threatened species in the park is the Mojave Desert Tortoise. Illegal tortoise hunting (poaching),
off-road driving
, and the spread of weeds and diseases threaten tortoise populations. Tortoises can also eat trash, such as popped balloons, thinking that it is food. This can make the tortoise sick and lead to starvation.
Do you think you could survive in Death Valley without air conditioning? Death Valley is a harsh environment, and animals which dwell in the park have many adaptations for desert survival.
It takes many people with many different skills to operate Death Valley National Park. The park is managed by people who care about the plants, wildlife, culture, and history here. Park rangers also want every visitor to have a safe and enjoyable visit. Law enforcement rangers uphold special laws that protect the birds, animals, history, and visitors in the park. Park guides take visitors on hikes to explore the beautiful surroundings. Scientist rangers study plants and animals and explore historical sites to learn more and help protect the park. Maintenance rangers repair roads after flooding, restore buildings, and keep the park clean. Rangers who are mechanics, accountants, computer specialists, and plumbers (just to name a few!) all help run Death Valley National Park.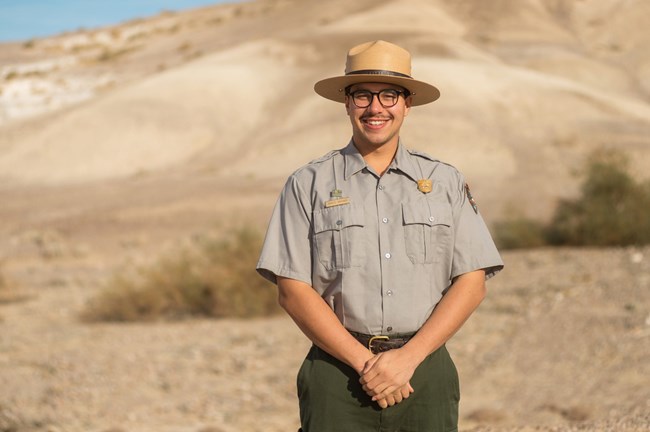 Rangers work at Death Valley National Park because they enjoy learning about and exploring this incredible place. Death Valley became a national monument in 1933 and was designated a national park in 1994. Park rangers are responsible for preserving and protecting the natural and cultural resources of parks for the education and enjoyment of this (including you!) and all future generations.

We hope that your research has led you to appreciate Death Valley National Park as much as the rangers who work here do, and that you will share what you have learned with your friends and family. Death Valley is your national park.
Hey Students!

Do you still have unanswered questions about Death Valley? Do you need a paper copy of the student letter, park map, or park newspaper*? Would you like to show us your research project?

Please contact us using the information below! Thank you for exploring national parks!

Email

or

Education Program
Death Valley National Park
P.O. Box 579
Death Valley, CA 92328

*Please note that it can take several weeks to receive these materials, so plan ahead, keeping due dates in mind.
Last updated: November 30, 2021