Alerts & Conditions
Updated 6/03/2023 at 08:44 am PST
Death Valley Road Status
—

Open Roads (paved)


—

Closed Roads


—

Dirt Roads:
Many backcountry roads have areas of moderate to severe damage due to summer floods and winter storms. Some areas are impassable.
---

Hiking Trails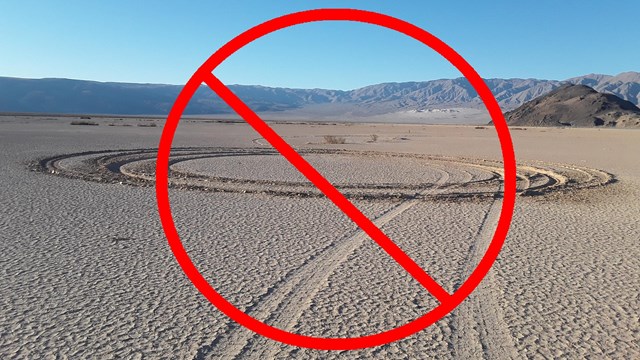 Stay on Roads with your Vehicle
Illegal driving off designated roads negatively impacts the landscape, ecosystem, view, and more.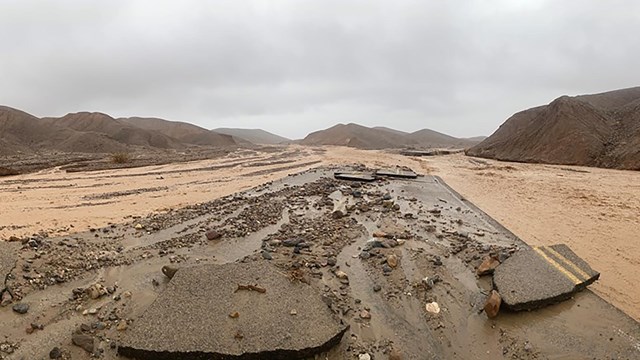 Weather Conditions
Check weather before your planned travel days, conditions can swiftly change in Death Valley.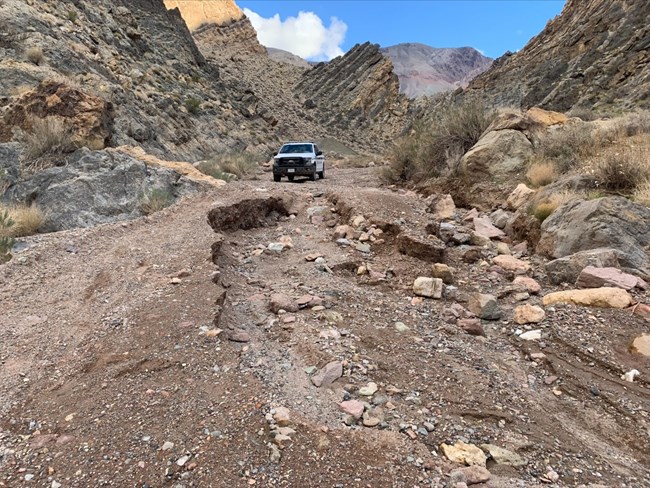 Roads & Locations
Many areas of the park were heavily impacted, damaged, or closed following record rainfall in August, 2022. Road crews have reopened all paved roads, but there is still a lot of work to be done in the backcountry.
PAVED ROADS
CLOSED:
Bonnie Clare Road and Scotty's Castle due to flood recovery work . Unlikely to reopen before fall 2024.
UNPAVED/BACKCOUNTRY ROADS
Note that road closures listed below apply to ALL vehicles, including motorcycles and bicycles. The roads were completely washed out in places and entry will cause tire tracks and braided roads in wilderness as users try to locate what was once the road. Thank you for your patience as we work to reopen these locations.
CLOSED:
Saline Valley- Both North and South Pass - Due to mud and rockfall
Hunter Mountain- Due to excessive mud
Salt Creek Road - Flooding destroyed the boardwalk, toilet and parking area. No timeline for reopening.
Titus Canyon Road (one-way section)- 2-way section open to Fall Canyon Trailhead- Flooding destroyed the road.
Steel Pass - Extensive flood damage. No timeline for reopening.
Grotto Canyon - Partially open. Road open to where it drops from alluvial fan into the wash (about one mile before the normal trailhead.)
Cottonwood Canyon past campsite 8- Due to flood damage
Marble Canyon- Due to flood damage
Lemoigne Canyon- Due to flood damage
ROADS OUTSIDE THE PARK
Trails
Darwin Falls Trail- trail is washed out and no longer exists. Expect to hike through shallow water and scramble over rocks.
OPEN:
Furnace Creek, Emigrant, Wildrose, Mesquite Springs, Eureka Dunes Primitive, Thorndike Primitive, Mahogany Flat Primitive, Saline Valley Primitive and Homestake Primitive campgrounds
CLOSED:
Sunset, Texas Spring and Stovepipe Wells Campgrounds - Seasonal closure due to heat
Visitor Centers
OPEN:
Furnace Creek Visitor Center. Hours of operation: 8:00 a.m. to 5:00 p.m, daily
VARIABLE:
Stovepipe Wells Ranger Station. Variable days and hours depending on temperature and staffing. Please call: 760-786-3200 for current status.
Last updated: June 3, 2023