Alerts & Conditions
Updated 12/07/2023 at 08:50 am
Flowers? Temporary Lakes?
As of late November, the temporary shallow lake at Badwater is still present. Although it is only a few inches deep, it is very beautiful. This is a rare event; we don't know how long the lake will be there.

There are a few wildflowers, but the park is NOT having a major flower bloom. Currently, the best place to see flowers is Panamint Valley. It is too early to know if there will be an impressive bloom during our normal wildflower season (mid-February through mid-April).
Death Valley Road Status
—

Open Roads


—

Closed Roads
---

Hiking Trails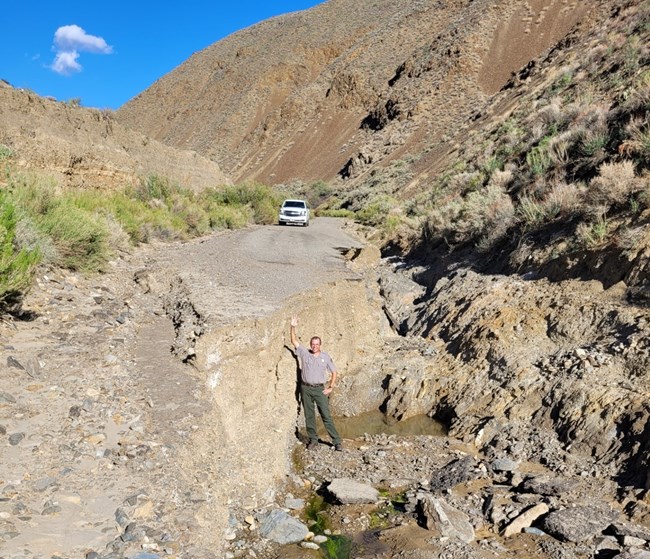 Roads & Locations
On August 20, 2023, rain from the remnants of Hurricane Hilary triggered flash floods that damaged all park roads. Although many roads remain closed, many popular points of interest and hiking trails have reopened.
PAVED ROADS
OPEN:
CA HWY 190- open all the way through the park. Expect delays and multiple locations with active road work. (Access to: Mesquite Flat Sand Dunes, Mosaic Canyon Trail, Harmony Borax Works, Zabriskie Point.)

Daylight Pass Road & Mud Canyon Road

Badwater Road- Access to: Golden Canyon/Gower Gulch Trails, Desolation Trail, Devils Golfcourse, Natural Bridge Trail, Badwater Basin, Sidewinder Canyon Trail, Ashford Mill, CA-127)

Artists Drive

Dantes View Road
CLOSED:
Note that road closures listed below apply to ALL motorized vehicles, including motorcycles. Thank you for your patience as we work to reopen these locations. Bicycles and foot traffic are permitted (except for Bonnie Clare Road). Bicycle use is prohibited in Titus Canyon for safety reasons.
Father Crowley/Rainbow Canyon Vista Point- within active construction zone along CA Hwy 190.

Beatty Cutoff Road- contractors will make permanent repairs fixes. Estimated reopening sometime after February or March 2024. (No access to: Keane Wonder Mine)

North Highway - this may open by late December. (No access to: Fall Canyon Trail, Old Stovepipe Wells, Lower Titus Canyon, Ubehebe Crater, Racetrack Road)

Wildrose Road / Emigrant Canyon Road- this will open sometime after April 2024. Work will be done by a permanent repairs contract. (No access to: Wildrose Charcoal Kilns, Wildrose Peak Trail, Telescope Peak Trail)

Bonnie Clare Road and Scotty's Castle due to flood recovery work . Unlikely to open before late 2025. No access permitted. No foot, bicycle, motorcycle, vehicle, etc. use allowed.
UNPAVED/BACKCOUNTRY ROADS
OPEN:
Mustard Canyon

Twenty Mule Team Road

Grotto Canyon - the road now ends where it used to drop into the wash.

Echo Canyon Road

Hole in the Wall Road

Cottonwood Canyon & Marble Canyon Roads - only Cottonwood sites 3-10 and Marble sites 1-4 are open for permitted camping.

Greenwater Valley (aka Furnace Creek Wash Road) - access to Deadman Pass and Gold Valley. Use extreme caution on Gold Valley Road, which has not been repaired since it was damaged by flooding 8/23. There is a section which could tip over a stock 4x4 high clearance vehicle.

Saline Valley North Pass - only to Palm Springs. South Pass and Steel Pass remain closed.

Goler Wash- only to Barker Ranch. (No access to: Mengel Pass or Butte Valley)

Big Pine Road- only to Eureka Dunes. (No access to: Dedeckera Canyon, Big Pine Road east of Eureka Valley).
CLOSED:
Note that road closures listed below apply to ALL motorized vehicles, including motorcycles.The roads were completely washed out in places and entry will cause tire tracks and braided roads in wilderness as users try to locate what was once the road. Thank you for your patience as we work to reopen these locations. Bicycles and foot traffic are permitted except on Titus Canyon Rd.

Only major roads are listed for reference below, but MOST backcountry roads are closed.
Westside Road - as of 10/7/2023, NPS crews cannot get through the north end of the road due to a 4-foot drop-off into a muddy trench 10-feet wide and filled with a foot of water. No estimate reopening date.
Lower Wildrose Road (aka Trona - Wildrose Road, connects Wildrose to Panamint Valley)- completely impassable due to a 9-foot deep cut across the road. Likely to remain closed until

f

all 2025

.
Upper Wildrose Road (above the Charcoal Kilns) - No access due to extensive damage on Emigrant Canyon Road and Lower Wildrose
Saline Valley Road South Pass - Signed closed by Inyo County.
Hunter Mountain - Signed closed by Inyo County.
Salt Creek - Closed. Will not open before

fall 2024

.
Big Pine Road - closed east of Eureka Dunes
Titus Canyon Road - closed due to flood damage- this includes bicycles. Impassable. Not likely to open before

January 2025

.

Steel Pass - closed due to extensive flood damage. From an airplane, it appears the road is completely erased from Eureka Dunes through Dedeckera Canyon. Steel Pass itself looks okay. From Steel Pass to Upper Warm Springs, there's no sign of a road at all. Designated wilderness begins 50 feet on either side of the legal road (which is erased). Anyone trying to drive that would likely be illegally driving in wilderness. The park hopes to be able to work on this road in

winter 2023/2024

.
Lemoigne Canyon Road - closed due to flood damage. No estimated timeline for reopening.
ROADS OUTSIDE THE PARK
OPEN:
Furnace Creek (reservation)
Sunset (first come first served)
Texas Springs (first come first served)
Stovepipe Wells (first come first served)
Eureka Dunes Primitive
Saline Valley Primitive
CLOSED:
Emigrant- flooding caused damage to the water system
Wildrose, Mesquite Springs, Thorndike Primitive, Mahogany Flat Primitive, and Homestake Primitive- not accessible due to closed roads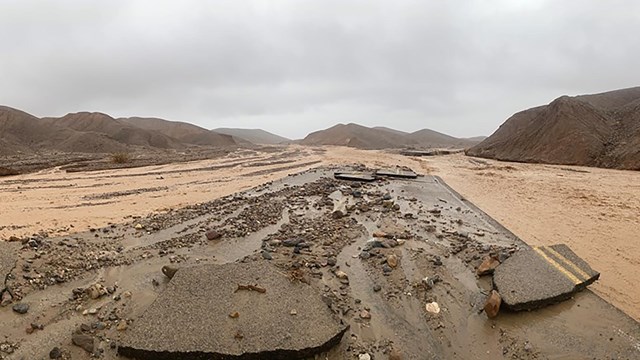 Weather Conditions
Check weather before your planned travel days, conditions can swiftly change in Death Valley.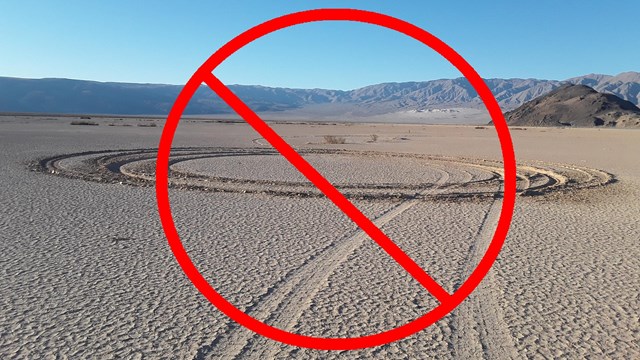 Stay on Roads with your Vehicle
Illegal driving off designated roads negatively impacts the landscape, ecosystem, view, and more.
Last updated: December 7, 2023