Alerts & Conditions
Updated 11/30/2022 at 09:32 am PST
Death Valley Road Status
—

Open Roads (paved)


—

Closed Roads


—

Dirt Roads:
All backcountry roads have areas of moderate to severe damage. Some areas are impassable and many roads have not yet been assessed. Travel not recommended.
---

Hiking Trails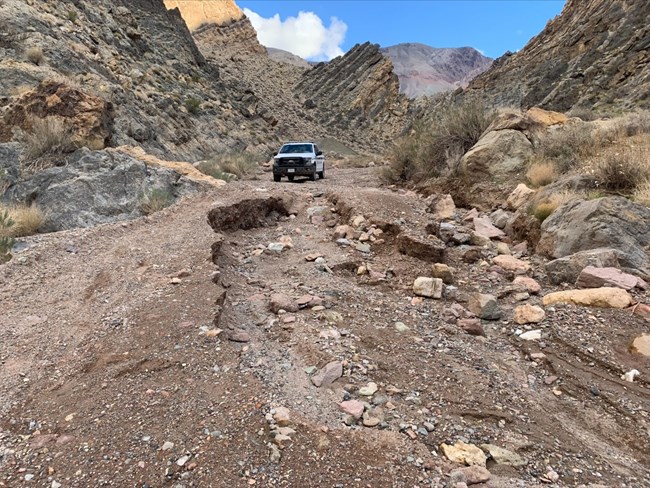 Roads, Trails & Locations
Many areas of the park were heavily impacted, damaged, or closed following record rainfall in August. While some roads have reopened, additional flooding in September re-closed many roads. Thank you for your patience as crews work hard to clear debris, rebuild roads, and open additional areas over the coming months.
PAVED ROADS
OPEN:
CA-190 through the park
Daylight Pass/Beatty Cutoff
Badwater Road to Badwater Basin (Badwater Basin, Golden Canyon Trail, Desolation Canyon Trail, Natural Bridge). (Closed beyond Badwater Basin at Mile Marker 17)

Artists Drive

(Vehicles longer than 25 feet not allowed)

Emigrant Canyon Road (Charcoal Kilns, Wildrose Peak Trail, Telescope Peak Trail).

(Vehicles longer than 25 feet not allowed)

Lower Wildrose Road (aka Trona-Wildrose Road)

(Vehicles longer than 25 feet not allowed. Some sections unpaved and only single lane wide.)

Dantes View Road (Dantes Ridge Trail)

(V

ehicles longer than 25 feet not allowed)
CLOSED:
Many park roads are closed due to recent flood damage. This includes:
Badwater Road south of Badwater Basin (Mile Marker 17) to CA-178 and Shoshone,CA (Sidewinder Canyon Trail, Willow Canyon Trail). Not likely to be open before mid-December.
Keane Wonder Mine
Mud Canyon. No timeline for reopening, not likely to be open before January.
North Highway (Ubehebe Crater). Not likely to be open before mid-January.
Salt Creek -

May be closed until fall 2023. Flooding changed the creek bed, destroyed the boardwalk and damaged the toilet.

Bonnie Clare Road and Scotty's Castle due to flood recovery work . Unlikely to reopen before spring 2024.
BACKCOUNTRY ROADS
Backcounty travel is not advised. Due to recent flooding events, visitors should expect additional hazards and roads in far worse condtion than stated in the Backcountry and Wilderness Access Map. Many areas have not been assessed for damage. Some areas are impassable - do not plan on through-travel.

If you choose to travel on backcountry roads, be aware that rescue is likely to be extremely delayed. Travel prepared to survive, with 2 full size spare tires and extra food and water. If you have questions about road conditions or need help planning your backcountry trip, please call: 760-786-3200.

Note that road closures listed below apply to ALL vehicles, including motorcycles and bicycles. The roads were completely washed out in places and entry will cause tire tracks and braided roads in wilderness as users try to locate what was once the road. Thank you for your patience as we work to reopen these locations.
CLOSED:
Westside Road (Johnson Canyon, Galena Canyon, Trail Canyon, Hanaupah Canyon, Warm Springs Canyon)

Titus Canyon

Racetrack Road

Wildrose Canyon beyond Charcoal Kilns

Steele Pass

Owlshead Road

Grotto Canyon

Harry Wade

Jail Canyon (see the Superintendent's Compendium to learn more).
NOT ADVISED:
Darwin Falls Trail- trail is washed out
ROADS OUTSIDE THE PARK
OPEN: Furnace Creek, Emigrant, Wildrose, Texas Spring, Stovepipe Wells, Sunset, Eureka Dunes Primitive, Saline Valley Primitive

CLOSED: Mesquite Springs Campground, Thorndike Primitive, Mahogany Flat Primitive

NOT ADVISED: Homestake Primitive - Only accessible via Lippincott Rd. There are currently NO restroom facilities at Homestake Campground. Pack out all waste.
Visitor Centers
OPEN: Furnace Creek Visitor Center. Hours of operation are 8:00 a.m. to 5:00 p.m, daily. This includes pass sales, information, bookstore, exhibits and the park film.

VARIABLE: Stovepipe Wells Ranger Station. Variable days and hours depending on temperature and staffing. Please call: 760-786-3200 for current status. Pass sales and information.
Resorts: Lodging, Food, and Fuel
Food options are available and gas stations are open. Please contact each of these private businesses directly for the most up to date information on their operations:
There are no scheduled commercial flights to airports within Death Valley National Park. Pilots with their own aircraft may use the airports. There is NO aircraft fuel available at either airport.

OPEN: Furnace Creek, Stovepipe Wells
CLOSED: Chicken Strip Airstrip
Fees & Passes
Entrance fees or a valid National Park pass are required. Death Valley National Park does not require an advanced entry reservation or pass to enter the park; park fees may be paid upon arrival. Most vendors are only accepting credit/debit cards at this time; we strongly encourage cash users to obtain a pre-paid credit card prior to your arrival.
Entrance Fees

: can be paid at automated fee stations found near entrances, outside the visitor center, and at many viewpoints in the park. They can also be purchased online at

Recreation.gov.
Passes:

Annual, Senior, Access and Military passes are available for sale at Furnace Creek Visitor Center. Passes can also be purchased

online. Note that passes purchased online may take several weeks to arrive by mail. Present a ranger with a printed copy of the required activities to recieve a free Fourth Grade Pass.
Weather
The Death Valley Weather & Climate page includes current conditions, forecasts and radar images.
Park Status during COVID-19
Indoor Masking: The health and safety of our visitors, employees, volunteers and partners is our number one priority. In areas the CDC identifies as high COVID-19 community level, masks are required for everyone in all NPS buildings, regardless of vaccination status. In most low and medium COVID-19 community level areas, masks are optional, but visitors should follow signs and instructions from park staff and volunteers. Use the COVID-19 Community Level Tool and search for Inyo County to determine current community status. You may also call the Furnace Creek Visitor Center at: 760-786-3200 for current indoor masking requirements.

Last updated: November 30, 2022