Alerts & Conditions
Park Status during COVID-19
Following guidance from the Centers for Disease Control and Prevention and recommendations from state and local public health in consultation with NPS Public Health Service officers, Death Valley National Park is open with some facility closures in place. The health and safety of our visitors, employees, volunteers, and partners is our number one priority. The National Park Service (NPS) is working servicewide with federal, state, and local authorities to closely monitor the COVID-19 pandemic.

Masks are required for everyone, regardless of vaccination status, in all NPS buildings, crowded outdoor spaces, and on all forms of enclosed public transportation. Additional details are available at www.nps.gov/coronavirus.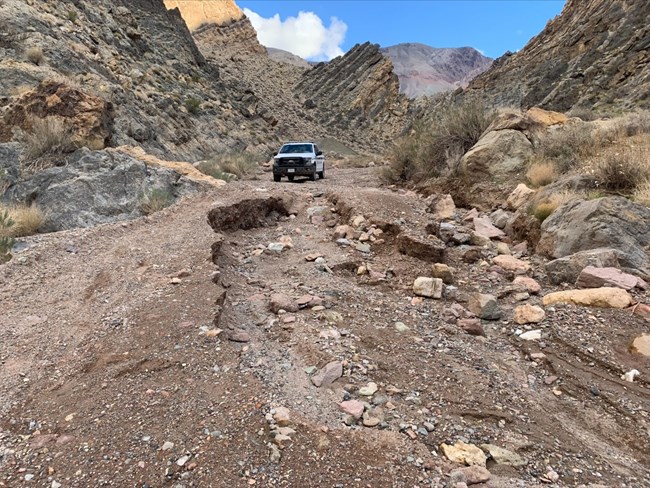 Current Closures and Conditions
Roads, Trailheads & Overlooks
OPEN: Most park roads, trailheads and overlooks are open, with exceptions noted below.

CLOSED:
Wildrose Road beyond the Wildrose Charcoal Kilns due to snow.

Bonnie Claire Road and Scotty's Castle due to flood recovery work.

Jail Canyon (see the

Superintendent's Compendium

to learn more).
Water System Repairs
Maintenance staff will be replacing critical infrastructure backflow prevention devices on the park water systems in January. These replacements will require water to be shut off incrementally to end users from 7am-4pm, according to the following schedule:

1/19/22- Furnace Creek Campground

1/26/22- All Oasis (Xanterra) properties in the Furnace Creek area
Campgrounds
CLOSED: Thorndike and Mahogany Flat Camprounds

NON-POTABLE WATER: Campers at Emigrant Campground should bring their own potable water. Due to repairs to the water system, the water at the campground is nonpotable—the water is unsafe to drink or use for cooking.
Visitor Centers
OPEN: The Furnace Creek Visitor Center is open daily from 8:00 a.m. to 5:00 p.m. This includes pass sales, information, bookstore, exhibits and the park film.

OPEN: Stovepipe Wells Ranger Station. Variable hours. Pass sales and information.
Resorts: Lodging, Food, and Fuel
Food options are available and gas stations are open. Please contact each of these private businesses directly for the most up to date information on their operations:
Fees & Passes
Entrance fees or a valid National Park pass are required. Death Valley National Park does not require an advanced entry reservation or pass to enter the park; park fees may be paid upon arrival. Due to COVID-mitigations most vendors are only accepting credit/debit cards at this time; we strongly encourage cash users to obtain a pre-paid credit card prior to your arrival.
Entrance fees: can be paid at automated fee stations found near entrances, outside the visitor center, and at many viewpoints in the park. They can also be purchased online at Recreation.gov.
Annual or lifetime passes: rangers are available to sell annual and lifetime passes in the park at the Furnace Creek Visitor Center and Furnace Creek Campground Kiosk. You may also purchase one online.
Weather
The Death Valley Weather & Climate page includes current conditions, forecasts and radar images.
Last updated: January 15, 2022