Wonder Lake Area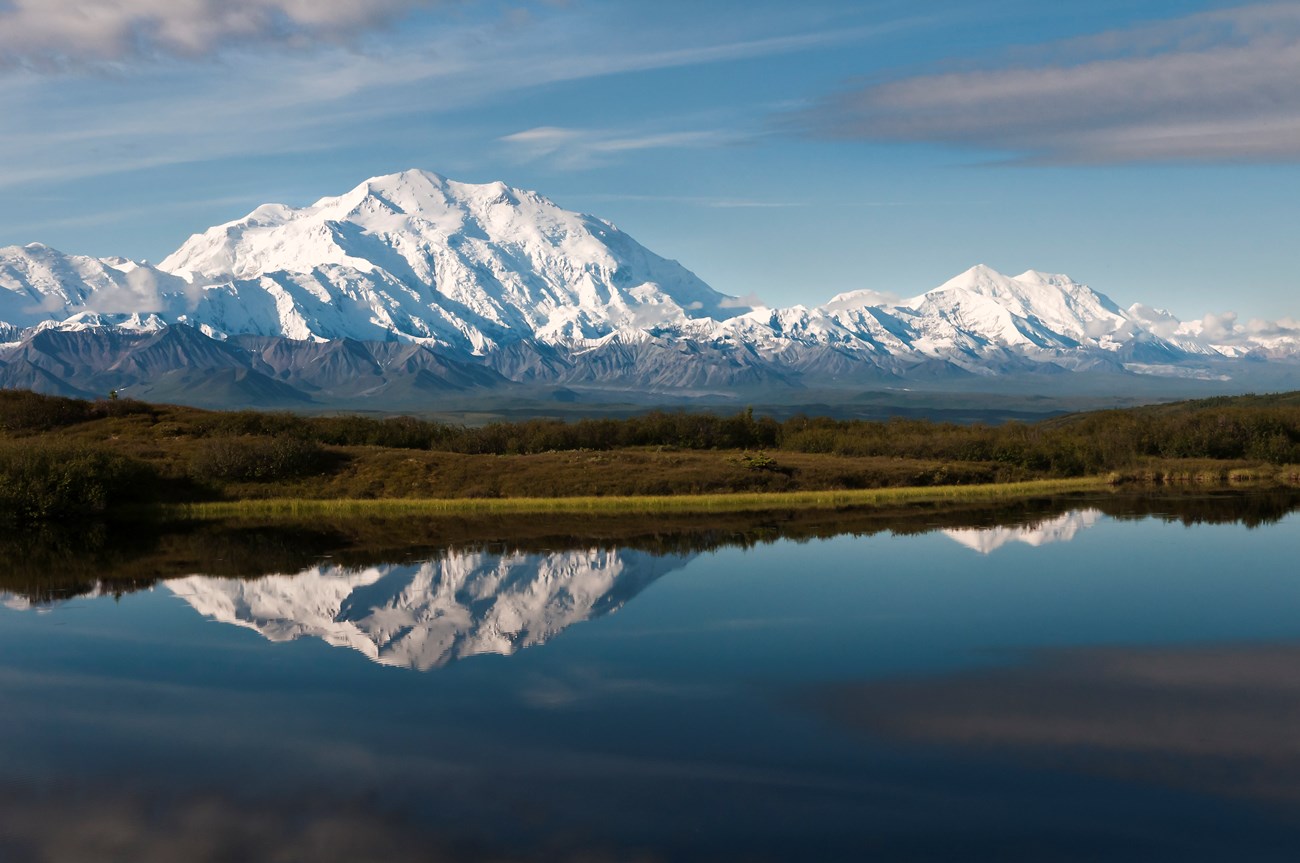 Why Visit?
Denali has just one road, running east to west. It is 92 miles long, and travels from the park entrance (eastern terminus) to Kantishna (western terminus). Locations on the park road are described by their mile marker, which indicates how far from the park entrance the location is. For example, Wonder Lake Campground is at Mile 85 of the road, meaning it is 85 miles away from the entrance. See our maps to help orient yourself.

Wonder Lake is an iconic part of Denali. Views of the Alaska Range, and Denali in particular, are fantastic when skies are clear. The area can be cloudy, and mosquitoes can be a major nuisance most of the summer, but the beautiful landscape still drawns many visitors each year. This region is much wetter than other parts of the park through which the road passes, providing opportunities for seeing waterfowl.

Wonder Lake Campground sits near the south end of the eponymous lake. The campground is about a mile away from the park road, and buses reach the campground by turning down a spur road that leaves the Denali Park Road at an intersection often called "the Y" (since the two roads form a Y-shaped intersection).
What to Do
Wonder Lake is remote area, but there are many activities in the region.
Evening ranger programs in Wonder Lake Campground

A ranger-naturalist program occurs nightly at Wonder Lake Campground in summer. Learn more about ranger programs in Denali.
Visit Fannie Quigley's historic cabin
Near the very end of the Denali Park Road, in Kantishna, is a historic cabin that belonged to Fannie Quigley. An early pioneer and miner in the area, Fannie's life history is particularly colorful. Her restored cabin helps a visitor understand what it meant to live year-round in Kantishna. Passengers on the Kantishna Experience Tour (see below) will visit the cabin, but anyone is welcome to use a transit bus (or walk the Denali Park Road) to visit it.
Hike
You can hike on-trail or off-trail in most of this area. The main trail in the area is the McKinley Bar Trail, which leads from near Wonder Lake Campground to the gravel-lined shores of the McKinley River. Hikers in Kantishna should be aware that there is private property in the area, so keep an eye out for signs warning away trespassers. Learn more about hiking in Denali.
Explore the lake
If you have a packable raft (or kayak, etc), you can bring it with you to use on the lake. There are no livery services in the area, however.
See Reflection Pond
Take a classic picture of Denali, reflected in a pond called, fittingly, Reflection Pond. The pond is located at approximately Mile 85.5 of the park road. It is a short distance north of where the Wonder Lake Campground spur departs from the main Denali Park Road.
Where to Stay
Wonder Lake Campground
A tent-only campground. Reservations can be made as early as December of the year before you intend to visit. It is often full, especially in the fall when the landscape turns vibrant shades of red and orange. Fall comes early in Denali, with peak colors in Wonder Lake usually occurring between the second and third week of August (though yearly conditions can cause some variance to that rule). Learn more about Wonder Lake Campground
Backpacking options
Although backpackers cannot camp immediately adjacent to the lake, there are several backcountry units in the area that offer great views of the Alaska Range. Backpackers must acquire a free camping permit before traveling into the park. Learn more about backpacking in Denali
Lodges in Kantishna
About seven miles farther northwest from Wonder Lake is the terminus of the Denali Park Road, in Kantishna. In that region are numerous in-holdings of private land, with several lodges available for guests. Most lodges book well in advance, so you should plan many months, or even a year, in advance if you wish to stay in the Kantishna area. The Denali Chamber of Commerce is a good starting point to research lodges in Kantishna and in areas closer to the park entrance.
How to Get Here
Transit bus
This is for people on a day-trip to the area, with plans to return to the park entrance at the end of the day. Including stops to view wildlife and scenery, it's an 11.5 to 12 hour round-trip adventure. Thus, most transit buses heading to Wonder Lake or Kantishna begin early in the morning. If you plan to do any activities in the Wonder Lake area other than sight-see (e.g., go on a hike), you should start as early as possible. Passengers on transit buses can get off their original bus (e.g., at the McKinley Bar trailhead) and then board a different transit bus later in the day to return to the park entrance.

Learn more about transit buses and prices
Camper bus
This is for people who are camping at Wonder Lake Campground, or in one of the backcountry units in the area. Only people camping in the park can use camper buses.

Learn more about camper buses and prices
Kantishna Tour bus
This is for people who want a narrated tour guide during their adventure to the western end of the park. A bit longer than a transit bus trip to Kantishna, this tour features narration from your driver, who is trained as a naturalist. You'll also be joined for part of the day by a park ranger, who will lead you on a tour of Fannie Quigley's historic cabin in Kantishna.

Learn more about tour buses and prices
How to Get Around
Campers
If you're camping in the area, you can use any transit bus to travel elsewhere in the park (i.e., either farther west, to Kantishna, or farther east, perhaps to Eielson Visitor Center, or some area that you wished to explore). You can then return to the campground by taking another transit bus later in the day.
Transit passengers
You can get off your initial transit bus at any point on the Denali Park Road (e.g., to hike off-trail, or walk along the road for a while), and then board any other transit bus to return to the park entrance. Note, you cannot travel farther west than whatever ticket you initially purchased (e.g., if you bought a transit bus ticket to Wonder Lake, you cannot try to board a Kantishna-bound bus later in the day, as that destination is farther west than Wonder Lake).
Tour passengers
Tour passengers must remain with their tour bus throughout the entire trip on the park road. You'll make the same restroom stops and wildlife viewing stops as transit passengers, but cannot leave your tour to go on a hike and then join a different tour later in the day.
Kantishna lodge guests
Speak to your lodge about how you can travel through this area during your stay.
Bicycle
Campers and transit-bus users can bring bicycles to the area, and use that as transportation while in the area.
Comment on the Wonder Lake & Kantishna Area Recreation Plan
Updated: July 29, 2019
The National Park Service is considering ways to manage recreation in this region of the park. We encourage the public to
read about the plan
and look for opportunities to comment on it!
Last updated: December 9, 2020