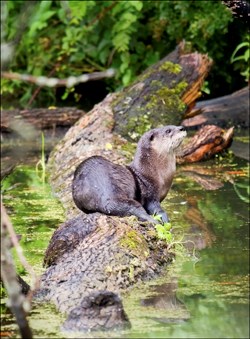 Returning Otter
River otters have found a home at the Beaver Marsh along the towpath across from Howe Meadow. This is very exciting news for it shows Cuyahoga Valley National Park (CVNP) has suitable habitat and healthy freshwater communities to attract this key indicator species requiring high quality water conditions. River otter sightings usually occur in the very early morning when there is minimal human disturbance. In general, these mammals are also very active at dusk and throughout the night feeding on fish and at times, other aquatic animals.
River otter can appear very similar to the mink, which also inhabit the Beaver Marsh and the same areas often preferred by otters. To identify the river otter, look for a long (approximately four feet) streamlined aquatic animal with either dark brown or grey sleek fur that typically has a white mustache with whitish cheeks, and has a very long tail. At close range, all its feet will appear webbed-an ideal feature for this swift swimmer. Mink are noticeably smaller (approximately 1.5 feet), appearing totally dark brown with a very distinctive white patch under the chin.
Once plentiful in Ohio, native river otter were extirpated by the early 1900s. In 1986, the Ohio Division of Wildlife began re-introducing the otter along several major Ohio Rivers. Having made a great comeback in 2002 they were delisted as a state endangered species and presently occur throughout eastern Ohio, including their return to CVNP.