Natural History Topics - September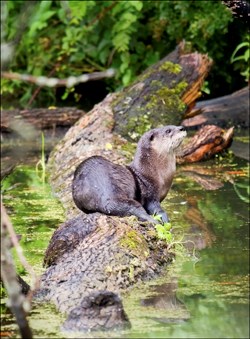 Returning Otter
River otters have found a home at the Beaver Marsh along the towpath across from Howe Meadow. This is very exciting news for it shows Cuyahoga Valley National Park (CVNP) has suitable habitat and healthy freshwater communities to attract this key indicator species requiring high quality water conditions. River otter sightings usually occur in the very early morning when there is minimal human disturbance. In general, these mammals are also very active at dusk and throughout the night feeding on fish and at times, other aquatic animals.
River otter can appear very similar to the mink, which also inhabit the Beaver Marsh and the same areas often preferred by otters. To identify the river otter, look for a long (approximately four feet) streamlined aquatic animal with either dark brown or grey sleek fur that typically has a white mustache with whitish cheeks, and has a very long tail. At close range, all its feet will appear webbed-an ideal feature for this swift swimmer. Mink are noticeably smaller (approximately 1.5 feet), appearing totally dark brown with a very distinctive white patch under the chin.
Once plentiful in Ohio, native river otter were extirpated by the early 1900s. In 1986, the Ohio Division of Wildlife began re-introducing the otter along several major Ohio Rivers. Having made a great comeback in 2002 they were delisted as a state endangered species and presently occur throughout eastern Ohio, including their return to CVNP.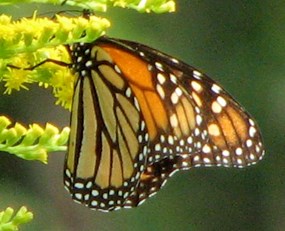 Graceful Fliers
Beautiful, brilliant orange monarch butterflies soar effortlessly over Cuyahoga Valley landscapes in September. They travel from as far north as Canada on their 2,000 mile journey to the Sierra Madre mountain range's oyamel fir forests, just outside Mexico City.

These lightweight fliers are capable of covering more than 80 miles a day, sometimes gliding with winds traveling over 20 miles per hour. This requires using tremendous energy reserves that must be replenished daily. To do this, the butterflies feed on plants high in nectar, such as goldenrod and New England aster.

The monarchs' peak migration is the third week in September. You can observe them at Terra Vista Natural Study Area and the large meadow of goldenrods, approximately half way around on the Cross-country Trail in Cuyahoga Valley National Park. The best time to come is in the afternoon on bright sunny days, when temperatures are above 70 degrees.
Visit the Monarch Butterfly in North America web site; a gateway to news, information, activities, and resources about the biology and conservation of this fascinating insect. The Monarch Larval Monitoring Project (MLMP) is a citizen science project involving volunteers from across the United States and Canada in monarch research. Help track the monarch butterfly migration each fall and spring as the butterflies travel to and from Mexico. Report your own observations of migrating butterflies to the migration map on the Journey North web site.
Terra Vista Natural Study Area is also a great place to observe other striking butterflies, including the large black, eastern tiger and spicebush swallowtails; the very colorful, although uncommon, buckeye butterfly; the silvery orange great spangled fritillary; and brilliant clouded and orange sulfurs.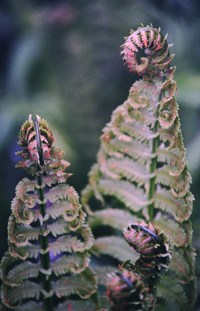 Also This Month
The high sandstone ledges in Virginia Kendall Park provide an ideal growing area for more than 16 varieties of ferns. Look for cinnamon ferns growing in abundance along the steep sided slopes, and evergreen wood ferns growing along areas where there is acidic soil, caused by iron eroding from the rock formations. The Ledges Trail is a great place to notice ferns. The coolness of the area and the heavy canopy of trees protect the shade loving plants from the hot sun.

During the third week, watch for warblers and songbirds in peak migration along the towpath near Red Lock, and on the Oak Hill and Ledges trails. Throughout the night, listen for the green katydid's song throughout the Cuyahoga Valley. Late September is ideal for observing a variety of asters along the Cross-country Trail. Look for New York, New England, and the small white frost asters (so named for being able to survive the first heavy frosts).
---
Did you Know?
The very bright, crimson leaves of red maple are among the first trees to show their autumn color and provide excellent opportunities for photographing landscapes at Sylvan Pond along the Oak Hill Trail and Horseshoe Pond, starting in mid-September.
---
Last updated: December 17, 2018