Natural History Topics - October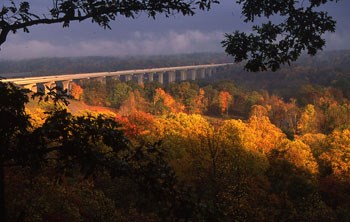 All About Autumn Color
Autumn color illuminates the lowland and upland broadleaf forests with peak color usually during the third week of this month. The peak color period could be very spectacular if there are bright sunny warm days with frost free nights. In addition, different trees peak at different times so it is possible to experience splendid autumn foliage the entire month.
The broad-leaf trees' color changes are influenced primarily by annual photoperiod (daily length of sunlight) but weather also influences the beauty of fall colors in the Cuyahoga Valley. If the days are warm and sunny and the nights are cool and crisp, the sugar and red maples are the first trees to put on the most spectacular display of red, yellow, and orange colors. They are followed by the white and pin oak that turn a brownish-red color.
Black gum, dogwood, and northern red oak turn various shades of red. Trees that turn yellow such as tulip, big tooth aspen, and silver and black maple, are usually consistent from year to year. A mild drought can brighten the color, but too much moisture and cloudy days can make colors duller.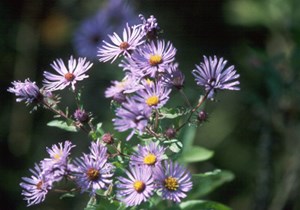 Early October
Walk the inner loop of the Oak Hill Trail to experience the magnificent reds of the maples, glowing orange hues of the sassafras, and striking yellows of the white ash and big tooth aspens. This trail is especially scenic in the early morning as the large trees by Sylvan pond and in the open fields become sunlit.
Look for the large purple flowering New England aster, blue New York aster, and small white frost asters (so named for being able to survive the first frosts) in the fields on the Cross-country Trail and along the Towpath Trail.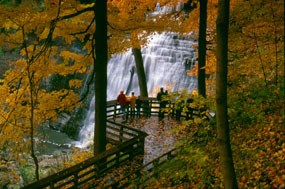 Mid October
Experience the full autumn foliage color spectrum at Brandywine Falls and the Brandywine Gorge Trail. Colors range from the brilliant reds of the sugar maples to the deep browns of the white oaks. This area is ideal for photography in the late afternoon.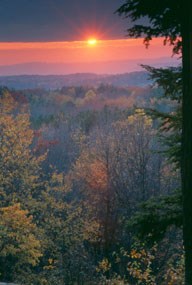 Late October
The trails surrounding the Ledges in Virginia Kendall Park are great places to experience the late turning oaks. In addition, many hazelnut and witch hazel trees that fill the woods with yellow hues peak late as result of being low-growing trees in the dense forests.
October Fauna
On warm days listen for Ohio's smallest frog, the spring peeper, calling out in the woodland forests. Small, harmless brown snakes, also known as DeKay snakes, attempt to warm themselves on the Towpath and upland trails. Later this month, large flocks of wood ducks use the Beaver Marsh early in the morning as a stopping ground on their southbound migrations to our southern Gulf of Mexico states.
Please remember that wildlife are protected in the park, and take care not to harm these animals. When watching wildlife, please observe from a distance, and follow the park rules by not feeding them.
Last updated: April 10, 2015