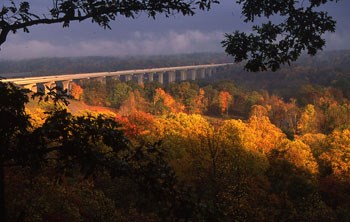 All About Autumn Color
Autumn color illuminates the lowland and upland broadleaf forests with peak color usually during the third week of this month. The peak color period could be very spectacular if there are bright sunny warm days with frost free nights. In addition, different trees peak at different times so it is possible to experience splendid autumn foliage the entire month.
The broad-leaf trees' color changes are influenced primarily by annual photoperiod (daily length of sunlight) but weather also influences the beauty of fall colors in the Cuyahoga Valley. If the days are warm and sunny and the nights are cool and crisp, the sugar and red maples are the first trees to put on the most spectacular display of red, yellow, and orange colors. They are followed by the white and pin oak that turn a brownish-red color.
Black gum, dogwood, and northern red oak turn various shades of red. Trees that turn yellow such as tulip, big tooth aspen, and silver and black maple, are usually consistent from year to year. A mild drought can brighten the color, but too much moisture and cloudy days can make colors duller.