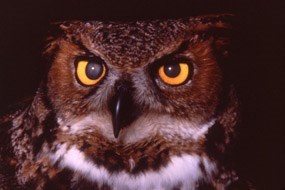 Silent Fliers of the Upland Forests
It may seem hard to believe that any bird could be at the height of its nesting season during the coldest time of year. As strange as it may seem, this is true for the owls that inhabit the Cuyahoga River upland forests.
Both the great horned owl and the barred owl can be heard in the evening, and at times seen within their nesting territories. The best time to listen for owls is early morning before dawn when they are most active. Listen for the hooting call of the great horned owl, "hoo, hoo-oo, hoo, hoo" and the "who cooks for you, who cooks for you all" of the barred owl. The screech owl has a descending wailing trill, sometimes sung as a single note.