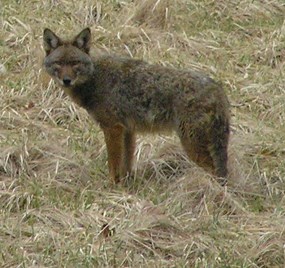 Winter Coyotes
December is a good time to watch coyotes as they actively feed in the fields and along the woodlands, often into the late morning. Their increased activity is due to their need for more food reserves during the harsh winter temperatures. The coyotes pounce on their prey, typically a meadow vole, rabbit, or other small animal that makes up to 90 percent of their food source. They also eat vegetables, nuts, and carrion (the decaying flesh of a dead animal).
Look for a slender animal very similar to a medium-sized dog with an elongated snout and a distinctive, bushy, black-tipped tail. Coyotes are generally gray, but may appear very blonde in color with reddish streaking to nearly jet-black. They stand one to two feet tall at shoulder, are three to four feet long, and weigh 25 to 45 pounds. Females are smaller.
Coyotes jump around with tails carried down at a 45-degree angle, and generally step in a straight path. In contrast, dogs run with their tails up and tend to meander, often with distinctive overlapping tracks. Typically, coyotes are afraid of humans and run away from them. Treat them with respect by observing them at a distance. Please do not approach them.
First recorded in Ohio in 1919, they now reside in all of Ohio's 88 counties. For more information see Coexisting with Coyotes site bulletin.