Watersheds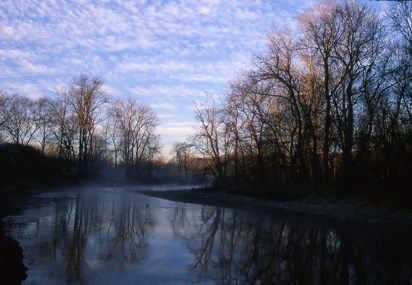 Cuyahoga River Watershed
Cuyahoga Valley National Park is contained entirely within the Cuyahoga River watershed, which takes on the shape of the "v"-shaped river. The Cuyahoga River begins in Northeastern Ohio's Geauga County as two bubbling springs that join about 10 miles to the south near Burton. The river flows to the southwest, through thick forests and past rich farm fields, until it reaches the more populated urban areas near Akron, Ohio. At this point, the river hits an east-west continental divide and turns sharply northwestward, forming the bottom of the "v." The Cuyahoga then flows through the national park—alongside remains of the Ohio & Erie Canal, through the Historic Districts of Peninsula and Boston, and under the historic Station Road Bridge. The river reaches its terminus in downtown Cleveland, 100 river miles from its source, but only 30 miles as the crow flies.

The Cuyahoga River watershed drains over 810 square miles of Northeastern Ohio. Thirty-seven named tributaries and many unnamed streams, totaling over 1,100 stream miles, enter the Cuyahoga throughout its course. Within the national park's portion of the watershed (about 6.5 percent of the total watershed), perennial (permanent) and ephemeral (temporary) streams total over 190 miles in length. Some of the larger tributaries (e.g., Tinkers Creek and Furnace Run) drain areas larger than 50 square miles, while most others range between 2 and 20 square miles.

Land use maps show a landscape as diverse as individual tributaries. Forested areas cover much of the watershed, about 56 percent. Agricultural lands and urban open space account for 22 percent, while wetlands, rivers, and streams are found on 16 percent. Urban areas cover 6 percent of the watershed.
Watershed Stewardship
Though the Cuyahoga River watershed makes up less than 2 percent of Ohio's land area, nearly 15 percent of Ohio's population lives within the watershed. Most of this population is found along the lower Cuyahoga. Though a few small communities are located in the park, Akron and Cleveland, the urban centers at the southern and northern ends of the park, contain most of the watershed's population. This high concentration of urban areas, along with heavy industrialization along its banks, stresses the lower Cuyahoga, which has been troubled by pollution since the 1800s, although it has recovered.
Better care of the watershed is needed to keep park resources from further risk.
Watershed Planning
For good examples of local watershed planning efforts and resources, including projects in many park tributaries, please visit the Cuyahoga River Community Planning Organization at www.cuyahogariverrap.org/.


Last updated: May 9, 2022