Natural History Topics - August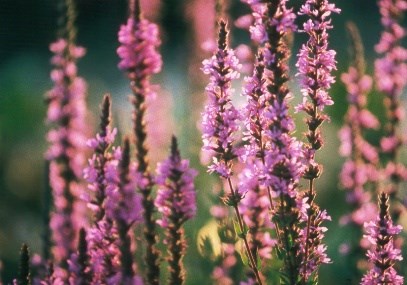 Purple loosestrife, although very brilliant, serves as a reminder that not all attractive flowers are beneficial to native habitats. This is a highly invasive, non-native flower that greatly limits native plant growth and important wetland habitats for a variety of animals. At times, the park removes purple loosestrife in an effort to preserve the naturally occurring native wetland communities.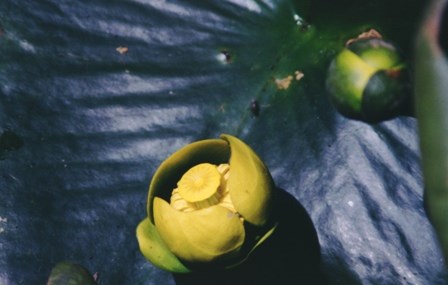 Spatterdock, also known as yellow pond or cow lily, dominates in the deeper water areas at the Beaver Marsh.
Goldenrod is a perfect high-nectar flower that migrating monarchs will visit later this month.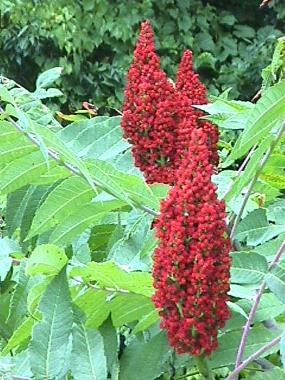 Staghorn sumac, with its large cone-shaped seed clusters, is best seen as a large shrub in areas surrounding the Beaver Marsh.
Green stinging nettle with its stinging stems reminds us that some wildflowers are better observed than touched.
Orange jewelweed, also known as touch-me-not, with its earring-like flowers and beaded water droplets showing a silvery hue, occurs in select places near the Beaver Marsh and adjacent marshlands.
Purple tall ironweed is a dazzling four-foot-tall plant with dark purple flowers that occurs in the open fields and grasslands.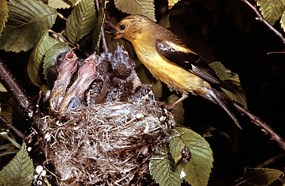 Go for the Gold in August
American goldfinches nest late in the Cuyahoga Valley, mostly due to their dependence on the late-flowering thistle. The soft, fluffy thistle down is used for keeping the inside of the nest warm and cozy, and the plentiful tiny seeds are fed to their developing young. Goldfinches are particularly active during this nesting season, and they remain throughout the year in Cuyahoga Valley National Park.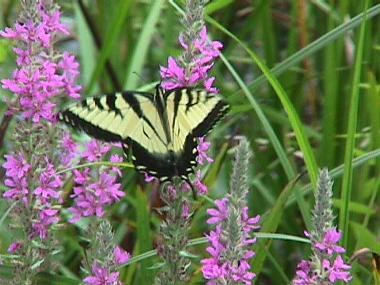 Other Highlights in August
Look for sulfur-colored polyporous fungus clinging to dead trees along Haskell Run and Boston Run trails.

Early returning warblers are frequently seen along the open woods and ravines along the Wetmore Trail early this month.
Watch for the colorful yellow eastern tiger swallowtail butterfly on the large pink flowers of Joe-pye weed.
Listen for calling barred owls during the late afternoon and dusk along the Oak Hill Trail System near Sylvan Pond. Their call resembles the words, "who-cooks-for-you, who-cooks-for-you-all."
Last updated: December 17, 2018