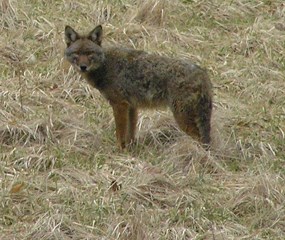 ---
The comparative wilderness of Cuyahoga Valley National Park (CVNP) in a sea of urbanity provides a refuge to many mammals. Click here to search for mammals that call our park home!
---
Coyotes
Thirty-nine mammal species have been identified in the park. Coyotes, recently returned (naturally) to the valley after a long absence, are the dominant predator in the CVNP ecosystem. The park offers coyote good edge habitat with open meadows and fields surrounded by forests, and plenty of food in the form of fruits, nuts, grains, and small mammals. Coyotes are present in all 88 counties in Ohio. No one is sure how many coyotes are living in CVNP, but recent surveys estimate between 100 to 150.
Red and gray foxes take advantage of these same food sources, though gray foxes are considered rare in the park.
Coyote Research
Working with a coalition of regional partners, researchers from Metro Parks, Serving Summit County are tracking coyotes throughout the Cuyahoga Valley as part of a multi-year project aimed at learning about the wild canines' range, diet and overall health. They are currently in their second year of a three-year research project.
Presently researchers have radio collared fifteen coyotes, some with VHF collars and others with GPS collars. The coyotes' daytime whereabouts are recorded daily using a vehicle-mounted antenna, which picks up the radio signals, and once a week staff and volunteers go out at night to determine their evening locations. Those animals outfitted with the GPS collars allow biologists to simply download the animals' locations.
The University of Akron, Cuyahoga Valley National Park, and nonprofit conservation foundation Wild4Ever are providing partial funding and/or field biologists for the project. Support is also being provided by The Ohio State University and Cleveland Metroparks. For further information contact Metro Parks, Serving Summit County.