Lakes and Ponds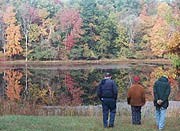 More than 100 lakes and ponds dot the landscape within the park, with approximately 70 existing on federal land. Pond sizes range from less than one-tenth of an acre to more than 10 acres.
All ponds are human-made, with many originally created to serve as small farm ponds. Long-abandoned ponds usually have reverted to a more natural state and now have wetland characteristics. Such ponds are considered wetlands, assigned protective buffers, and managed for natural resource values. Other ponds are used as water sources for agricultural activity or managed for recreational uses (e.g., fishing) according to the CVNP's Pond Management Plan. Kendall Lake, the park's largest lake at 12 acres, is large enough for fishing and canoeing.

The water quality of park ponds is monitored every five years. Pond water quality is considered good, as all ponds meet State of Ohio warm water habitat standards.


Last updated: January 8, 2018