Management
Strategic Action Plan
Strategic Planning is an important process for any organization in order to set priorities and focus. Beginning in late 2015, staff at Cuyahoga Valley National Park came together to work on developing a Strategic Action Plan. As a result of the development process, it became apparent that the time is right for a Strategic Action Plan with a focus on the Cuyahoga River Watershed. This focus will allow Cuyahoga Valley National Park and its partners the opportunity to highlight the importance of this key feature of the park's enabling legislation.

Vision: In 2021, the Cuyahoga River Watershed, its metropolitan communities, and Cuyahoga Valley National Park are international symbols of human and ecosystem renewal.

Victory: By 2021, the Cuyahoga River is no longer listed as an environmental Area of Concern and is celebrated through national and international environmental awards and designations.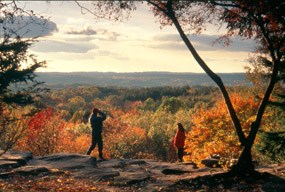 Mission Statement
The park's mission statement pulls key language from the park purpose set by the law the created the park in 1974:
To preserve and protect for public use and enjoyment the historic, scenic, natural, and recreational values of the Cuyahoga River Valley, to maintain the open space necessary for the urban environment, and to provide for the recreational and educational needs of the visiting public.
Foundation Document
Every unit of the national park system is required to have a formal statement of its core mission that will provide basic guidance for all planning and management decisions. Please contact us for a copy of our foundation document.
Discover the Story of Cuyahoga Valley National Park
Western Reserve PBS created a one-hour documentary, Generations: Cuyahoga Valley National Park. This video tells the story of the park's natural wonders and the people whose lives have crossed its many paths.
More Information


Last updated: September 27, 2023