Western Reserve Pioneers
A new kind of people began coming to the Cuyahoga Valley in the late 1700s. Families from Massachusetts, Connecticut, and other New England states had begun moving to the Western Reserve, including land around the Cuyahoga River. These New Englanders were not traders or missionaries. They were settlers looking to make a new life in the valley.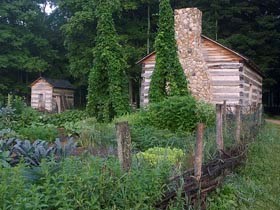 Northeastern Ohio was then America's frontier. Settlers faced many challenges when they arrived. The land they'd bought was likely thick forest. Trees had to be hacked down with saws and axes before crops, or even a garden, could be planted. Those trees were often notched and stacked to make a pioneer family's first home. A recreated pioneer log cabin like those lived in two centuries ago is a popular site at Hale Farm & Village, a CVNP partner.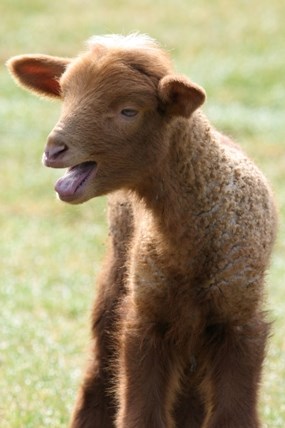 Work was never-ending and diseases plentiful on the frontier. The early pioneer communities were not much more than groups of scattered cabins in patches of cleared forest. Doctors or medicines were scarce and living conditions often unhealthy. Mosquito-carried diseases were common, as were fleas and bedbugs. Even a bout of flu could cause many deaths.
Families depended on themselves to survive and everyone worked, including children. Days were filled with chopping wood for cook fires and heat, tending to the animals and gardens that fed the family and hauling water from a spring or creek. Frontier families often built their own furniture, spun yarn and wove cloth to sew clothes, made candles, and collected syrup from sugar maple trees. What pioneers couldn't make or grow themselves they had to trade for or buy. Necessities like tools, salt, and gunpowder cost money. Many earned cash by raising pigs and growing rye, wheat, and corn and selling them to newer settlers or local soldiers.


---
In Their Own Words! To find out more about life on the Western Reserve, read quotes from Emily Nash's diary, describing her childhood in the early 1800s.
In Their Own Words! To find out how things changed from the Western Reserve period to the Canal Era, read Amzi Atwater's letters. Amzi Atwater was a member of the first two survey teams to map the Western Reserve.
---
Frontier Towns
Over time clusters of log cabins grew into pioneer communities. Eventually life on the frontier took on a more town-like atmosphere. Traveling on horseback or horse-drawn buggy on muddy roads and streets was still the only way to get around, but life got easier in other ways. Towns added schools, churches, post offices, and stores. Citizens of the frontier could earn a living as a shopkeeper, shoemaker, glass blower, or other tradesperson, not just as a farmer.
Mills created jobs, too, as they opened to process the crops produced by settlers. The flowing water of the Cuyahoga River and its tributaries turned the waterwheels that powered these mills. Soon gristmills ground grain into flour, small factories made whiskey and cheese, sawmills turned trees into lumber, and woolen mills made cloth from sheep's wool.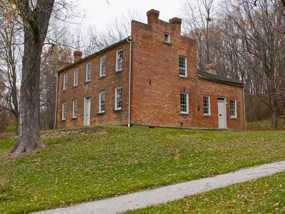 One family that prospered on the Cuyahoga Valley frontier was that of Steven and Mehitable Frazee. Like many pioneers, they built and lived in a log cabin when they bought land near the Cuyahoga River in 1816. By 1825 they had prospered enough to build a two-story brick home with big rooms, built-in cabinets, and glass windows. Today the Frazee House is part of Cuyahoga Valley National Park.
Last updated: April 28, 2020