The Cuyahoga River
The Cuyahoga Valley would not look as it does today without the Cuyahoga River. About 22 miles of the river's path runs down the center of Cuyahoga Valley National Park (CVNP) like a spine. Many more miles of streams and creeks feed into the river. A number of these tributaries are big enough to have their own names, like Tinkers Creek and Furnace Run. Some, like Brandywine Creek, are famous for their waterfalls and the gorge it carved. But many others are small nameless streams that only run when rain pours down.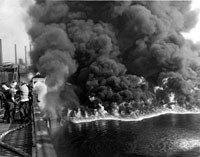 The Cuyahoga River is a famous ecosystem. Today its flowing water supports fish and insects that feed birds and amphibians along its muddy banks. But the river wasn't always so full of life. The Cuyahoga River has a very polluted past. The river between Akron and Cleveland was dangerously dirtied by a century of dumped factory waste and sewage from cities. In the summer of 1969 a floating pile of oil-soaked logs and other trash caught fire on the river in Cleveland. The Cuyahoga River became known as the river that burned.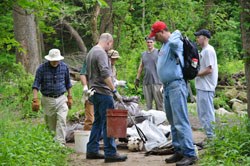 News of a river so polluted that it caught on fire made people demand action. The Cuyahoga River's sad state sparked the modern environmental movement in America. The Environmental Protection Agency was created and legislators passed pollution control and clean-up laws. The fire even helped inspire the first Earth Day in 1970. Thanks to decades of clean-up work, the Cuyahoga River is on the mend. Parts of the river still suffer from unhealthy amounts of sewage. But aquatic bug populations, which are sensitive to pollution, are increasing. Today more than 40 species of fish swim in the river's waters. Even fish that can only live in clean water, like steelhead trout and northern pike, have returned.
---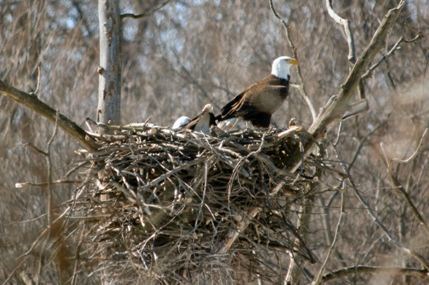 Bald Eagles Return
For more proof that the Cuyahoga River ecosystem is getting healthier, look up! High overhead in a big tree near Pinery Narrows is a bald eagle nest. After being gone from Cuyahoga County for 70 years, nesting bald eagles are back. Since 2006 a pair has built a nest every year. The pair in 2007 raised the first eaglet youngster! Bald eagles are a good sign that the river is cleaner. The large birds of prey are eating fish out of the river. Bald eagle nests can be the size of a golf cart and typically weigh a ton. It takes a big strong tree, like a sycamore, to support an eagle's nest.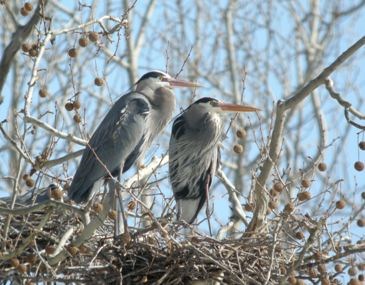 Sycamore trees are easy to spot. Their bark is an unmistakable spotty mix of cream, tan, and green. On a sunny winter day, their upper whitish trunks shine bright like ghosts among the other darker river trees. The ping-pong ball sized fruit of sycamores hang from the branches all winter. Then they fall off and fluff apart, spreading their seeds in time for spring sprouting. Sycamores tolerate having their roots flooded, so are often part of ecosystems along rivers and streams. These large, wide trees become hollow as they age, so they provide popular nest sites for opossums, raccoons, and screech owls.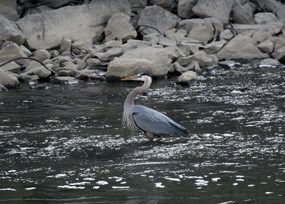 Great blue herons are another river ecosystem bird that finds the food and nest sites it needs along the Cuyahoga River. These large, long-legged birds roost and nest in a colony, called a heronry. A single heronry can have dozens of nests, each made of sticks stuck high up in trees. The largest heronry in CVNP has more than a hundred nests. Great blue herons are as tall as a fourth-grader, being four feet tall and having a wingspan of nearly seven feet. Their long beaks are perfect tools for catching fish and frogs in shallow water. If you hear a low croaking sound overhead, look for a great blue heron. It sounds like a flying dinosaur! That's something else you won't want to miss at Cuyahoga Valley.
---
Last updated: March 26, 2021