Teaching Sustainability at CVEEC
Teaching Sustainability at Cuyahoga Valley Environmental Education Center
By Volunteer Sustainability Reporter Emily Bryant
Thanks to changes in the Cuyahoga Valley Environmental Education Center (CVEEC)'s curriculum, every year about 3,500 students in grades 4 to 8 have an opportunity to learn about the importance of sustainability and how to turn this idea into action. CVEEC's resident program for school groups, All the Rivers Run, teaches students about sustainability through song, park ranger leadership, observations of buildings with sustainable features, interactions with nature, and a group project. The center, located in Peninsula, Ohio, is a partnership between the National Park Service and Cuyahoga Valley National Park Association (CVNPA).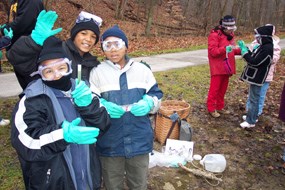 Students in grades 4 to 6 study watersheds and earth-friendly living. Their final project is to design a sustainable building and present their ideas to their classmates. The students pick from a menu of choices such as using recycled materials, bringing more daylight inside, and/or building a green roof—but they also add their own creative ideas.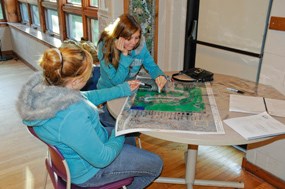 Students in grades 7 and 8 learn how to measure stream health and about Low-Impact Development (LID), ways to better manage storm water during building projects. Many streams flow into the national park from outside communities. If they become polluted or damaged, this hurts the waterways downstream. For their final project, students design a housing development just outside the national park and make a presentation about how their design is the most earth friendly. Examples of LID ideas are pavements that absorb water, green roofs, rain gardens, rain barrels, and protection of existing streams and wetlands.
While students may be familiar with some green practices, sustainability is a relatively new term. Jennifer Bucheit, CVNPA environmental education specialist, explains how students often come to CVEEC with incorrect ideas about sustainability really means. For example, Bucheit said, "Many students come to CVEEC thinking that recycling is sustainable. They don't know that recycling has a high energy cost." Although recycling is a positive action, students learn that better options are reducing and re-using resources. To help students understand this, they measure their own food waste during meals. CVEEC has a special chant for groups that produce zero waste by the end of the week.
Because of what she has learned while working at CVEEC, Bucheit changed her habits to be more earth-friendly. Bucheit now reduces the amount to waste she creates by using cloth bags instead of paper or plastic, collecting fruit peels for composting, and using washable cups and dishes instead of throwaways. She hopes that the students who visit CVEEC are also inspired by what they learn. "We try to model behaviors and let students know about the little things they can do themselves, such as using steel water bottles to reduce waste and turning off the faucet while they brush their teeth to conserve water," Bucheit explained.
---
Get Involved
Attend summer camp at Cuyahoga Valley National Park (CVNP).
Become a CVNP Junior Ranger.
Use cloth bags for shopping instead of disposable ones.
Carrying a reusable water bottle instead of buying bottled water. Steel ones are easy to clean and do not give off harmful chemicals.
Pack a no-trash lunch.
Have toys and clothes that you no longer want? If they are still in good shape, give them to another kid.
Last updated: July 24, 2015