Just for Fun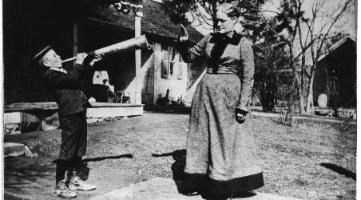 Who Can Resist a Good Laugh?
Listen as local residents share amusing stories about life in the Cuyahoga Valley.

---
In Their Own Words
Click the topics to hear stories about Cuyahoga Valley Life.
Hidden Gold? (1 minute 23 seconds)
David Darst, who worked on the Bender Farm from the 1950s through the 1970s, shares the legend of Dan Brown's gold, possibly hidden in his grave.
Mr. Hale's Stagecoach (1 minute 9 seconds)
Ott Wilson, whose father worked on the Hale Farm in the 1930s, tells why Clara Belle Ritchie decided to burn her uncle's stagecoach.
Turkeys ♥ Cars (44 seconds)
Terry Smith of the former Goatfeathers Point Farm describes his turkeys' unusual affection for certain vehicles.
Mom Versus the Turkey (38 seconds)
Dorothy Vani tells a story about her mother and the turkey on their farm on Akron Peninsula Road, near Boston Mills Road.
Attack Geese (1 minute 14 seconds)
Daniel Greenfield of Greenfield Berry Farm tells a story about ferocious geese he once owned.
Cigars in the Orchard (1 minute)
Willis Meyers, who grew up on Steels Corners Road, shares a story about the dangers of smoking.
---
Last updated: June 24, 2020