Donate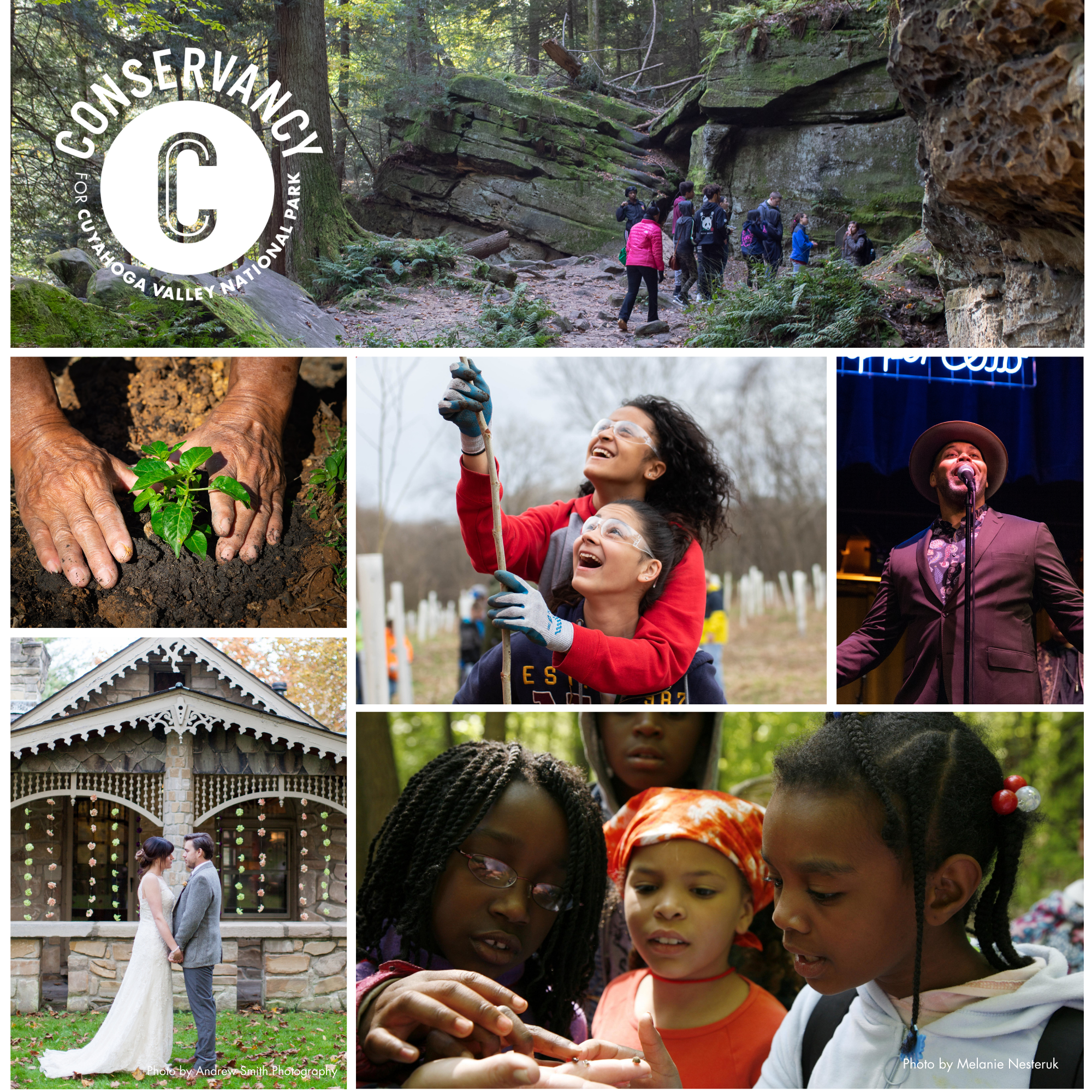 As the official non-profit of Cuyahoga Valley National Park, the Conservancy funds critical work every day that has far-reaching impacts on our community – but they can only do it with the support of people like you. Whether you become a member, attend an event, or volunteer your time, you're helping the Conservancy protect and preserve Cuyahoga Valley National Park for future generations.


Areas of Focus
Visitor Services & Education
Helping people learn about and experience Cuyahoga Valley National Park safely and sustainably. Learners of all ages connect with the park through year-round public programs.
Youth in CVNP
Engaging with over 10,000 students per year through our virtual and in-person programs. From scientific exploration of the Cuyahoga River, to singing around a campfire, the Conservancy is committed to providing every child, regardless of resources, the chance to experience the natural wonders, rich history, and stunning beauty of Cuyahoga Valley National Park.
Land Conservation, Habitat Restoration & Trail Maintenance
Preserving and improving habitat for native plants and animals, as well as keeping the national park's trails in top condition. The Volunteer-in-Park (VIP) program is co-managed by the National Park Service and the Conservancy. Kids, families, and adults of all ages can find their volunteer niche with over 100 different ways to help preserve CVNP for future generations. We also work hand-in-hand to provide unique opportunities for corporate, school, scout, and youth groups. To find the perfect opportunity, visit forcvnp.org/volunteer.
Cultural Arts
Creating meaningful, immersive cultural programs, such as the Rhythm on the River concert series, that reflect the interests of those who live, work, and play in our region. From workshops and lectures to live concerts and public art, there's something for everyone. Discover upcoming events by visiting forcvnp.org/calendar.
Extraordinary Spaces
Providing an idyllic backdrop at historic venues to share your small and big moments – from work meetings to saying "I do." Surrounded by rolling meadows and woodland vistas, the Conservancy's beautiful and historic buildings provide cozy rusticity and modern amenities, perfect for weddings, family reunions, group retreats, company meetings, and other events. Visit forcvnp.org/space-rental to book your next event in CVNP.
Philanthropy
The Conservancy's life-changing programs and activities, as well as Cuyahoga Valley National Park's 100+ miles of trails, would not exist without help from the individuals, foundations, and corporations who provide their financial support. You too can invest in your park – Opportunities include attending fundraising events, sponsoring an acre, donating to the Trails Now Fund, memorial gifts, joining the Legacy Society, and more. Visit forcvnp.org/donate to find out how you can give back.




To learn more about the work of the Conservancy and view their current projects, visit https://www.conservancyforcvnp.org/impact/.
To learn more about making a gift, becoming a member, or other ways to make a difference, call (330) 657-2909 or visit the Conservancy's donate page.
Last updated: January 19, 2022