Hiking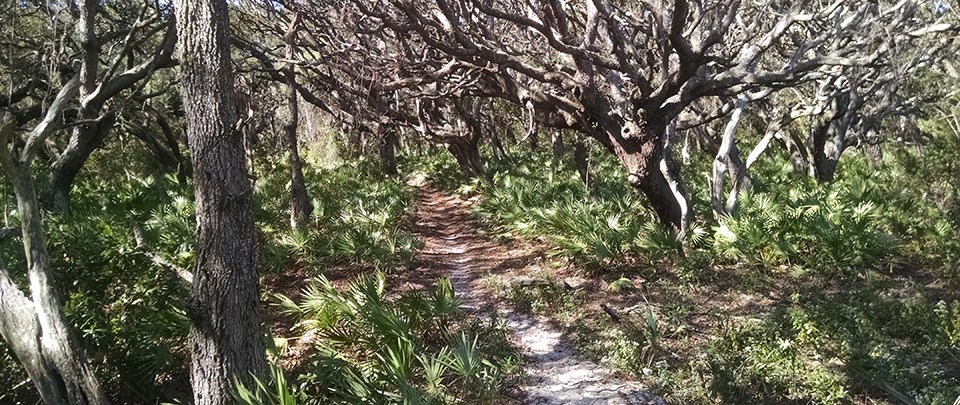 Hiking
More than 50 miles of hiking trails and roads meander through maritime forests, interior wetlands, historic districts, marsh ecosystems, and the beautiful beaches. Trails, beach, and roadways (not marked private) are all available for hiking.
Download a free copy of the hiking map with trail descriptions below.
Popular trails on the southern end of the island include:
Dungeness Roadways - a self-guided walk through the Dungeness Historic District
River Trail - a short walk along the water's edge between Dungeness Dock and Sea Camp
Nightingale Trail - offering a view from within the maritime forest
Parrallel Trail to Little Greyfield Road - walk through the trees, across the dunes, and back down the beach
Hiking the Southend
The majority of day visitors to the island spend their time hiking around and exploring the Southend. Within a short distance one can walk through oak trees draped in Spanish moss, visit the Dungeness historic district, cross boardwalks over marsh and sand dunes, and soak in a stretch of undeveloped beach.
There are several intersecting trails and roads in the area. A
map
and trail signs will help one to keep their bearings. The map will show the location of the 4 restrooms with drinking fountains as well.
From Sound to Sea - Southend Loop
This 4.3 mile loop is very popular for a day visit. Watch the video below to view the route.
Hiking the Northend and Wilderness
Hiking north on the Parallel Trail, or Main Park Road, will take you through the heart of the island under a draping canopy of live oaks, across forest floors packed with palmetto, through tall stands of stately pines, over open fields, near tidal creeks, fresh water wetlands and lakes. For a true backcountry experience, consider taking Parallel Trail or one of the many other backcountry and Wilderness trails that traverse the island.

If you are planning on hiking North, keep the following in mind:
The only places to find drinking water North of Sea Camp are Stafford Beach Campground and Plum Orchard Mansion. All other water - whether from a spigot or not - must be treated before drinking.

The Wilderness boundary lies 5 miles North of the Sea Camp dock. Due to the distance, it is best explored when visitors have more than regular day visit hours - like when camping or private boating.

Due to the remote nature of the island, hikers in the wilderness should: take time to prepare and pack properly, let a friend or family member know their itinerary, and take responsibility for their own safety.
Last updated: April 11, 2023