Guided Tours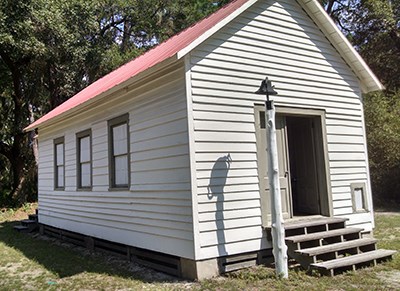 The Lands and Legacies Tour
Join guides from Lang's Seafood Inc., a National Park Service approved concessioner, for interpretive tours via passenger van to historic locations around the Seashore, including Plum Orchard Mansion, the Settlement (including the First African Baptist Church), Cumberland Island Wharf, and other sites along the main road.
Tours are offered on days when the ferry is operating. There is a fee of $45.00 plus tax per person.
For more information, contact the Cumberland Island Ferry at 877-860-6787 or at www.cumberlandislandferry.com
Reservations are strongly encouraged as the number of visitors that can be accommodated on a daily basis is limited. Tours will operate rain or shine but may be canceled due to extreme conditions on the island.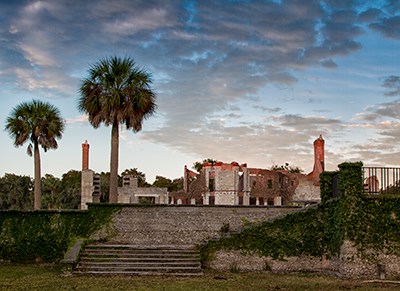 Ranger Led Activities
Footsteps Tour
When:
Offered when staff is available. Ask if tours will be offered on the day of your visit.
Times:
Offered when the ferry arrives at dock on the island; ~ 10:00 AM & 12:30 PM
Where:
Begins at the ferry dock on the island and travels ~ 1.5 miles South
Cost:
Free
How long:
From 1 hour to 1.5 hours
Ranger guided tours of the Dungeness Historic Area explore the remians of this large industrialist era estate, and dive into the pivotal stories of its location. Tours begin when the ferry docks on the island. Each tour lasts about an hour and covers about one mile in distance. There are two restrooms and place to fill drinking water along the route. The tour route does not make a loop so visitors are free to explore additional areas on their own after the tour.
If a tour is not being offered, there is a self-guided cell phone tour of the route also available.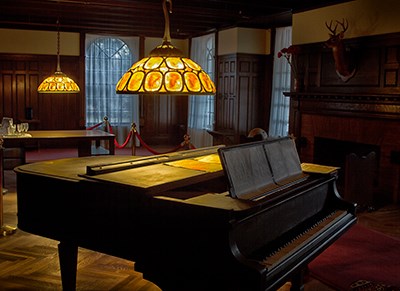 Plum Orchard Tour
Covid - 19 update: Plum Orchard Mansion tours have resumed at Reduced Capacity.
Check the Current Conditions page for more info.
When:
Offered Daily
Times:
11:00 AM; 1:00 PM, & 2:00 PM
All tours start at the front entrance. The front door will be opened 15 minutes prior to each tour, and for 30 minutes following the final tour, allowing visitors to step into the "Great Hall"
.
Plum Orchard is CLOSED during managed hunts on the island. Hunts are held October through January each year. Check the
managed hunts
page to see if this may impact your visit. Lands & Legacies tours will not be impacted by this closure.
Where:
Located 7 miles North of the Sea Camp dock. Visitors are responsible for traveling the distance on
bike
or on foot (hiking the 14 mile round trip is not recommended for day visitors).
Cost:
Free
How long:
45 minutes
Visit an early 1900s home that echoes an opulent era in the island's history; one of recreation, relaxation, and time spent with family. This 22,000 square foot home offers a glimpse of times gone by.
Getting to Plum Orchard is not an easy task. Visitors should be prepared for the 14 mile round trip journey. Visitors participating in the day long Lands and Legacies tour will also stop and tour Plum Orchard.
Dockside Program
When:
Offered daily, on days when the ferry runs
Time:
4:00 PM
Where:
Sea Camp Ranger Station
Cost:
Free
How long:
30 minutes
Rangers and park volunteers offer this short program just prior to the last ferry departure. The programs highlight a variety of cultural and natural history topics. Programs are held indoors most days, so it is a popular way for visitors to cool down in the air conditioning before leaving the island.
Special Events
Cumberland Island National Seashore offers a number of special events throughout the year, and the volunteers and rangers take part in many around the area. Information on these events will be posted to the park's
calendar
and the
Cumberland Island National Seashore Facebook
page as it becomes available.
Last updated: November 22, 2021