Biking
Unpaved Road
There are no paved roads on the island. All roads, including the Main Road, are sandy surfaces. Conditions can vary but often the surface is soft, making riding more difficult and slower. Bikes will need wider tires to be ridable (no thin street tires).
Know your distances

Rules & Regulations
Bikes can be ridden on roads that are not marked private
Bikes cannot be on any trails (but can be taken over to Sea Camp Campground)
Pull to the side of the road to allow vehicles to pass
Walk bikes when crossing boardwalks
Peddle Assist, electric, and motorized bikes are prohibited.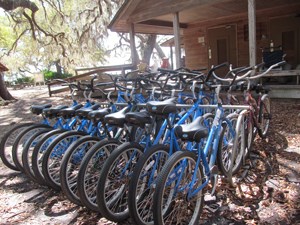 Renting a Bike on the Island
Bikes are available for rent at the Sea Camp Dock when the ferry arrives. All bike rentals are managed by the
Cumberland Island Ferry
.
Day Rental = $16
Overnight Rental = $20
Rental bikes are not permitted on the beach
Bikes must be returned to the Sea Camp Dock
Only Adult sized bicycles are for rent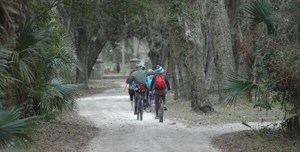 Bring Your Own Bike on the Ferry
Bringing your own bike is a great way to explore the island, but space is limited on the ferry. All personal bike transportation is managed by the
Cumberland Island Ferry
.
Space is limited to 10 bikes per ferry trip
Transport fee of $10 per bike
Space for bikes is sold first come-first serve during mainland check in
Privately owned bikes are welcome on the beach
Biking to Plum Orchard
Plum Orchard is a 14 mile round trip. If road conditions are poor it can take several hours. Water is available at Sea Camp & Plum Orchard only, so fill up before heading out. Not recommended for short day trips.
See how far Plum is
Taking your bike to your campsite
Sea Camp and Stafford Beach Campgrounds
Bikes can be taken to Sea Camp and Stafford Beach Campgrounds. They must stay on designated roads and cannot be taken on trails. (They can be taken the short distance from the main road to Sea Camp).
Wilderness Campgrounds
Bikes can be ridden north on the main park road but they cannot be taken to the wilderness campgrounds. They can be set off the side of the road (within 15 feet) and can be secured to trees.
Familiarize yourself with the wilderness boundary (
marked on the map
) and watch for wilderness boundary signs on the island. No mechanized transportation can be used within congressionally designated wilderness.
Last updated: July 7, 2018