Winter Backcountry Camping
Backcountry camping regulations are different in the winter months (November through May) than they are in the summer. When the Rim Drive is closed to automobiles, it becomes a trail for snowshoers and cross-country skiers. Camping along the rim is allowed with a valid permit. Snowshoers and skiers must travel at least 1 mile from the nearest plowed road in order to camp, and must camp at least 100 feet back from the edge of the caldera. Note: Park regulations prohibit the use of bicycles, including fat tire bikes, on winter trails.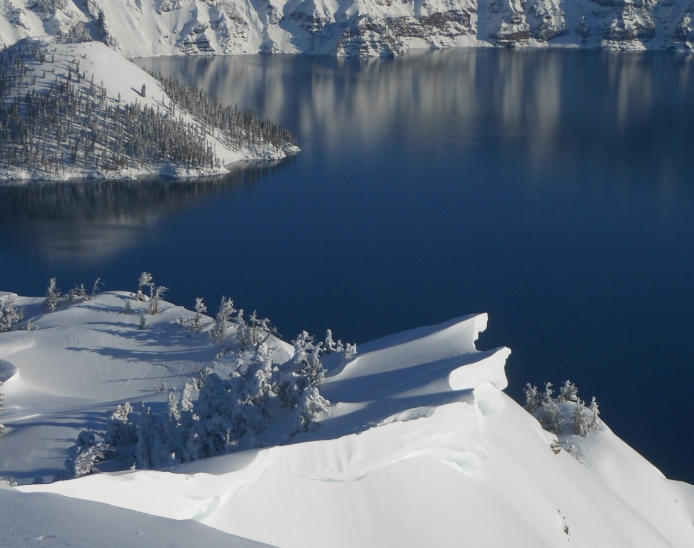 Winter Hazards
Snow Cornices
A cornice is an overhanging ledge of snow on the edge of a ridge, cliff, or crest of a mountain. Cornices form by wind blowing snow over the leeward edge in successive layers. They can be very dangerous to those traveling above and below them. A person putting weight on top of a cornice can cause it to break off and collapse, causing a fall. Snow cornices can be deadly. Stay back from the edge of the caldera at all times.

Avalanches
Most avalanches involving humans are triggered by the victim or a member of the victim's own party. The best way to avoid getting caught in an avalanche is to avoid avalanche terrain. At Crater Lake, that means using avalanche bypass routes when available.
Weather
Weather in the winter can change rapidly. Blue skies can turn to whiteout conditions over the course of a few hours. When whiteouts occur, being able to navigate with a map and compass can be crucial. While useful, GPS devices require batteries and can fail. Always carry a map and compass. Before your visit, please check the latest weather forecast for the park.

Have a Backup
Not all trips go as planned. If conditions warrant, you might need to take an alternate route, choose a different place to camp, or hunker down for an extra day during a snowstorm. Take extra food, and know when it's time to turn back. Playing it safe means you'll be able to come back and enjoy Crater Lake National Park another day.

To learn more, visit our winter safety page.
Trip Ideas
West Rim Drive
Distance: Varies
This trip is an out-and-back. Most skiers and snowshoers go out for one or two nights and camp somewhere between Discovery Point and North Junction. Camping between Rim Village and Discovery Point is not permitted. Caution must be used when crossing around the avalanche-prone slope on the north face of Watchman Peak.

East Rim Drive
Distance: Varies
This trip is an out-and-back. Most skiers and snowshoers go out for one or two nights and camp somewhere between the summit of the first climb and Sun Notch. Camping with lake views is possible between Garfield and Applegate Peak as well as at Sun Notch. Caution must be used near the Vidae Falls and Sun Notch avalanche areas. A bypass route is available.

Around the Lake
Distance: 31 miles, 32 miles with avalanche bypass
Popular in the springtime, the trip all the way around Crater Lake is both challenging and rewarding. Most groups travel clockwise over the course of three or four days. Caution must be used in avalanche areas.

Pacific Crest Trail
Distance: Varies
The PCT allows groups to access areas of the park's backcountry that are seldom used in the winter. This trail can be challenging at times, often not having any fresh tracks. Caution must be used in avalanche areas. The PCT is the park's only winter trail that is open to pets.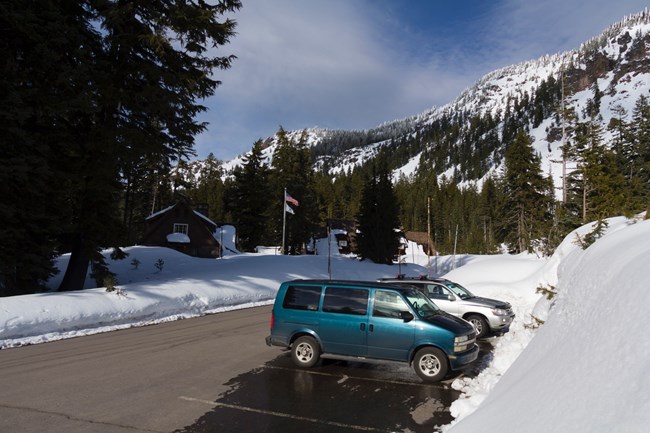 Overnight Parking
In the winter, backcountry campers are allowed to leave their vehicles only at Park Headquarters. Overnight parking at Rim Village is prohibited. Vehicles must be parked between the Visitor Center and Ranger Station, in the area shown in the photo. If you wish to access the West Rim Ski Route, you will need to ski or snowshoe one mile up the Raven Trail, from Park Headquarters to Rim Village.
Last updated: October 2, 2022