Things To Know Before You Come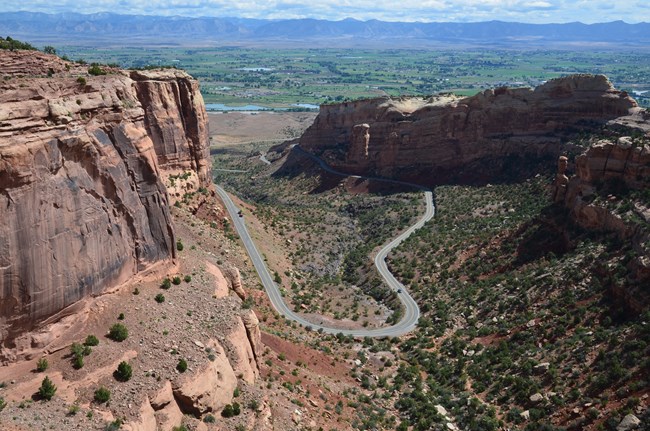 Reservations
Reservations and timed entry tickets are not needed to enter Colorado National Monument. Reservations are recommended for camping.

Motorist Safety
Motorists will be sharing the spectacular Rim Rock Drive with bicyclists. Motorists and cyclists must follow posted speed limits. Do not pass cars or bicycles on curves. Please review regulations about the road before arriving.
Tunnels
Be aware that there are three tunnels on Rim Rock Drive. There are two tunnels on the west side and one on the east side of the park. Please keep your vehicle lights and/or bicycle lights on while traveling through the tunnels. Check out more information about the tunnels, including lengths, heights, and widths.
Services
Upon arrival, stop by the park visitor center for current information on everything from road conditions to hiking trails, camping, and ranger-led programs. Rangers and volunteers are available to answer questions and provide information regarding all aspects of safely visiting Colorado National Monument.
The Colorado National Monument Association operates a bookstore in the park visitor center. Water, sunscreen, and hats are available along with a wide selection of books, maps and gift items. The store offers something for everyone, from the youngest to the most experienced visitor.

Other services are readily available in the adjacent communities of Grand Junction and Fruita. Visit the Grand Junction Visitor and Convention Bureau and the City Of Fruita for more information.
Pets
Pets are not allowed on any trails in the Monument. Please review the regulations about pets. Nearby Bureau of Land Management lands and state parks are pet friendly and allow pets on trails. Boarding kennels are located in Grand Junction and Fruita. Pets may not be left unattended in vehicles in the Monument.
Accessibility
Accessible restrooms are located at the visitor center, Saddlehorn Campground, and Devils Kitchen Picnic Area. Two accessible campsites are located in the campground, numbers 5 and 70. Two picnic areas at the Devils Kitchen and the visitor center are accessible. Independence Monument View and Cold Shivers Point are accessible overlooks along Rim Rock Drive.
Hearing Impaired
For visitors with hearing impairments, headphones are available for use while watching the video in the visitor center auditorium, as well as a audio tour of the Visitor Center exhibit hall. A variety of publications may be obtained at the visitor center. Wayside exhibits with illustrations and text on natural and cultural features are situated throughout the park and in the visitor center.
Alcohol Policy
The consumption of alcoholic beverages is prohibited in all areas of the Colorado National Monument, except for the following designated areas and times:
Within the Saddlehorn Campground area.
The Saddlehorn picnic area during established hours for recreational use.
The Devils Kitchen Picnic area during established hours for recreational use.
Gnats
Gnats (biting midges) can be a concern from mid-May through mid-July. Bring bug spray!


Last updated: September 10, 2022