Historic Rim Rock Drive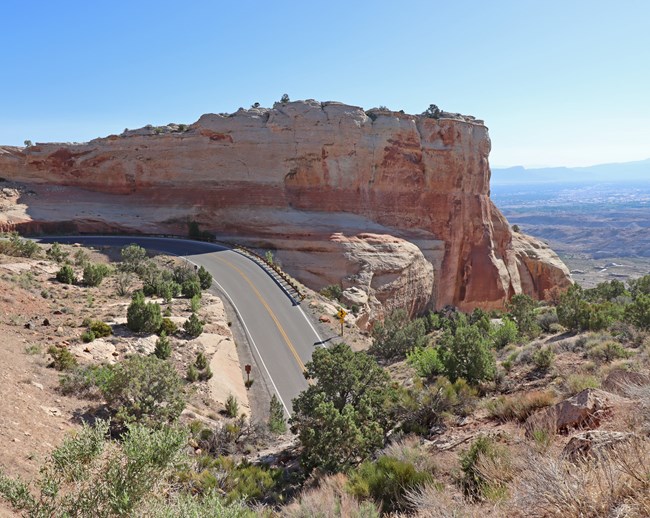 Colorado National Monument's Rim Rock Drive is one of the most spectacular drives in the United States. Redrock canyons, crisp blue skies, and verdant green juniper highlight the fantastic views along the road for motorists and bicyclists. Several overlooks give you a place to stop and take in the view. Stargazers can choose their favorite overlook and enjoy beautiful views of the night sky. Several hiking trails are located near the road for anyone wanting to stretch their legs and explore the landscape. There are three tunnels along Rim Rock Drive.

Exploring the geology of the monument can easily be done from the road. You'll view rock layers dating from the 1.7 billion year old pre-Cambrian gneiss, schist, and granites at the bottom of the canyons, to the much younger sandstones and shales at the top of the road. Download a geology tour pamphlet (2.9 MB PDF) and a diagram of the rock layers (741KB PDF) to take with you on your drive, or stop by the visitor center and pick a copy up from the rangers.

The average drive, without stops, takes 45 minutes to one hour. Plan for more time if you would like to hike, take photographs, or stop at the overlooks. There is one entrance at each end of Rim Rock Drive. The west entrance is located off of Highway 340 in Fruita, CO. This entrance is just 4 miles from the visitor center, and is the perfect place to start if you would like to see the exhibits, ask a ranger questions, or pick up a Junior Ranger activity book. The east entrance is off of Monument Road in Grand Junction CO, and is a great place to begin if you would like to start your day with a hike in the Devil's Kitchen area. You can view a map of the park here.

The road is challenging, narrow, and steep in some sections with sheer dropoffs. If you are afraid of heights, some sections of Rim Rock Drive could be difficult to navigate. Motorists and bicyclists share the road, so please use caution when on tight corners and hills. On the east side of the monument, motorists and cyclists may encounter large trucks that use four miles of the monument's roadway to access the community of Glade Park. In the winter, road conditions can change frequently. Check online for current conditions, or call the visitor center.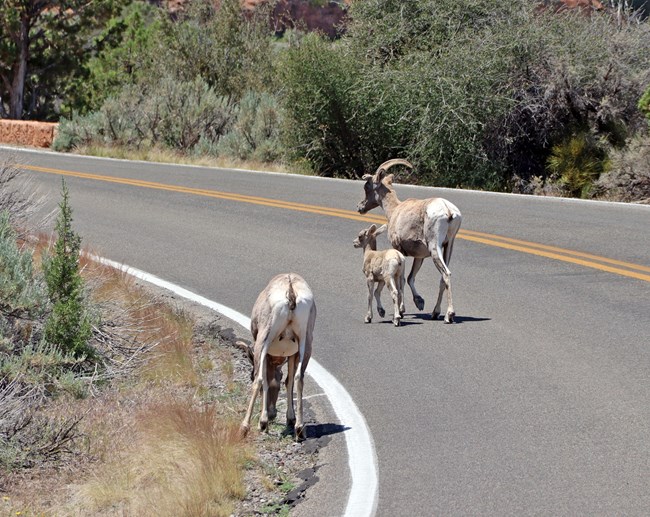 Please Follow These Rules:
Please stay alert for bicyclists, slower vehicles, wildlife in the roadway, and rockfalls. Headlights are required in tunnels, and bicycles must have lights.
Obey all traffic laws and speed limits. Slow down on sharp curves.
Do not attempt to pass bicyclists or slower moving cars unless you have a clear view of oncoming traffic and a safe passing distance. Never pass a car or bike in the tunnels or around a blind curve.
When passing bicyclists, please allow at least three feet of clearance between your vehicle and the bicyclist. Cyclists must ride single file at all times.
Check carefully for bicycles, pedestrians, and vehicles before pulling out onto the road from pullouts.
Allow other motorists and bicyclists to pass if you are obstructing traffic and there is a safe place to pull over.
For more details on biking in the monument, visit our bicycling website.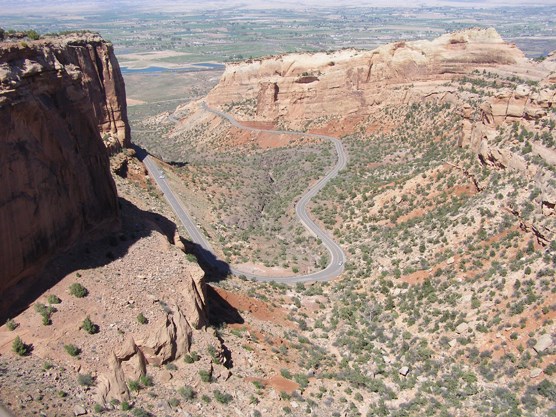 Last updated: October 24, 2022