Saddlehorn Campground
Saddlehorn Campground
Basic Information
Cell Phone Additional Information
Internet Additional Information
Accessibility Information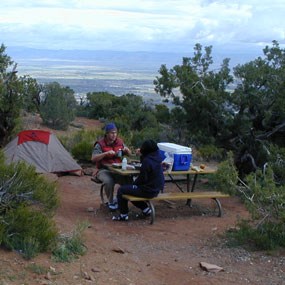 Additional Information
Overnighting in overlooks, picnic areas and other pull-offs is not permited. Free backcountry camping permits are available for people planning overnight backcountry trips.
Sites are $22.00 per night. Senior and Access Pass holders pay an $11.00 camping fee per night.
Generator use and idling engines are permitted from 8am to 8pm, in loops A and B only. Quiet hours are from 10pm to 6am.
There is no dump station in the park. The Fruita Welcome Center, located off I-70 at exit 19, has a free dump station and water refill station available year round.
Some sites have tent pads.
All vehicles must be parked in designated parking areas and shall not interfere with roadways.
Hanging anything (hammocks, clothes lines, clothing, food, etc.) on trees or vegetation is prohibited.
Checkout time is 11:00 a.m.
Pets are allowed at campsites, but must be on a leash 6 ft. in length or less, well behaved, and attended at all times. Please clean up your pet waste and place in garbage receptacles. Also remember that pets are NOT allowed on hiking trails but ARE allowed on paved surfaces.
In any calendar year, campers are limited to 14 overnight stays, whether occurring consecutively or in any combination of separate visits.
Alcohol is permitted in the campground and picnic area only for people who are 21 and over. Marijuana is prohibited in the park.
Loops A & B Specific Information
Site #5 is accessible and can be reserved for use by campers who have one or more individuals in the group with mobility impairments. Monument accessibility information.
A-Loop is typically open year round. During the winter sites are available on a first-come-first-served basis.
If not reserved, Sites in A-Loop and B-Loop can be used for one night only on a first-come-first served basis.
Seven (7) person per site limit, three (3) tents per site, and two (2) vehicles per site. Extra vehicles can be parked in the Saddlehorn Picnic Area parking lot.
Sites are suitable for tents and recreational vehicles, with some pull-through sites.
Length limit of 40 feet for recreational vehicles.
C Loop Specific Information
C-Loop is the oldest loop in the campground and as such has tighter turns and smaller campsites.
C-Loop is limited to tent camping and those in small vehicles such as single vehicles with top mounted camper shells or tents, and small vans or small RVs which are under 20 feet in length.
Vehicles must have a total length of less than 20 feet. No trailers. Only one vehicle per site allowed. Extra vehicles can be parked in the Saddlehorn Picnic Area parking lot. Any vehicle 20 feet and over in length will need to camp in A or B loop.
Loop C availability is on a first-come-first-served basis. Exceptions are made for groups and occasionally for administrative purposes (i.e. visiting volunteer work crew).
Site #70 is accessible and is reserved for use by campers who have one or more individuals in the group with mobility impairments. Monument accessibility information.
Generators and idling engines are not allowed at any time in Loop C. Please be mindful of other equipment which may produce continuous noise like heaters or air conditioners.
Group Camping
Groups of 15 or more people require reservations through the monument by calling 970-858-3617 Ext. 332.
Saddlehorn Campground doesn't have group sites, so groups will be divided into adjoining sites.
Walk-ins: Rim Rock Drive features tunnels in which pedestrians are not allowed. Campers who plan on walking into Saddlehorn campground will either have to arrange a ride to the campground or walk in using Little Park Road outside the southwest end of the park. Campers walking/hiking in may make reservations ahead of time for Loops A& B. If reservations are not made, Loop C will likely be the preferred loop to find first-come-first-served sites.

Both Loops A and B are able to accomodate walk-ins as long as the site has not been reserved. Reserved sites will have a red colored tag attached to the numbered post in each campsite. Pick an unoccupied site that is marked with a green colored tag and use self-registration instruction.

Backcountry camping is also permitted. A free backcountry permit is required and may be obtained at the visitor center. All water must be packed in. The plants and animals of the monument need all water that is available to them and there are no reliable year round water sources. One (1) gallon (4 liters) per person is recommended per day in the summer months. Have a fabulous stay in red rock country!
Last updated: May 24, 2023