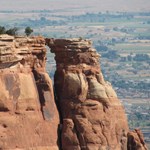 Window Rock Trail
Location

: Saddlehorn campground

Trailhead

: Marked trailhead is on the campground one-way road just before Book Cliffs View.

Mileage

: 0.25 one way (0.4 km)

Difficulty Level

: Easy

Elevation:

5,626 feet (1715 meters)

Average time:

1/4 hour

Usage:

Hiking only. Horses prohibited.

Description

: Level loop trail through pinyon-juniper woodland to overlook with excellent views of Monument and Wedding Canyons and most of their major rock formations, including Independence Monument.

Click here

for the Canyon Rim and Window Rock Trail brochure.