Getting Around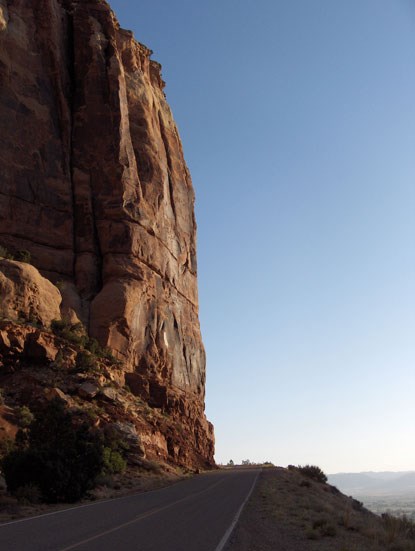 Rim Rock Drive
A 23-mile scenic drive will lead you along the rim of a colorful panorama of deep, sheer-sided canyons and high rock towers. Exhibits at pullouts along the drive provide information about the natural and human history of the park. Allow an hour for the drive, plus additional time for walking, photography, or stopping at pullouts. At times repair or restoration work is needed on Rim Rock Drive limiting traffic, check for current conditions.
Hiking
For those who would like to explore the monument by foot, there are fourteen hiking trails and routes that range from short and relatively flat to long and steep. The Alcove Nature Trail is a self-guided walk near the visitor center. Pick up the guide at the trailhead.
Bicycling
Bicycling the Rim Rock Drive is also a popular (and challenging) pastime. It has tested many of the world's strongest riders, but yields to the most casual of recreational cyclists. Whether you decide to ride the entire circuit or only a part of it will depend on how fit you are.
For the grand loop, start wherever you wish and go either way around the circuit that includes the entire Rim Rock Drive and other rural/suburban roads. The aggregate climb for a complete trip is 2,300 vertical feet, due primarily to the steeper grades just inside either entrance. Allow three hours. Bicyclists are required to ride single file only. Bicyclists must be equipped with lights visible from the front and rear for safe passage through tunnels. Bicyclists must use a white light that is visible from at least 500 feet to the front and a red light that is seen from at least 200 feet from the rear. Bicycle regulations (67.5 KB pdf)
For an easier 10-mile ride, start at the visitor center and ride to Artists Point and return. Off-road mountain biking is not permitted in the monument, but several adjoining areas are ideal for it. McInnis Canyons National Conservation Area


Last updated: May 19, 2017