Bicycling
Bicycling the Rim Rock Drive is popular and challenging. To insure your safety, please share the road with drivers and follow these regulations: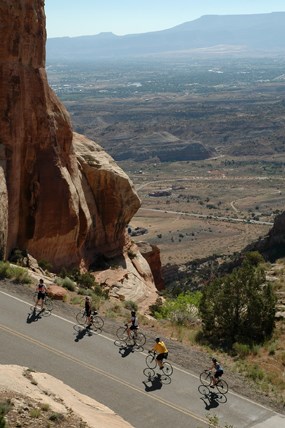 Bicyclists are required to obey all traffic laws including speed limits, passing zones, stop signs, and staying on roads.

Bicyclists are required to ride single file at all times within the monument.

Always ride as far to the right as is safely possible.

Please allow vehicles to pass you.

Do not pass vehicles in the tunnels.

Bicycles or riders

must be equipped with lights visible from the front and rear for safe passage through the tunnels.

Bicyclists must use a white light that is visible from at least 500 feet to the front and a red light that is seen from at least 200 feet from the rear.

Bicyclists are required to stop at Stop signs when entrance stations are staffed.

Bicyclists are required to pay entrance fees.

On the east side of the monument, cyclists may encounter large trucks that use four miles of the monument's roadway to access the community of Glade Park.
By itself, the Rim Rock Drive is just 23 miles long, but it joins with connecting roads outside the monument for a grand loop of 33 miles. Whether you decide to ride the entire circuit or only a part of it will depend on how much time you have and how fit you are.
For the grand loop, the aggregate climb for a complete trip is 2300 vertical feet, due primarily to the steeper grades just inside either entrance. Allow three hours.
Off-road mountain biking is not permitted in the monument, but several adjoining areas are ideal for it.

Learn more about Colorado National Monument's Cyclist Warning System
Last updated: July 5, 2018