Bicycling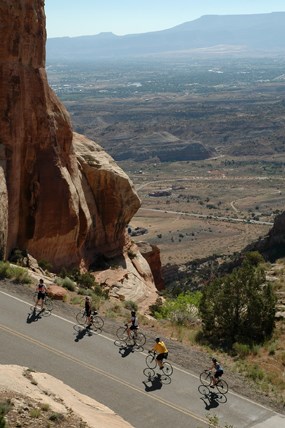 Bicycling the Rim Rock Drive offers cyclists a challenging ride with stunning views.

Rim Rock Drive is a 23 mile long scenic road, traveling between the park's east entrance in Grand Junction and the west entrance in Fruita. Cyclists can turn their ride into a 33 mile loop by using connecting roads outside of the monument. Parking areas are located by both entrance stations to the monument.

When making a decision for just how far to ride, you have some options. Consider how much time you have and your level of fitness while planning your ride. For the 33 mile loop, the aggregate climb for a complete trip is 2300 vertical feet. Most of that elevation change is found on the steep grades just inside either entrance. Allow at least three hours for your ride.

If you would like to ride the monument without tackling either of the hills, you can park your vehicle at the visitor center and ride across the top of the monument and back. When the visitor center lot is full, overflow parking is located at the Saddlehorn Picnic Area.

A water bottle refilling station is located next to the front doors of the visitor center and is open 24 hours a day. Bring plenty of water. You'll need to drink lots of water due to high elevation, a strenuous ride, and low humidity. Snacks are a good idea as well.

Bikes are only permitted on the road in the monument. Off-road mountain biking is not allowed here, but several adjoining areas are ideal for it. There are options for all skill levels, from beginner to expert. Lunch Loops, Kokopelli and 18 road, and dozens of other mountain biking trails are all located close by. For a flat, paved, scenic ride by the Colorado River, head over to the Riverfront Trail.
Bicycling Regulations and Safety Tips

Bicyclists are required to obey all traffic laws. These laws include obeying speed limits, stopping at stop signs, staying on the roads, and not passing on a double yellow line. All Colorado traffic laws that govern vehicles also apply to bicycles and e-bikes.

Bicyclists are required to ride single file at all times within the monument. Rim Rock Drive is an extremely narrow road with no shoulder. The road skirts deadly drops in many places, and bicycling abreast creates hazards for all road users.

Always ride as far to the right as safely possible and stay alert for animals and rockfall in the road.

Allow vehicles to pass you when it is safe to do so. Vehicles must allow at least 3 feet between themselves and any bicycle they are passing, and may not attempt to pass in tunnels or on blind curves.

You will likely be moving downhill faster than some vehicles that are traveling slower than the posted speed limit. Follow all speed limits. Cyclists may not attempt to pass vehicles in the tunnels or on blind curves. Keep in mind that some vehicles, like tour buses and RVs, have blind spots. Never assume that the driver can see you.
Slow down on sharp curves to avoid drifting into oncoming traffic or going off the road. Rim Rock Drive is narrow, with steep drop offs. Going over the edge on some sections of the road could be fatal.

Bicycles or riders

must be equipped with lights visible from the front and rear for safe passage through the tunnels.

Bicyclists must use a white light that is visible from at least 500 feet to the front and a red light that is seen from at least 200 feet from the rear. Wearing bright, noticeable colors is also recommended.

Bicyclists are required to stop at Stop signs when entrance stations are staffed.

Bicyclists are required to pay entrance fees or to stop and show their pass at the entrance station. Annual passes are available for purchase and all National Park passes are accepted. A photo ID must be shown with your pass.

On the east side of the monument, cyclists may encounter large trucks that use four miles of the monument's roadway to access the community of Glade Park.
Summer temperatures can go into the low 100s. It's better to start rides early in the morning to avoid the worst of the heat. A water refilling station is available 24 hours a day at the visitor center.
Bicycles and E-Bikes, like vehicles, are not allowed off road or on any trails within the monument.
E-bikes are allowed in the monument. It is the rider's responsibility to ensure that their bike has sufficient charge before beginning their ride. There are no places to charge e-bikes in the monument.
Operating a bicycle or e-bike while intoxicated is prohibited.
Statutes governing bicycles and vehicles are: 36 CFR 4.30(h)(6) and Colorado Revised Statute 42-4-1412 (1).
Learn more about Colorado National Monument's Cyclist Warning System
Last updated: June 17, 2023