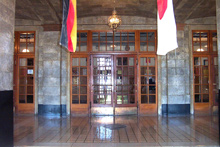 Reserve a Tour
Guided tours of the school are offered by reservation only. Tours can be scheduled at 9:00 A.M. and 1:00 P.M. on weekdays when the school is in session, including during summer months. Tours must be scheduled by close of business on the previous day. If scheduled tours are not at capacity, visitors without a reservation will be welcome to join. Tours fill up quickly. There is no guarantee of tour availability without a reservation.
Making a reservation two weeks in advance is recommended.
Tour Times: Monday –Friday

9:00 A.M. & 1:00 P.M. (Central Standard Time)

(when school is in session, and during summer months)

Duration: Approximately 1 Hour Group Size: Maximum of 50;there is no minimum

(Groups larger than 50, call for special arrangements.)

Location

: All tours start at the visitor center

(map)

Accessibility: An accessible entrance is available that avoids stairs and

an elevator can be taken between floors.

Price: Free of Charge
For Reservations: Call (501) 374-1957
Description: The route of the tour will be dependent on school activities that day. The typical route will involve ascending and descending three flights of stairs and approximately a half mile of walking on walkways with good footing.
When reserving a tour please be prepared with the following information: ·
Name for the group ·
Number of people ·
Contact phone number (preferably a cell phone with the group) ·
Email address if you would like a confirmation sent
Any special needs or accessibility needs