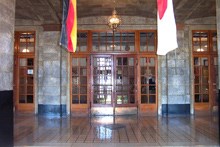 Reserve a Tour
Guided tours are offered weekdays only twice a day at 9:00A and 1:00P CDT,
except
Holidays, Winter Break, and Spring Break.
Guided tours are by reservation only, and
must be scheduled at least twenty-four hours in advance
;however, reservations two weeks in advance are recommended.
There is no guarantee of tour availability without a reservation.
Tours start at the Visitor Center located at 2120 W Daisy L Gatson Bates Dr
(map)
. The Visitor Center offers free parking and can accomadate buses and RVs.

The route of the tour is dependent on school activities that day. The typical route will involve ascending two flights of stairs into the auditorium of the high school and descending two flights of stairs into the cafeteria. An accessible entrance is available that avoids stairs and an elevator can be taken between floors.
For Reservations

:
Call (501) 374-1957
When reserving a tour please be prepared with the following information:
*Name for the group:
*Number of people:
*Contact phone number (preferably a cell phone):
*Email address:
*Any special needs or accessibility needs:

Little Rock Central High School is an active school with an enrollment of over 2,500 students. Out of respect for the school and students, do not try to enter the school on your own.