Guided Tours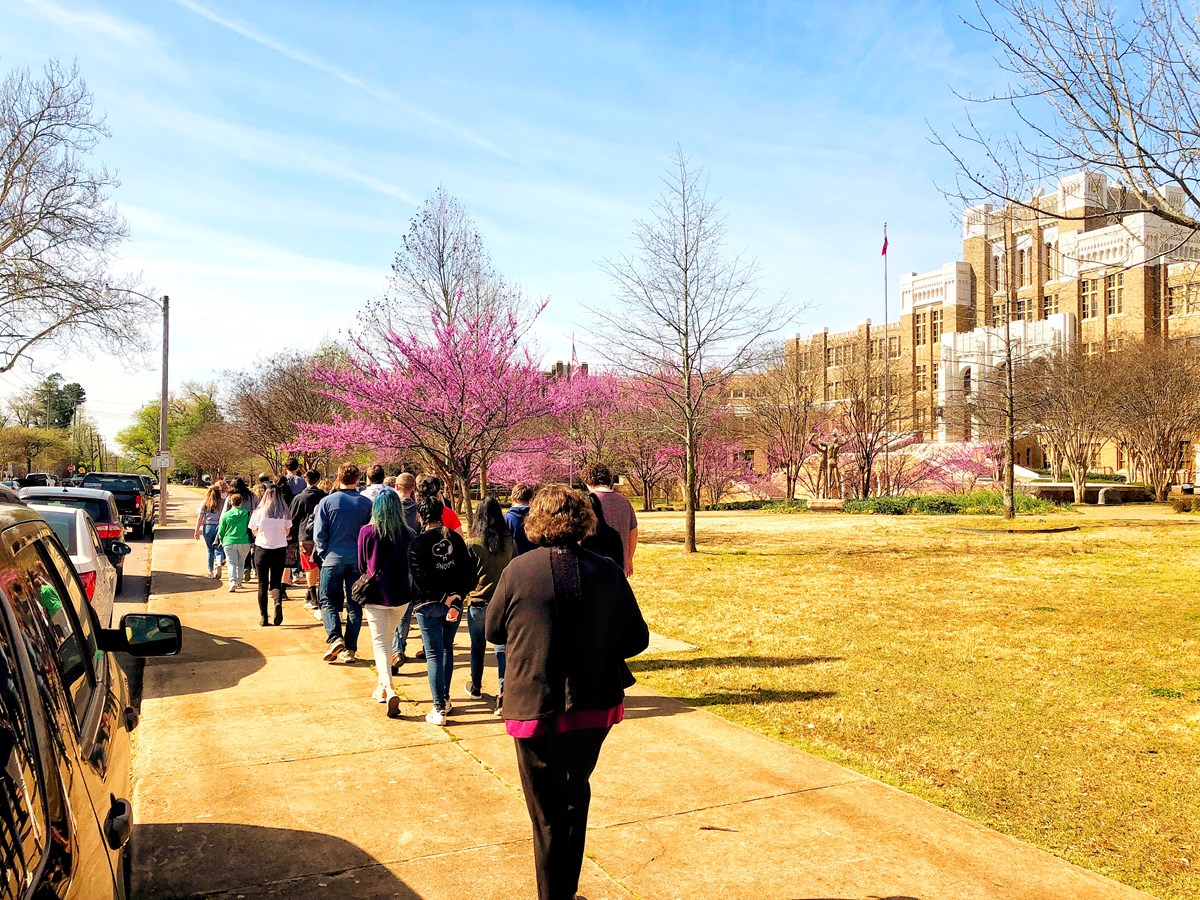 The Little Rock Central High School National Historic Site visitor center has reopened to the public with limited public access available inside the visitor center, exhibits, restrooms, and Jefferson National Parks Association bookstore.


Information on Ranger-Led Guided Tours
Ranger-led guided tours at Little Rock Central High School NHS can be reserved only between Tuesday - Saturday and only at 1:00 PM CST/CDT; programs do not include access inside Little Rock Central High School (LRCHS) due to COVID-19 restrictions. For visitor planning purposes, below is a list of dates when tours are either booked or not available.
Ranger-led guided tours are by confirmed reservation only and must be reserved in advance. For the best possible availability, we recommend calling to request reservations at minimum 2 months or more in advance as we do not provide ranger-led tours without a confirmed reservation.
Tours currently have a set limit of participants (25 for this current phased access); groups wanting to bring more than 25 visitors must contact the park in advance at (501) 374-1957 to see if an accommodation can be made.
Ranger-led guided tours start at the Visitor Center located at 2120 W Daisy L Gatson Bates Drive; the Visitor Center offers free parking and can accommodate cars, buses and RVs. Ranger-led guided tours involve crossing two streets at an intersection to reach Little Rock Central High School. Paved crosswalks and sidewalks connect the visitor center to Little Rock Central High School and are accessible. A tour may involve several periods of time outdoors in various temperatures; in the event of inclement weather, a tour may either be modified to stay inside the visitor center or shortened in duration.
Ranger-led guided tours are walking interpretive programs from the visitor center to Little Rock Central High School that will share the story of the Little Rock Nine, desegregation, education and this moment in the civil rights movement. The route of the tour may go onto the grounds of Little Rock Central High School, the grounds of the Magnolia Mobil Station, into the Commemorative Garden and/or to the Elizabeth Eckford Bus Bench, all of which are accessible. The landing at the main entrance to Little Rock Central High School is not accessible.

We strongly recommend that you bring water or a fillable water bottle on this program. While there are both water fountains for your use and reusable water bottles for sale inside the visitor center, we do not sell bottled water or other beverages here onsite. Sunscreen, an umbrella and an outdoor sun hat are other items we recommend you bring here and use outdoors on a sunny Arkansas afternoon.
Please note - these ranger-led guided tours are not focused on LRCHS and its architecture.
If a tour is full/reservations are unavailable, we recommend using our accessible self-guided walking tour with accompanying audio and a transcript for your use - a presentation researched, scripted, and recorded by students in the

Central High Memory Project

. The content follows the footsteps and narrates eyewitness accounts of the unsuccessful first attempt by ten African American students (September 4, 1957) to attend classes during the historic desegregation crisis at Central High School.

The tour includes maps, a timeline of the crisis, full written transcripts of the content narration and more. Note - this content is available free on the

National Park Service Mobile App

on Google Play and iOS devices.



Note - This list of dates below will designate whether dates/space is available OR where reservations are already at capacity; we will update this and provide AVAILABLE updates for the next two months upcoming as we move through each month in 2022.
No Sunday and Monday tours in 2022 until further notice; the visitor center is open and programs are available from Tuesday to Saturday.
Updated as of Wednesday, September 28, 2022
September 2022 - NO REMAINING AVAILABLE DATES
October 2022 - REMAINING AVAILABLE DATES
Saturday, October 1

Thursday, October 6

Saturday, October 8
Wednesday, October 12
Friday, October 14
Saturday, October 15
Saturday, October 22
Tuesday, October 25
Thursday, October 27
Saturday, October 29

November 2022 - unavailable dates
Thursday, November 3
Friday, November 4
Wednesday, November 9
Thursday, November 10
Saturday, November 12
Thursday, November 17
Thursday, November 24

* Note - Additional dates without ranger-led guided tours may be added in 2022.


Best way to reserve a ranger-led guided tour:
Call (501) 374-1957, the park's main phone number

When reserving a tour, please be prepared with the following information or leave this in your message:
Date interested in ranger-led guided tour; if you leave a message, be sure to give a specific date, e.g., not "tomorrow" or "Friday" or "next Monday"
Name for the individual or group - this will be our point of contact

A phone number (preferably a cell phone you will have on the day of the tour)

Number of people you want to go on the tour

An email address that you check - we will send a confirmation email to this address

Any accessibility accomodations or special requests we can provide on a tour
We will reserve and confirm the date, time, phone number and other relevant details with an emailed confirmation.
Last updated: September 28, 2022