Frequently Asked Questions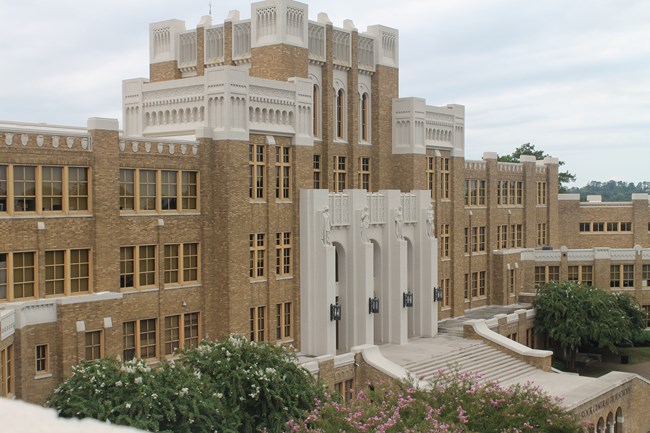 Is Little Rock Central High School (LRCHS) still an operating high school?
Yes - the school is a 4-year public high school operating within the Little Rock School District. Traditionally, LRCHS has a yearly enrollment around 2,500 students in grades 9, 10, 11 and 12.
How many students attended Little Rock Central High School in 1957?
Approximately 1,800 students attended LRCHS during the first year of desegregation, 1957-58, in grades 10, 11, and 12. Eventually, the Little Rock School District moved to a middle school system, which means 9th graders now attend Central.
Can I tour the high school on my own?

No. Guided tours do not enter this active school due to COVID-19 restrictions; access to the school is strictly limited to students, teachers, and faculty. Guided tours from the National Park Service (our staff) typically go onto school grounds as appropriate. For information on making your reservations, visit the

Guided Tours page

.
Where are the Little Rock Nine today?

Eight of the members of the Little Rock Nine today live throughout the United States, Canada, and Europe; sadly, Jefferson Thomas passed away in 2010.




Was Little Rock Central High School the first school in Arkansas to desegregate?
No;

Charleston schools

and

Fayetteville High School

(both in the northwest part of the state) desegregated in the fall of 1954 after the Brown v. Board of Education

decision.

Hoxie School District

in Northeast Arkansas desegregated its schools in 1955 and obtained a court injunction preventing segregationists from interfering with desegregation there. In 1956,

Bentonville

(in Northwest Arkansas) desegregated all 12 grades and Hot Springs (in Central Arkansas) desegregated its high school automotive classes.
When was Central High School Built?

Construction on Little Rock Senior High School (now called Central High School) began in 1926 at a cost of $1.5 million USD - adjusted for inflation, that's approximately $25 million USD in 2022 money.





Last updated: August 4, 2022