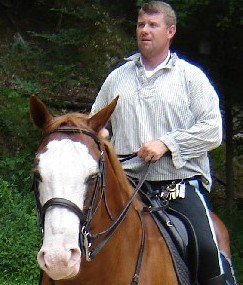 Horseback riding is a unique way to enjoy the canal. Horses are not rented along the canal but there are opportunities for horse owners to enjoy the park.
For the most up to date regulations on group overnight rides, please consult the
Superintendent's Compendium
. Section 2.16 specfically addresses Horses in the Park
Please follow these regulations:
Horseback riding is not allowed between Georgetown (mile 0) and Swains Lock (mile 16.6) or from Offutt Street (mile 181.8) to the canal terminus (mile 184.5). Horses are not allowed in the Paw Paw Tunnel. Riders must take the tunnel hill trail that goes over the tunnel instead.
Riders may not exceed the speed of a slow trot.
Riders must dismount and walk their horses across aqueducts. Horses may not cross wooden footbridges, which are not designed to carry their weight.
Trail riders are responsible for hauling manure away. No grazing is permitted in the park. Bring in feed for horses. Do not water, clean, or tether horses near park wells. Hikers and bikers must yield the right of way to horses on the towpath. Access from private property is prohibited. Horses are not allowed in drive-in campgrounds, picnic areas, or adjacent parking lots. Riders may camp at hiker-biker campgrounds but must tether horses at least 50 feet from the area's boundaries for sanitary and safety reasons. Owners must prevent horses from damaging trees or undergrowth.