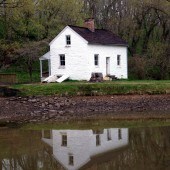 The word 'canal' is simply defined as a man-made waterway. However, when referring to the Chesapeake and Ohio Canal, the definition encompasses thousands of places, each with a unique story and all having a different meaning for those who have had the experience to work or walk along the towpath.
For the thousands of laborers and immigrants during the 19th century, constructing this early transportation route, the canal proved to be quite a challenge. Low wages, poor living conditions, back-breaking work, disease and death are images these laborers likely associated with the term canal. Today, more than 1,300 historical structures exist as remnants of their efforts and help to share their stories.
With the arrival of the canal, many businesses and communities sprang up along the banks of the Potomac River. To the folks living in these communities, the definition of canal meant economic prosperity, as new towns formed and those in existence benefited greatly from the increased flow of traffic, people and commerce. Although the canal stopped operating long ago, many of these towns still stand, some deeming themselves as "Canal Towns" to represent their unique heritage.