Places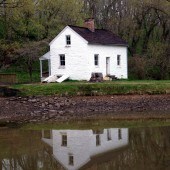 The word 'canal' is simply defined as a man-made waterway. However, when referring to the Chesapeake and Ohio Canal, the definition encompasses thousands of places, each with a unique story and all having a different meaning for those who have had the experience to work or walk along the towpath.
For the thousands of laborers and immigrants during the 19th century, constructing this early transportation route, the canal proved to be quite a challenge. Low wages, poor living conditions, back-breaking work, disease and death are images these laborers likely associated with the term canal. Today, more than 1,300 historical structures exist as remnants of their efforts and help to share their stories.
With the arrival of the canal, many businesses and communities sprang up along the banks of the Potomac River. To the folks living in these communities, the definition of canal meant economic prosperity, as new towns formed and those in existence benefited greatly from the increased flow of traffic, people and commerce. Although the canal stopped operating long ago, many of these towns still stand, some deeming themselves as "Canal Towns" to represent their unique heritage.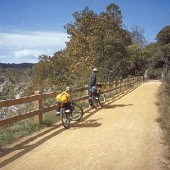 When the Chesapeake and Ohio Canal ceased operation in 1924, places along the canal developed new meanings as communities from Georgetown to Cumberland came to appreciate the canal for its beauty in both historical remains and abundant nature and wildlife. In 1971 the Chespaeake and Ohio Canal was declared a National Historical Park to preserve and interpret these special places. Each year over 4 million visitors seek the canal as a place to discover history, explore nature, and enjoy recreating outdoors.
Today, we encourage you to explore the historical, natural and recreational resources along the C&O Canal and discover what meaning the canal has for you. We've listed several key points of interest and locations at the top of the page to help you get started. Whether you're interested in history or hiking, nature or wildlife the canal offers something for everyone!


Last updated: January 4, 2018