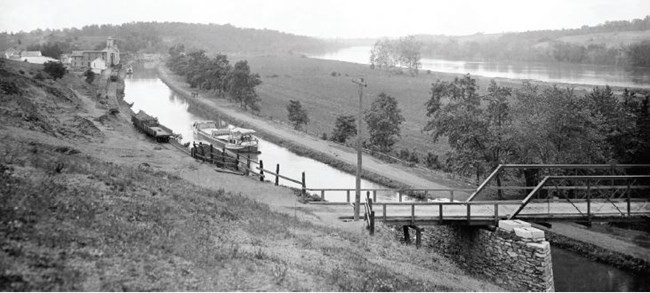 The confluence of the Potomac River and the Conococheague Creek have long been used for transportation – first by American Indians and later by European settlers who moved into the area. In 1787, Revolutionary War hero General Otho Holland Williams founded Williams Port. Realizing that these two waterways created the ideal opportunity for commerce, Williams concentrated on promoting his town as a transportation hub.
The arrival of the Chesapeake and Ohio Canal in 1834 brought a period of prosperity and provided a new trade route between Cumberland and Georgetown. Commerce thrived here with two warehouses built along the canal, making Williamsport an important coal transfer point. Though Williamsport's time as a transportation hub and industrial center has passed, the town continues to retain its character today as a classic canal town.
Walk the C&O Canal Towpath as it passes through Williamsport and visit the remaining canal features. Starting in the Cushwa Basin and walking to Lock 44 and back is a walk of one and a half miles that along the way provides a glimpse into the history of this Canal Town.