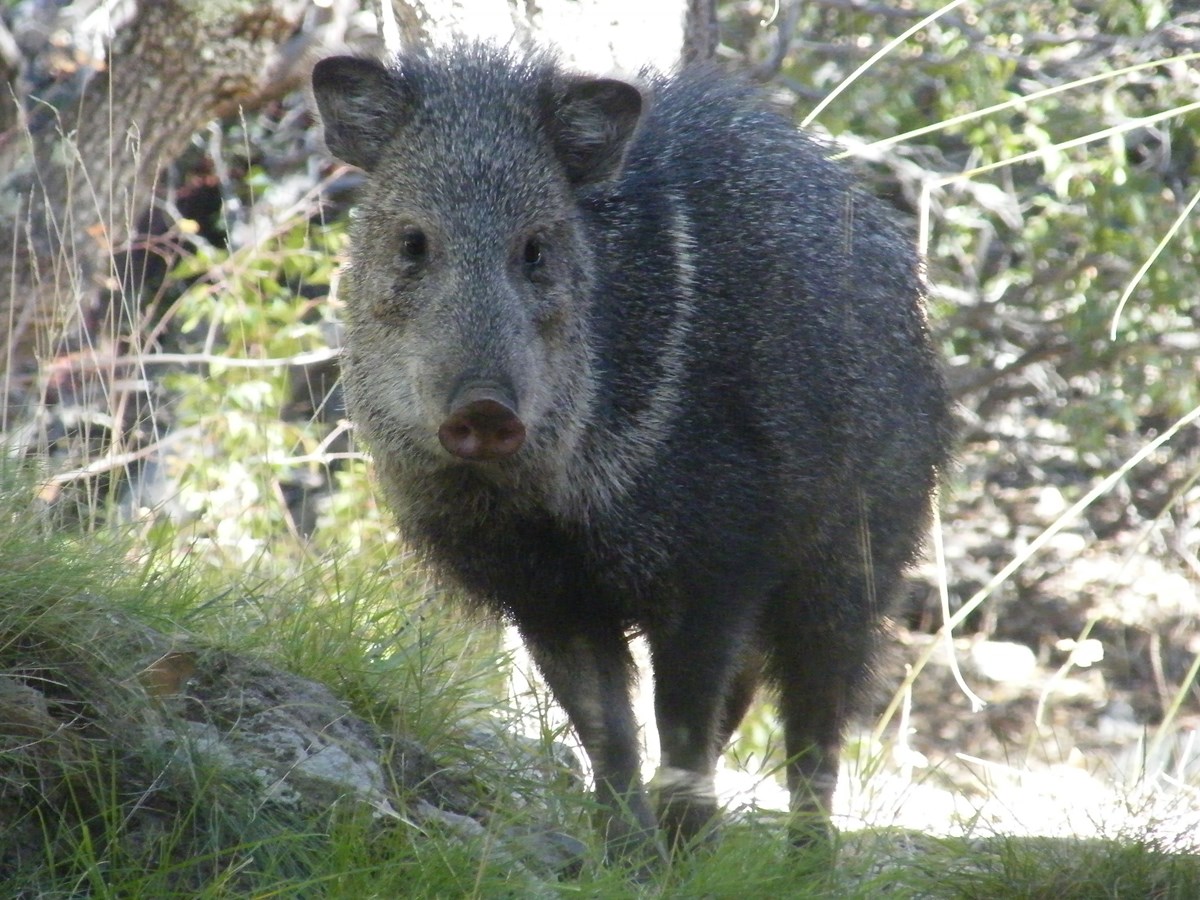 Chiricahua National Monument is enveloped in the Coronado National Forest, creating a large block of relatively undeveloped land and containing a variety of habitat types. As a
sky island
, elevational changes provide animals five different biomes to use. Large mammals, such as the black bear and mountain lion, have enough space to find the resources (prey) they need in order to survive. The forests and grasslands provide food and shelter for Coues white-tailed deer, javelina, and others.
Many smaller mammals also occur within the Monument. Several species, such as the coatimundi and the Chiricahua fox squirrel, have limited range in the United States, but are a fairly common sight at the Monument. There are also mice, rats (including kangaroo rats), skunks, ringtails, raccoons, rabbits, squirrels and chipmunks, foxes, coyotes, bobcats, javalina (peccaries) and bats. In fact, there are 16 species of bats in the Chiricahua Mountains, including several nectar bats, which feed on the pollen and nectar of flowering plants, in much the same way as the hummingbirds do!
The Chiricahua Mountains were also historically the home of the
jaguar
, North America's largest cat. Although rarely seen since the 1940s, the jaguar is listed as an endangered species in the United States, and occassionally they are seen wandering north of the Mexican border.
The
ocelot
is a smaller cat that has also been documented historically in the Chiricahua Mountains. As with the jaguar, the ocelot is listed as endangered, and is rarely seen. Often killed for their skins or to protect livestock and poultry, these animals are now being managed in order to try and increase their numbers and recover dwindling populations. Because cats are secretive and solitary, it is difficult to monitor their progress, but it is important to retain any remaining habitat, so that if their populations do come back, they will have somewhere to go. We are hopeful that these animals will someday be more common at the Monument, as predators play an important part in a healthy ecosystem.