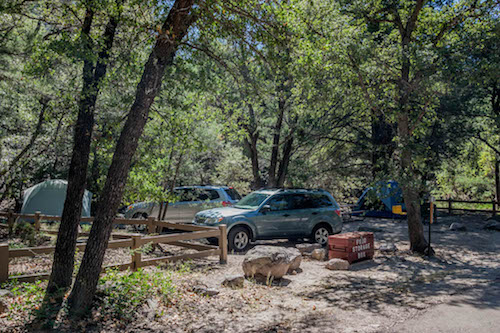 Effective immediately, campers may now make reservations for the campground through the National Reservation Recreation System. Reservations can be made online 24 hours a day at www.recreation.gov or over the phone at 1-877-444-6777. The camping fee is currently $12 per site, per night, or $6 per site, per night for the America the Beautiful - The National Parks and Federal Recreation Lands Senior and Access pass holders.
Camping Regulations
To enhance your enjoyment and assist in protecting Chiricahua National Monument, please read and comply with all campground regulations:
Maximum RV/motorhome or trailer length is 29 feet, actual measurements.

Site #8 is designed for people with disabilities, but open to anyone for one night if it is the last available site.
Campsite stay is limited to seven consecutive days.
Check out time is 11 am. Inquire about additional nights availability with the camp host or visitor center.
Campsite capacity is limited to eight people and two vehicles (where space is available) and unless otherwise designated or upon approval from a park ranger or campground host, a maximum of two tents per site. Use tent pads when setting up tents.
Quiet hours are from 8 pm to 8 am.
Sites may not be left unattended for over 24 hours.
Utility hook-ups are not provided and connection to water, sewer, or electrical outlets is prohibited.
more...(pdf 217kb)