Emma Peterson Erickson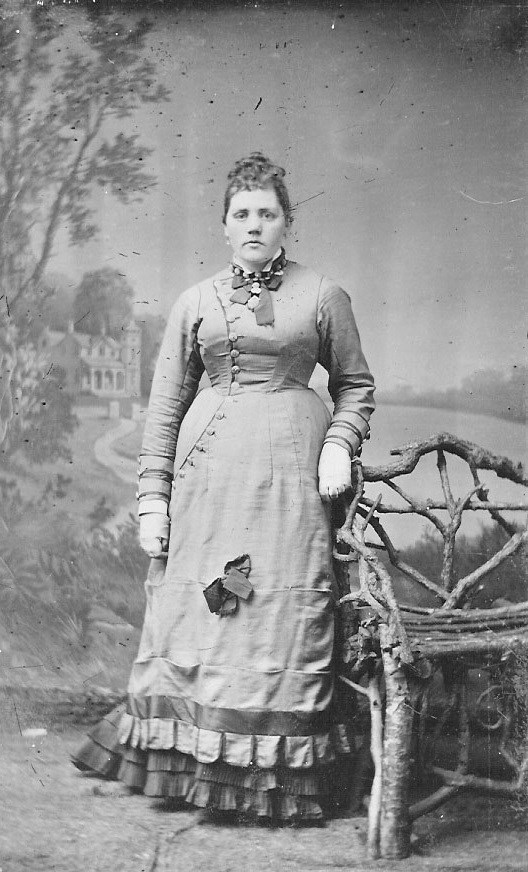 Early Life
Emma Sophia Peterson was born May 24, 1854, in Glottra, Svennevad Parish, Sweden to a well-off military family. She immigrated to the United States in 1873, when she was 19 years old because she did not see eye-to-eye with her new stepmother. Emma spent five years in Chicago, where her older siblings lived. She worked as a servant for wealthy families. She moved with one of the families to Colorado, where she took care of their children, and later worked as a cook for another family. Within a year of moving to Colorado, one of Emma's friends arranged for Emma to work as a maid for the commander of
Fort Craig
, New Mexico Territory.
While Emma worked at Fort Craig, she met another Swedish immigrant, Nels Erickson through one of her friends. She was 29 and he was 25. Nels (Neil) began courting Emma, but she refused his first proposal because she did not want to marry an enlisted man. Her father had been an officer in the Swedish military, so Emma was very aware of rank. In 1884, the officer Emma was working for was reassigned to
Fort Huachuca
, Arizona Territory, and he asked Emma to continue working for him there. She agreed, and asked that Sergeant Erickson be her driver even though his troop was not moving to Fort Huachuca.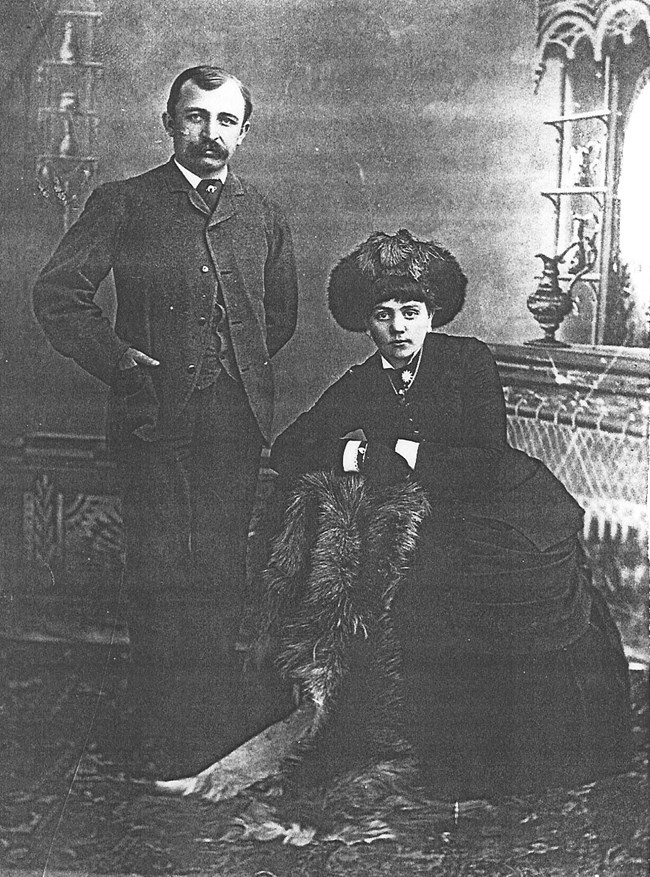 Finding Love in Arizona
Emma and Nels began a relationship based on letters in 1884. Nels was in the field, while Emma was based at Fort Huachuca. Later she operated a boarding house near
Fort Bowie
. Whenever he could, Nels would volunteer to carry mail and supplies from the field to Fort Bowie, and visited Emma. During this time, Emma began exploring the area around Fort Bowie, and visited Bonita Canyon. She fell in love with the area. Her husband Neil (Nels), in 1934, wrote for
Hoof and Horn
magazine, "She found the place and thought it the most gorgeous spot she had ever seen. Large oak trees lined the canyon, grass was three feet high wherever she walked, and Bonita Creek was then running like a full sized river."
In 1886, after
Geronimo, Chief Naiche, and Chief Mangus
were captured and transported with their families to Florida, Emma bought a two-room cabin. This cabin had been used by one of the 10th Cavalry officers in Bonita Canyon during the
Geronimo Campaign
. Recollecting her plan in a 1923 letter to a friend, she wrote "I bought a little house with improvements in beautiful Bonita Canyon and my plan was to move there, raise cattle, horses, chickens, and plant an orchard. As soon as my fiancé was discharged from [the] Army he moved to Bonita Canyon to build fences, and make improvements."
Shortly after Emma and Neil were married January 25, 1887, Neil filed the
Homestead Act
papers to receive 160 acres of land from the government. Emma was originally going to file the paperwork, but learned that only one person in the family could do so. She decided to wait and let Neil file, because she did not want to embarrass her future husband—he would already be living in her house; he did not need to live on her land, too. Despite this courtesy, Emma was known to complain about Neil's poor money management throughout their marriage.
Their daughter, Lillian Sophia, was born February 9, 1888 at the Fort Bowie Army Hospital, and when she was five months old, her family moved into the Bonita Canyon cabin which Emma bought in 1886. Neil and Emma were not the first white settlers in Bonita Canyon.
Louis Prue
had a ranch at the mouth of the canyon, and their closest neighbors,
the Staffords,
had a cabin a quarter mile up the canyon. Emma gave birth to her other two children in the log cabin in Bonita Canyon. Lewis Benton (Ben), was born July 1, 1891 and Helen Hildegard was born April 22, 1895. Hildegard was often called "Baby" by her family. Soon, Lillian, Ben, and Hildegard were comfortably growing up in the canyon, playing with their neighbors, the Stafford children and going to school in Sulphur Springs Valley.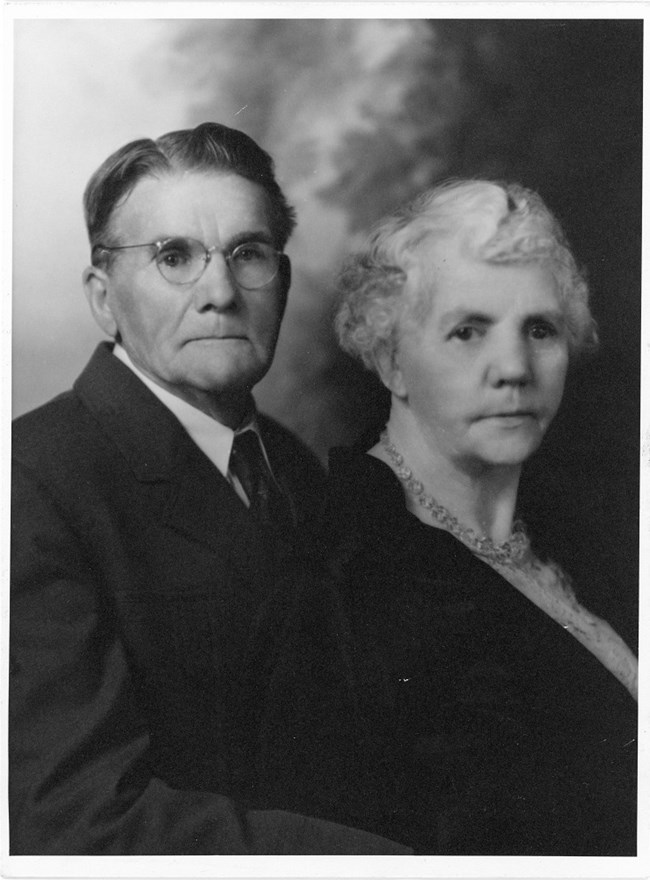 Life on the Ranch
Emma took care of the ranch and children, sometimes with the help of Neil's brother, John. Neil worked as a carpenter and smelter in Bisbee, about 70 miles away. Emma kept busy, canning and preserving fruit from their orchard and vegetables from their garden. She taught many other women in the ranching community how to can, and considered it one of her legacies. Emma also fostered community spirit, starting in the 1880s, with an annual Christmas party at the Erickson house. Many of the children had never seen a Christmas tree. She gave presents to everyone, and when the party became too large for her house, she moved it to the local El Dorado School.
Neil came home when he could, but it wasn't until 1903 when he was able to live and work from home, as a US Forest Ranger for the Chiricahua Forest Reserve (now part of the
Coronado National Forest
). Between 1903 and 1916, Neil and Emma added on and renovated the ranch house numerous times.
Education was important to Emma and Neil. Emma first taught the three children to read, write, and do basic math. Then Lillian, Ben, and Hildegard went to the El Dorado School when they turned seven years old. Since the El Dorado School, like many other ranching schools at that time, terminated at 8th grade, the Ericksons sent their children to high school, and later college, in Illinois, where Emma had family.
Changing Places
When the USFS transferred Neil to the
Dragoon Mountains
on the other side of Sulphur Springs Valley, Emma moved with him. She did not find the government housing up to her standard, so she and Neil improved it, including installing a custom, cement bathtub. Seven years later, Emma moved with Neil again to Flagstaff, where Neil worked at
Walnut Canyon
. Emma apparently talked to many of the visitors and showed them around, although Neil was the one on the payrolls. Emma was 73 when Neil retired at 68. The couple split their time between California with their daughter, Hildegard and Faraway Ranch with Lillian and her husband Ed Riggs.
Emma and Neil celebrated their 50th wedding anniversary with a party that had over 200 guests on January 25, 1937. Neil's health was beginning to fail, and after a number of hospitals stays, he passed away on October 18, 1937.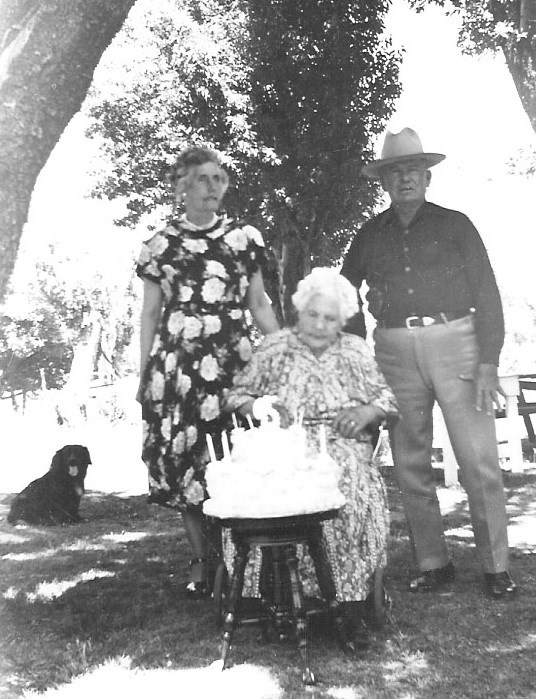 Life after Neil
While Emma lived at Faraway Ranch with Lillian and her husband Ed, and his children, Eula Lee and Murray, Lillian always threw extravagant birthday parties for Emma and included her in many activities. By this time, Emma was confined to a wheelchair, blind in one eye and hard of hearing. Emma still wrote hundreds of letters to friends and family, and enjoyed listening to Ed read aloud.
Emma was getting her hair done when she had a cerebral hemorrhage. She died a few days later, on December 12, 1950. Emma is buried beside Neil in the family cemetery at the mouth of Bonita Canyon.
Tributes
Lillian thanked her parents for their contributions to Faraway Ranch, writing "You two [Emma and Neil] gave to your children--and all who came within the circle of your friendly-light-beams. No wonder every one who knows you is always asking about you, when you are coming home, and rejoicing when I can tell them you are well. You two lived your lives as they should be lived--and as so few do. And I am deeply and forever grateful for such a heritage."
"[Emma] radiated sweetness, and love, and everyone felt her sweetness," wrote Emilia and Aida Berry.
"[Emma was] one of the outstanding figures of my entire life. I had never met anyone like her before, and, actually there aren't many like her, anywhere. When I think of the courage and patience and determination she displayed throughout her life, it is an inspiration, …" recalled Margaret Smith.
Last updated: February 7, 2019