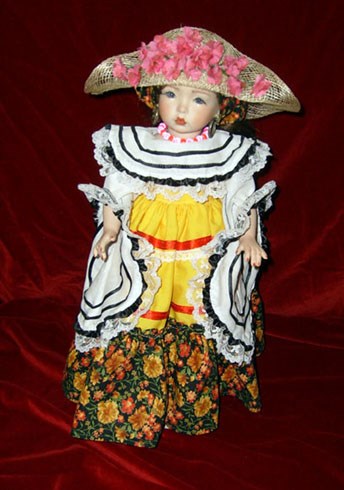 Capital: Culiacan
The exotic white blouse with a large caped collar and draping sleeves, both trimmed with rows of nblack and white lace, are designed to catch a cool breeze. The full yellow skirt is ringed iwth bright ribbons and a harvest of pink roses around the hemline. A wide hat provides welcomed protection from the bright sun on Sinaloa's long coast.
During the colonial period, Sinaloa ran from the Matanchen Peninsula in Nayarit to the Mayo River in Sonora. In 1824, when Mexico became a republic, Sonora and Sinaloa formed the Internal Western State with El Fuerte as its capital city. But in 1830, the national congress divided the area into the two sovereign states of Sonora and Sinaloa.
Along the coastal plains of Sinaloa, more rivers reach the sea than in any other place in Mexico. In contrast to its verdant valleys, Sinaloa's marismas are lakes formed by the overflow of the tide that dry up and leave barren salt plains behind.
Sinaloa's varied geography and its access to the Gulf of California allow a diverse economy through both agriculture and fishing. Technically advanced agricultural methods have made Sinaloa a major producer of tomato for export to the U.S., along with sugarcane, chile, safflower, rice, and soybeans. Coastal fisheries yield shrimp, tuna, sea bass, sardines, and marlin.
Sugar is generally believed to have originated in India. The Greeks and Romans called it Indian Salt or Asian Honey, a sweet luzury. Some say the Venetians discovered how to refine sugar. In the New World, sugarcane was unknown until Hernan Cortes brought it to Mexico from teh Canary Islands and established primitive wooden sugar mills to grind the cane. Cortes ordered sugarcane planted first in the coastal region of the Gulf of Mexico, then in Cuernavaca. In 1550, galleons left Veracruz carrying large shipments of Mexican sugar for delivery to Spain, Cuba, and Peru. Today, the states of Morelos, Veracruz, Tamaulipas, and Sinaloa are Mexico's main sugar producers.
Did you know...?
The most widely accepted version of the origin of the name Sinaloa is that it comes from the Cahita word sina, which is the same as pithaya, a common plant with thorny, fleshy stalks), and lobola, which means "rounded". So together, sinalobola, means "rounded pithaya". Later, this name was shortened to Sinaloa.