Veracruz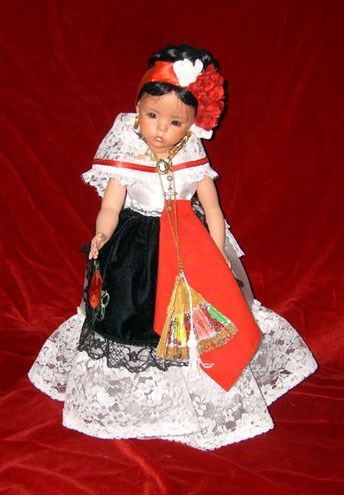 Capital: Xalapa
This white confection includes a long sleeveless undergarment beneath the full-skirted lace gown with a contrasting black flowered apron. An ornate fan hangs from the neck, the traditional rebozo circles the wrists, and red and white blossoms are fixed in the hair to the left side, meaning this lady is married. If worn on the right, she's single.
Veracruz, which curves along the coast on the Gulf of Mexico, is a major international port, producing and exporting sugarcane, oranges, and one of the world's favorite flowers - vanilla.
In the picturesque village of Papantla, climbing orchids grow attached to trees, taking nutrition from the air. Their exotic flowers die in just a day, but the pods (the orchid's fruit) take four to nine months to ripen, turn black (the Mexicas call the plant tlixochitl, black flower) and eventually produce tiny crystals containing the delicious familiar flavor. Artisan's carve the remaining pods into animal figures used to perfume clothing in closets and drawers.
The village is also known for the Voladores de Papantla. In front of the local cathedral,, five men perform a mesmerizing ritual, twirling from an 83-foot tall pole to the sounds of flute and drum. The ritual was originally a tribute to the god of sun and rain.
Three different cultures occupied Veracruz simultaneously: the southern Olmecas who thrived long before the Maya; the northern Huastecos, robust inhabitants of the thick forests and rugged mountains of the coastal region; and the central Tepehuas and Totonacos.
Know in ancient times as Totonacapan, they were one of the largest pre-Hispanic civilizations. Evidence of their occupation includes one of Mexico's finest pre-Colombian structures, the seven-level Pyramid of the Niches in Tajin (from the Totonac word for "Thunder"). Many Totonacos have moved to large cities, but more than 200,000 still live in their place of origin, cultivating natural resources and preserving their traditions. Along the Gulf, members of these groups work in the huge sugar mills or cultivate land in the increasingly scarce forest regions.
Like the other southern states, Veracruz has a strong African influence, including many mulattos (people of mixed race). The War of Independence from Spain was fought by Indians, mestizos, and mulattos.
Veracruz's extinct volcano, Pico de Orizaba, is the highest mountain in Mexico, and the third highest in North America at over 18,000 feet. The Aztecs called it Citlaltepetl, or Star Mountain, because the snowy peak looks like a star under a full moon. Since 1979, the region of the San Martin volcano has been a Special Biospheric Reserve, protecting the tropical Sierra de los Tuxtlas' rare flora and fauna, including orchids, spider monkeys, howler monkeys, otters, and one of the most venomous snakes in all Mexico, the nauyaca real.
Did you know...?
The name Veracruz dates back to 1519, when Spanish captain Hernan Cortes landed at the beach of Chalchihuecan. It was Good Friday, also known as the day of the Vera Cruz or true cross. Hernan Cortes founded the settlement of Villa Rica de la Vera Cruz and created the first town council in Mexico. The town was built 80 kilometers to the north of the modern day city of Veracruz, near the Totonac community of Quiahuiztlan.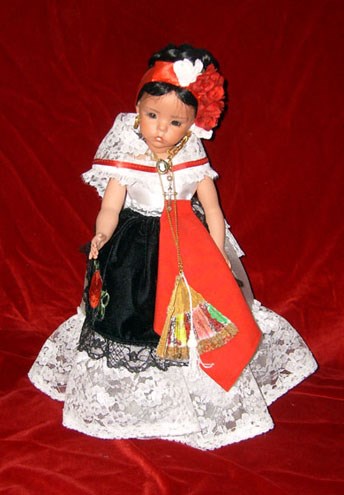 Capital: Xalapa Enríquez
Esta blanca confección se compone de un fondo largo sin mangas debajo de un vestido largo de encaje con un delantal negro bordado de flores contrastantes. Un abanico adornado prende del cuello, el tradicional rebozo alrededor de las muñecas y un tocado de flores rojas y blancas colocado del lado izquierdo, significa que la dama está casada, en el lado derecho significa que es soltera.
Veracruz, se localiza sobre la costa del Golfo de México, es el principal puerto internacional, produce y exporta caña de azúcar, naranja, y uno de los sabores favoritos del mundo, la vainilla.
En el pintoresco pueblo de Papantla, las orquídeas trepadoras se adhieren a los árboles, tomando los nutrientes del aire, sus exóticas flores viven solo un día, pero a las vainas (el fruto de la orquídea) le tomo de cuatro a nueve meses para madurar, cuando se tornan negras (los mexicas llamaban a la planta tlixochitl, flor negra) producen diminutos cristales que contienen el delicioso sabor de la vainilla. Los artesanos tallan el resto de estas vainas en figuras de animales utilizadas como aromatizantes en los armarios y cajones.
La región también es conocida por los famosos "Voladores de Papantla"; frente a la catedral, cinco hombres realizan un hipnótico ritual, girando alrededor de un poste de 25 metros de altura, al compás de los sonidos de la flauta y el tambor, originalmente este ritual era un tributo al dios de sol y la lluvia.
Tres diferentes culturas ocuparon el territorio de Veracruz simultáneamente: los Olmecas al sur, que prosperaron mucho antes que los Mayas; Los Huastecos al norte, los robustos habitantes de los espesos bosques y las escarpadas montañas de la región costera y los Tepehuanes y Totonacos en la región central.
Conocido en tiempos antiguos como Totonacapán, los Tepehuanes y Totonacos era una de las civilizaciones prehispánicas más grandes. Pruebas de su quehacer incluyen una de las estructuras precolombinas más bellas de México, la Pirámide de los Nichos de siete niveles en Tajín (de la palabra Totonaca "truenos"). Muchos Totonacos han emigrado a las grandes ciudades, pero más de 200,000 todavía viven en su lugar de origen, cultivando recursos naturales y conservando sus tradiciones. A lo largo de Golfo de México, miembros de estos grupos trabajan en los enormes molinos de azúcar o cultivan la tierra en las regiones forestales cada vez más escasas.
Como los otros estado del sur, Veracruz tiene una fuerte influencia africana, incluyendo a los mulatos (gente de raza mixta).
En Veracruz se localiza el extinto volcán, Pico de Orizaba, el cual, es el pico más alto en México y el tercero más alto en Norteamérica, con más de 5,486 metros de altura. Los Aztecas lo llamaban Citlaltépetl o la Montaña Estrella, porque su cresta nevada se parece a una estrella bajo la luna llena. Desde 1979, la región del volcán de San Martín ha sido una reserva de la biosfera, protegiendo la increíble flora y fauna de la tropical Sierra de los Tuxtlas, que incluye orquídeas, el mono araña, el mono saraguato, la nutria y una de las serpientes mas venenosas de México, la real nauyaca.
Sabías que...?
El nombre Veracruz se remonta al año de 1519, cuando el capitán español Hernán Cortés descendió en la playa de Chalchihuecan, fue en Viernes Santo, también conocido como el día de Vera Cruz o la cruz verdadera. Hernán Cortés llamó a la región Villa Rica de la Vera Cruz y creó el primer ayuntamiento en México. La ciudad fue construida a 80 kilómetros al norte de la actual ciudad de Veracruz, cerca de la comunidad Totonaca de Quiahuiztlán.
Last updated: February 24, 2015