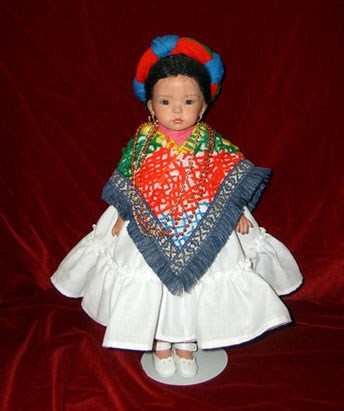 Capital: San Luis Potosi
The vividly cross-stitched poncho, also called a quechquemitl or quisquems, covers a solid pink blouse worn over a full black skirt with ruffled hem. The Huastecans, or Teenek, as they call themselves, embroider their clothing with traditional symbols of their mythology: the animals are the environment and family relations, the tree is life, and the star is the four cardinal points.
Living in the area known as the huasteca, this indigenous group occupies parts of Tamaulipas, San Luis Potosi, Hidalgo, and Veracruz. Robust inhabitants of the thick forests and rugged mountains of the coastal region, the Huastecos enjoy the profusion of rivers and waterfalls, cultivating the rich soil, breeding livestock of excellent quality, and selling fruit and fresh fish - both of which they have in abundance. The Huastecos have the reputation of being as tough as the terrain they live on and, when they find free time, being equally lighthearted and tempestuous.
The centrally located state of San Luis Potosi has three natural regions: the highland plateau, the central region, and the southwestern huasteca.
The highland plateau covers almost half of the state's total area and has two parts. In the dry, relatively barren northern Altiplano, the city of Real del Catorce, a former center of frenzied silver mining during colonial times, is now a ghost town. Most of the population moved to urban areas for industrial employment. The southern San Luis area is where the capital city is located.
The state's central region is a little warmer and more humid, with more fertile soil than on the highland plateau.
The southwestern Huasteca region covers only about 10% of the state, but enjoys very fertile soil, and sustains more than half the state's agriculture and livestock production. Here, oranges, sugarcane, lemons, coffee, corn, and avocado flourish. The principal city of the region is Ciudad Valles, known as "the capital of Potosi's huasteca."
One of the world's deepest faults, formed by movement in the earth's crust, the Sotano de la Golondrinas (Swallow's Cellar) is located near Aquismón, in the southeast of the state. In addition to rivers and springs, San Luis Potosi has a number of spectacular waterfalls and beautiful lagoons where waterways converge.
Since pre-Hispanic times, the Huicole Indians have made an annual pilgrimage to San Luis Potosi to collect peyote, a small thornless cactus, gray-green or blue-green in color, which they use for its hallucinogenic effects during religious or healing ceremonies.
Did you know...?
The name San Luis Potosi dates from the period when the Spaniards arrived in the area; at the time the Guachichilies occupied these lands. The area was first known as Valle de San Luis, which was later shortened to San Luis. After discovering the mines and finding large amounts of gold and silver, the Spaniards added the name, Potosi, which was also used for other rich mines in the New World.