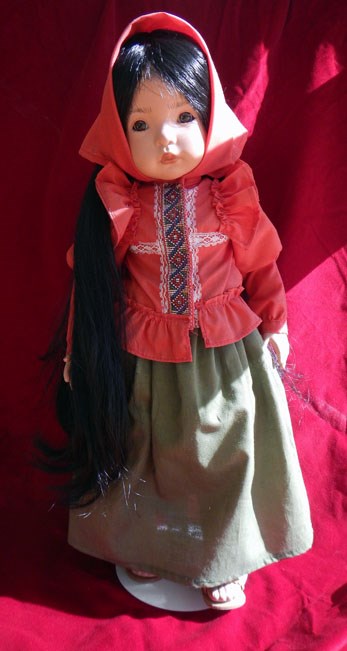 Capital: Hermosillo
A modest bit of white lace trims the bodice of the long-sleeved red over-blouse above a long solid green skirt, and a red headscarf tops this simple outfit typical of Sonora's indigenous people.
The Seris, Yaquis, and Mayos - considered the most important indigenous groups in northeastern Mexico - are concentrated in the state of Sonora. Statistics at the beginning of the 21st century indicate only a few dozen families of Seri, or Konkaak as they call themselves, still exist. They live socially and culturally isolated from the general population. Although those same statistics counted fewer than 7,500 Yaqui in this area, many could be mixed in with the general population. The Yaqui are known for the ritual Dance of the Deer performed exclusively by males, and the Dance of the Maidens, or Sackam Ikoott, performed exclusively by females.
Mexico's second largest state after Chihuahua, Sonora enjoys more than 1,200 kilometers of coastline on the Gulf of California, which, after the Red Sea, is considered the richest marine habitat in the world.
Along with the Chihuahenses, Sonorans were major players in the Mexican Revolution. Three prominent Sonorans rule the republic: Plutarco Elias Calles, Adolfo de la Huerta, and Abelardo Rodriguez. Under their leadership, the region managed to prosper despite the destructive toll of the conflict.
Some of Mexico's finest beef cattle graze on Sonoran ranch land. Huge dams divert the rivers flowing west from the Sierra Madre to irrigate low-rainfall areas. Sonoran agriculture produces grains, cotton, vegetables, nut, and fruit - especially citrus, peaches, and apples.
Where the cactus-studded desert meets the sea, fishermen find abundant shrimp and tourists find unique and affordable beach getaways.
Mines in the central region yield copper, and Sonora as a whole produces large quantities of graphite, a mineral with diverse applications, including being used as pencil 'lead'.
The central city of Carbo, a small picturesque and prosperous village with many cattle ranches, is the source of a very special dairy product: a regional cheese flavored with chiltepin, or chile piquín, a small flavorful pepper which grows in the desert. Wild rams, a species characteristic of Sonora, and now in danger of extinction, roam the coastal plains.
Did you know...?
Some say the state name comes from the Sonora Indian tribe who lived on the banks of the Sonora River, which crosses a large part of the state. Others say, when the Spaniards occupied the lands of the Opata people, they built a chapel and painted an image of the Virgin on a bison skin. The Opatas began worshiping the Virgin, calling her Senora instead of the Spanish Señora (Our Lady). Eventually, Senora became Sonora. Another version insists the word Sonora is derived from the Opata word sonotl meaning "corn leaf". Legend speaks of an indigenous people who lived near the village of Huepac, and covered the walls and roofs of their huts with corn leaves. So sonotl became Sonora.